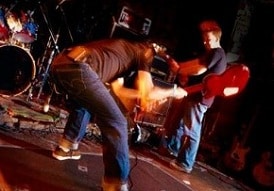 Published on: Dec 16, 2010 […]

The impressive Rivera Venus 5 half stack offers all-encompassing amplified delight. The guitar setup features the 15W Rivera Venus 5-tube guitar amp head and Rivera Venus 1×12 guitar speaker cabinet.
15W Venus 5 Tube Guitar Amp Head
This Rivera Venus 5 amplifier head is a compact and lightweight master of tone. The Venus 5 guitar amp is easy to use, with the simplicity of a single channel, and yet ever so versatile with 3-band equalization controls that have the trademark Rivera Notch switch to choose between vintage tweed and vintage Blackface tones. With 2 12AX7 tubes, it's easy to dial in great headroom for clean playing, and with the push-pull gain boost feature that allows all-day sustain. Although the Venus 5 is compact, it is huge on sound and you will be amazed by its clean, bottom-end warmth.
Add spaciousness and long lush decay to your instrument with the built-in Accutronics 3 spring reverb. A Presence control adds high-end brilliance.
The Rivera Vintage-Modern switch on the rear panel allows the power to be cut down to 7W while enhancing the even-order harmonics, making it indispensable for low-volume recording and practice. A detachable power cable and AC mains fuse are easily accessible. Two speaker jacks allow connection to a pair external speakers. A Line Out jack gives you the option of slaving another amp or recording directly from power amp signal. Effects patching is rapid with Preamp Out and Power Amp Input jacks provided as well.
Rivera Venus 1×12 Guitar Speaker Cabine
t
The Rivera Venus 1×12 extension speaker cabinet is fitted with a Celestion G12H-30 speaker. The G12H-30 is known for its warm tone and tight bottom end. Crafted from the finest materials, such as maple and Finland birch plywood, and optimally tuned to be musically spot-on, Rivera speakers sound and look great. The 112 cab has a comfortably padded strap handle, rugged chrome corners, and heavy duty rubber feet that make transport easy. […]

The Gibson Midtown Standard with Bigsby starts with a solid mahogany body that is strategically chambered for optimum resonance. A solid maple top with f-holes is glued to this foundation, finished in your choice of high-gloss Faded Red or Ebony Black. A solid mahogany neck is carved to a fast, comfortable '60s-style profile that measures .800″ at the 1st fret and .875″ at the 12th, and capped with a bound Grade-A rosewood fingerboard with 22 medium-jumbo frets. Tidy white binding accentuates the body and fingerboard, while eye-catching mirror dot inlays adorn the fingerboard, and the headstock wears a simple yet elegant mother-of-pearl Gibson logo. […]

The Mighty Moe AmpStrap offers you one of the hottest ideas in practice amps: a guitar amp, strap, and cable combined – one of the most compact and portable guitar practice amps available.
Moe's Mighty Mission:
With the ability to practice, play, rehearse and compose anytime and anywhere, Mighty Moe will let you flex your chops or work out a riff on the spot. Mighty Moe is a light, small package with a mighty punch for musicians of all levels to use and enjoy.
Mighty Moe – Strap on the Fun!
At 11oz. the Mighty Moe is a comfortable and lightweight guitar practice amp with controls that are easy to get to. For private practice, plug in your headphone and the speaker is muted.
Fun, Compact, Quick Set Up
Easily fits in any bag for easy storage and travel. Sets up in seconds. […]