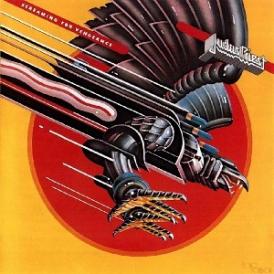 Judas Priest Screaming For Vengeance
(Columbia, 1982)
You have to forgive Judas Priest guitarist Glenn Tipton and K.K. Downing if some of their recollections from their band's 30-year-plus career are imprecise. "You've got to remember," Tipton says with a laugh, "we've recorded a lot of albums."
Nevertheless, both axemen acknowledge that 1982's Screaming for Vengeance was important enough to have burned a few details into their collective unconscious.
"I think Screaming was a little bit special," says Tipton, winking at the understatement. Adds Downing, "It just came together quite easily. We were playing a lot and just floating with a lot of ideas. When we finished it, we had a sense that people were really going to like that album."
That they did. Priest's 10th album, Screaming became the band's first million-seller and launched its biggest hit, "You've Got Another Thing Comin'." It also took a band with metal cult status to mainstream rock following and had fans screaming for more heavy fare, whether it was from Priest or fellow headbangers such as Def Leppard, Scorpions, Quiet Riot and Twisted Sister, who all enjoyed MTV and radio success in Screaming's wake.
And within a few years, younger metal bands such as Metallica and Pantera would salute Priest as an important element of the New Wave of British Heavy Metal which seriously influenced their sounds.
"I guess it as just our time, because we were that much different," says Downing. "We were seeing the end of the blues-rock era, I think, of bands like Foghat and REO Speedwagon. Nobody was doing metal thing the way we were doing it—or Scorpions or Iron Maiden. We were part of this whole extra metal push forward, if you like."
The push began during the late Seventies, when Priest won themselves a substantial audience during a series of tours which saw them open for arena and stadium headliners at the time, including Led Zepplin. With their leather and studs and frontman Rob Halford's Harley Davidson roaring across the stage, Priest regularly snapped hard rock crowds to attention with their Marshall-pumped riffs and leaden attack.
It began paying off in 1980, when the single "Living After Midnight" started getting radio play, vaulting the British Steel album into the U.S. Top 40 and on to Gold status. Its followup, 1981's Point of Entry, climbed even higher, and the group could taste something even bigger as Tipton, Downing and Halford began exchanging song ideas while at home in England during late 1981.
It was Tipton who would ultimately lead the way there when he came up with the slashing descending chords for "You've Got Another Thing Comin'" at his farmhouse in Staffordshire, England. "It was written in the snooker room where I had an amp set up," Tipton recalls.
Downing says he recognized the track's potential immediately, and his convictions grew when the group laid it down at Beejay Studio in Orlando, Florida, one of the three places—including Bill Szymczyk's Bayshore Studios and Ibiza Sound in Ibiza, Spain—where Screaming was recorded. Downing says the recording went relatively smooth, thanks to a general state of readiness the band attributed to constant touring. "It was pretty straightforward," he says.
Halford—who left the band 10 years later—would occasionally ride his hog around the Bayshore parking lot. But Downing says that working on the album mostly in the U.S. helped; the Spanish locale, where Priest had previously recorded, "had a lot more serious distractions."
Downing says the opening couplet of "The Hellion" and "Electric Eye" were originally intended to be two separate songs. With its speed and bombast, "Electric Eye" was tagged as the album opener early on. "That's probably the second most memorable song off that album," says Downing. "The Hellion," meanwhile, was a little more than a multi-layered guitar piece, and the group, along with producer Allom, decided to experiment and use it as a lead-in to "Electric Eye."
"Screaming for Vengeance is a statement, I suppose, against the supposed hierarchy of rock or metal," Tipton concludes. "We were trying to rewrite the laws and push the boundaries and horizons of what is acceptable in rock and metal. "I think that album made its point in that sense."
Gear-Vault Classifieds is an eBay alternative. Come sell your used guitars and amps with us for free.