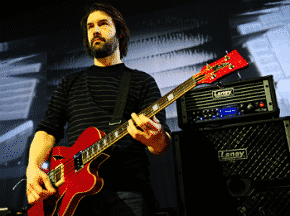 The Laney Nexus-FET bass guitar amplifier is a serious amp for serious musicians. This beast is built to achieve one goal: deliver powerful bass tone and enough power to get you through almost any gig you can throw at it.
The Nexus-FET is a 650-watt powerhouse built with a pair of 12AX7 tubes, a MOS-FET output stage, and two ECC83's in the preamp section. The Nexus-FET also features two-channel operation (FET and Tube), a footswitch, effects loop, a 6-band graphic EQ, active power stage feedback control, and a built-in compressor.
The amp is housed in a shell of marine-grade plywood with large grip handles (which make hauling this monster around much easier).
To top it off, the Laney Nexus-FET is a class A/B amplifier, giving you that extra bit of quality.
The Laney Nexus-FET bass amplifier head will set you back around $1400 (US), but it's quality construction and massive power make it worth skipping out on those extra sets of strings.
Laney Nexus Fet Specifications:
Power RMS: 650 Watts RMS
Inputs: 1x Jack (with 10db Pad switch)
Channels: Fet & Tube
Equalization: Bass & Treble shelving controls, Hi & Lo Para Mid, and 6 Band Graphic EQ
Master Presence Control: Yes – Active Power Stage Feedback Control
Preamp Valves: 2x ECC83
Output Valves: No
Class: Class A/B
Link Jack (Line Level Slave): Yes
Line In: Power amp in
Footswitch: Yes, FS7 (Included)
Speaker connections: 2x Speakons
FX Loop(s): Send & Return Jacks (post EQ, pre Master Volume)
Impedance: Minimum 4 ohms
Cabinet Design: Marine Grade plywood cabinet with large grip handles.
Compressor: Single Control for threshold & range with auto level adjust (footswitchable)
DI Socket: Male XLR (Balanced & Switchable Pre/Post EQ)
Tuner Output Socket: 1x Jack (direct from input, still active when amp muted)
Dimensions (mm): 524 x 218 x 400
Laney Nexus FET 650 Watt Bass Amp