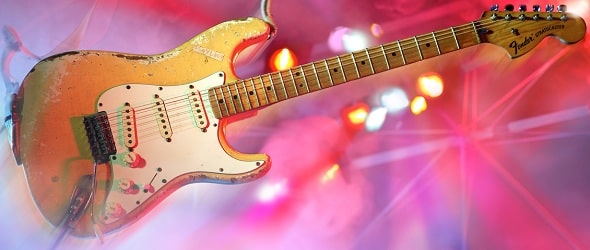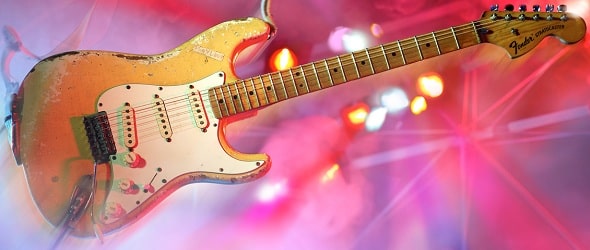 Yngwie Malmsteen. The name alone strikes wonder into the hearts of guitarists everywhere. Yngwie Malmsteen, the Swedish Stratocaster wunderkind; the fiery and flamboyant showman extraordinaire; the charmingly outspoken enfant terrible of metal; the Paganini of the electric guitar. His classically inspired, dazzlingly fleet-fingered technique and apocalyptic guitar sound continue to mesmerize listeners today just as it did when the world first felt his Fender-fueled fury in the early 1980s with Steeler, Alcatrazz and Malmsteen's landmark 1984 solo debut, Rising Force.
Then as now, Malmsteen often worked his magic on an Olympic White 1971 Fender Stratocaster. He bought the guitar in Sweden in 1978 while still a teenager and performed the unusual and delicate modification of scalloping the fingerboard to help create his signature sound; the guitar also acquired several other notable personal touches over Malmsteen's career. The guitar has taken a beating over the years (and even a burning or two) as Malmsteen's main stage and studio guitar; played in countless concert appearances and used on each of his many solo albums, including Rising Force — the sonically dazzling tour de force that practically introduced an entirely new classically-inflected guitar vocabulary and became the bible for "neoclassical" rock.
Malmsteen used his Stratocaster to fuel his meteoric rise to guitar stardom and has played it throughout his highly successful solo career. It accompanied him when he was brought to the United States in the early 1980s and served as the mainstay for years of epic musical use (and sometimes abuse!) in Malmsteen's masterful hands.
To this day, Yngwie Malmsteen is widely hailed as an innovative, influential and flamboyant master of the electric guitar in general and the Stratocaster in particular. Now as always, a Malmsteen performance simply must be seen to be believed, and his storied Stratocaster has been either at his side or in his monumentally talented hands the entire time …
Yngwie Malmsteen Rising Force
A few years ago (August 2008) Fender Custom Shop created a Tribute Series Stratocaster of this legendary guitar.
Here's what Fender had to say about it:
Fender Yngwie Malmsteen Strat Electric Guitar has his trademark scalloped fretboard, a brass nut, two DiMarzio YJM pickups, a DiMarzio HS-3, special neck shape, late '60s large headstock, and a mint-green pickguard. It also has Schaller vintage F machine heads, medium-jumbo frets, a synchronized tremolo, and aged plastic parts. Of course, the Fender Yngwie Malmsteen Strat is all built on the Strat-standard alder body and maple neck
Currently, you can still find the Yngwie Malmsteen Tribute Series Stratocaster in private reserve, but it's very expensive ($12,500). However, you can find really nice deals on Fender guitars (see below) and be YOU.