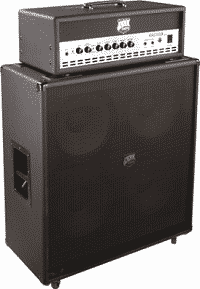 AXL Guitars, San Francisco-based company, take another leap forward in the quest to create earth-shaking tones, releases their FAULTLINE series of Bass Amplifier heads and cabinets.
Thoughtfully designed, engineered and tested at AXL USA, the versatile FAULTLINE amplifier is available in 2 models, a 3000W RMS head (AA-FB-300H) and a 400W RMS head (AA-FB-400H). Both heads offer a full range of tones from all classic tube-style warmth to punchy modern tightness.
Both heads feature a Vintage/Modern tone switch to effectively produce modern, brighter tones as well as darker vintage ones. The tone-shaping switch makes these heads a fantastic choices for all guitar playing enthusiasts, from heavy rock to jazz to pop. FAULTLINE heads also include a 4 Band EQ, Effects Send / Return, active, passive and RCA inputs, as well as XLR line out with Line Level control and "Ground Lift" Switch. The 400-watt FAULTLINE head also incorporates a separate Gain control and a Room Balance function. The Room Balance control's innovative design allows players to tailor their sound for optimal acoustic sound quality in any size room.
We can't have these great-sounding heads without a massive cabinet, therefore, AXL offers a FAULTLINE 412 Cabinet (AA-FB-412C). Featuring 4 x 12″ Alphatone Speakers, each rated for 150 W @ 4 ohms, the FAULTLINE cabinet is precision tuned to enhance the expressive characteristics of the FAULTLINE head. Visit their web site at www.axlguitars.com for more information.
FAULTINE LIST PRICE: $549.99-$749.99