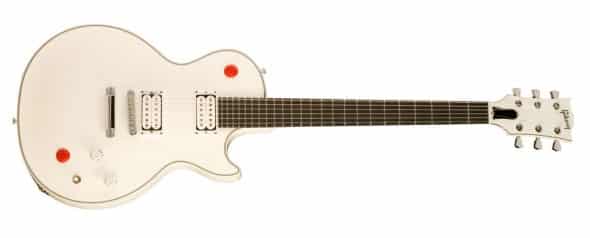 The KFC Buckethead is at it again. Not only does he like to wear a Kentucky Fried Chicken bucket on his head, he loves his all-white Les Paul guitar with 2 red kill buttons. The color of the guitar does, indeed, go with his appealing KFC bucket head style.
The BUCKETHEAD Signature Gibson Les Paul guitar is now available from GIBSON GUITARS. The press sheet reads as follows:
From his prolific solo work, to his prominent memberships in the supergroup PRAXIS and rock legends GUNS N' ROSES, Buckethead has displayed one of the most fiery creative personas of our times, and has continually affirmed his stance in the upper echelon of contemporary shredders. Equally attention-grabbing as his incendiary chops, Buckethead's stage show and visual presence remain unique among the rock field, and his Gibson guitars — a white Les Paul in particular — have always been a big part of that. As Gibson continues to roll out the Rocktober action, the Buckethead Signature Les Paul celebrates this unparalleled artist's achievements. With an oversized, chambered Les Paul body, a marker-less ebony fingerboard, and Buckethead's choice of Gibson's contemporary ceramic humbucking pickups — complete with modified electronics and "arcade" style kill switches — this is a Les Paul like none to have come before. It's primed to get you noticed, and designed for utmost performance for the contemporary rock, metal, and shred performer. Gibson Guitars also just recently announced the new Gibson Dusk Tiger Les Paul Guitar.
Specs:
Buckethead Gibson Les Paul Guitar Body
Species
Each Buckethead Signature Les Paul is crafted from a two-piece maple top attached with ultra-strong Franklin Titebond 50 glue to a chambered mahogany body. This wood combination, one of the most legendary pairs in the history of the solid and semi-solid electric guitar, yields a "best of both worlds" tonal splendor.
Design
Reflecting Buckethead's continued departure from the norm, the Buckethead Signature Les Paul looks outwardly much like a slightly modified white Les Paul Standard, but had been made with an oversized, chambered body. The chambered mahogany back serves to minimize weight, while also adding tonal nuances to the guitar's overall sound. Its high-gloss Alpine White finish is complimented with a stunning black and white 5 ply binding.
Tonal Characteristics
The Buckethead Signature Les Paul body woods present a combination of good clarity, definition and treble bite from the maple, and excellent depth and richness from the mahogany, elements found in the classic Les Paul Standard tone. The chambering adds a further dimension, increasing the complexity of this guitar's tone, while also increasing its acoustic volume and sustain.
Buckethead Gibson Les Paul Guitar Neck and Headstock

Species
The neck of the Buckethead Signature Les Paul is constructed from a single piece of solid mahogany, and glued to the body at a 4-degree angle (pitch). Mahogany is a traditional neck wood and a long-time partner to many legendary Gibson guitars. It is prized for its combination of lightness and strength.
Truss Rod
Gibson's traditional truss rod, found in most all of our guitars, is highly responsive to the individual adjustments you'll want to make to personalize and optimize string action and sustain.
Profile
The Buckethead Signature Les Paul's neck is carved to its own custom profile that runs from .870" at the nut to .955" at the 12th fret, and is designed for the ultimate combination of speed and comfort.
Buckethead Gibson Les Paul Guitar Fretboard
Species
The Buckethead Signature Les Paul is equipped with a Grade-A ebony fingerboard, which enhances note attack and articulation. A hard, dense, dark-black exotic wood, ebony has commonly been regarded as a deluxe, upgraded option on electric guitars, and has been used by Gibson in the past on the Les Paul Custom. Ebony is also extremely hard-wearing, and more resistant to humidity and climate and weather changes than many other fingerboard woods.
Radius
The 12-inch radius of the Buckethead Signature Les Paul fingerboard provides smooth note bending capabilities and eliminates "dead" or "choked out" notes, common occurrences on fingerboards with lesser radiuses.
Frets
The Buckethead Signature Les Paul sports 24 jumbo frets, all immaculately dressed and polished.It also features
Inlays
The Buckethead Signature Les Paul carries no inlays, echoing the stark, contemporary look that this artist is known for.
Tonal Characteristics
Ebony is a very popular up-market fingerboard material, known for its strong, clear tone.
Buckethead Gibson Les Paul Guitar Pickups
Model
The Buckethead Signature Les Paul carries a calibrated pair of Gibson's contemporary-voiced Ceramic series humbucking pickups, featuring a 496R in the neck (rhythm) position, and a hot 500T in the bridge (lead) position. Both are specially made with double-white bobbins to match the look of the guitar, and the bridge pickup is split via a push/pull switch on the Tone knob to achieve a single-coil tone.
Magnet Material
Both the 496R and 500T are made with ceramic magnets. While alnico has long been used as a magnet for vintage-style pickups, over-winding an alnico-magnet unit in an effort to create a "hot" pickup can lead to a squashed, muddy tone. Ceramic magnets provide a clear, bold performance with plenty of output, without the need for packing on more coil windings than the pickup design can handle.
Tonal Characteristics
The 496R in the neck position offers unparalleled creamy sustain that nevertheless retains excellent cutting power. Its partner, the 500T, is one of Gibson's two hottest guitar pickups, intended for ultimate wailing lead tones, sustain, and searing cutting power in the bridge position. Between them, they present excellent sonic versatility and impressive contemporary tones. This pair is also well matched for balanced output levels in all switch positions.
Buckethead Gibson Les Paul Guitar Hardware
Tuning Keys
The headstock of the Buckethead Signature Les Paul is equipped with chrome-plated locking Grover keystone tuners with an advanced 18:1 gear ratio for increased efficiency. These tuners are sealed with a special lubricant to ensure years of stable service, and are recognized as one of the finest tuners in the industry.
Bridge
In 1954, Gibson rocked the world when it debuted the tune-o-matic bridge, setting a standard for simplicity and functionality that has never been bettered. Included on the Buckethead Signature Les Paul, the tune-o-matic provides a firm seating for the strings, allowing the player to adjust and fine-tune the intonation and string height in a matter of minutes. It also yields excellent coupling between strings and body, maximizing resonance, tone, and sustain. The Buckethead Signature Les Paul's bridge is made from Zamak then plated with chrome, and each one weighs approximately .118 lbs.
Tailpiece
Every Tune-o-matic bridge is combined with a separate "stopbar" tailpiece, which is essentially a modified version of the earlier wraparound bridge that's designed to further enhance the connection between the strings and the body. The Buckethead Signature Les Paul's stopbar tailpiece is made from Zamak then plated with Platinum, and each one weighs approximately .168 lbs.
Strap Buttons
The Buckethead Signature Les Paul's aluminum strap buttons are the same style and design that Gibson has used since the early 1950s.
Gibson Buckethead Les Paul Guitar
R.I.P. Les Paul Wonder what he ever thought of the Gibson Les Paul Robot guitar?