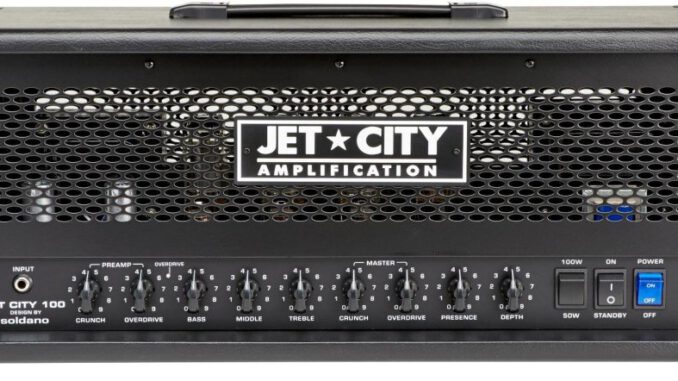 Jet City Amplification is proud to introduce its new JCA100HDM 100 watt tube guitar amplifier.
The JCA100HDM flagship is based on the popular JCA100H – two channels of Soldano tone and 100 watts of pure tube power. The Crunch channel has plenty of headroom to deliver clear, bright clean tones and can be driven hard enough to get downright raunchy. The Overdrive channel is the circuit that made Soldano famous.
The JCA100HDM also includes the famous Soldano Depth Control, and a Metal front baffle, standard. The 100w / 50w brings the pain from 4 6L6 output tubes in 100w mode, or in 50w more two tubes are turned off causing the power section to work harder to reach the desired output level, resulting in some pretty hot power amp distortion. Rounding out the feature set is the wire-mounted blue LED, just because it looks cool. This LED is socket mounted so it can be replaced with other colors, a daisy-chain of several LEDs, or removed entirely.
Jet City JCA100HDM is no slouch
The Jet City Amplification JCA100HDM is a 100 watt power house; 2-channel guitar amp head with independent preamp and master volume controls for each channel.
The normal channel is similar to the SLO's Crunch mode, with clean sounds available at lower gain settings. The Overdrive channel is identical to the SLO Overdrive circuit and gives awesome sustain even at moderate settings. A front-panel LED indicates when the Overdrive channel is active.
The Jet City amp head's tone controls shape the sound of both channels and are interactive—meaning each control will affect the others. This gives you the flexibility to dial in all the unique and subtle tones you've been searching for.
The Jet City Amplification JCA100HDM 100 amp head also has a global Presence control that lets you add high-end sparkle to both channels. The Depth control functions similarly to the Presence control, but feeds back lower-range frequencies as opposed to the Presence control's use of higher-range frequencies.
The 100 watt / 50 watt switch drops the power output by half, and reduces the overall volume significantly, allowing power amp distortion at lower volumes than the full 100 watt output mode.
Other features on the Jet City JCA100HDM tube amp head include a line level series effects loop, multiple speaker impedance outputs, and a channel footswitch jack (footswitch included).
The Jet City JCA100HDM's feature set is rounded out with an expanded-metal front grill and interior chassis illumination from a blue LED which can easily be replaced with other colors or removed entirely.
Jet City JCA100HDM