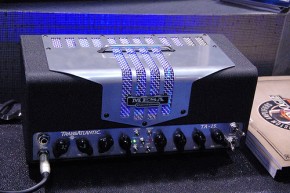 There seems to be an awful lot of interest these days in tube amps that put out lower amounts of power, especially in more boutique, cork-sniffing circles. Just about every amp company has some kind of lunchbox-sized head or ankle-biter combo that puts out five to fifteen watts of power, it appears, and many players are taking the bait and paying top bucks for these little guys. Devotees of these things claim that "five watts is plenty to gig with" and they are more than able to hang with a drummer. Personally, I have a hard time with that statement.
While all amps have their uses, my gigging experience tells me that a Champ or a Princeton Reverb, fine amps they may be, are just not going to pack the power needed to cover a stage. I know, mic it up, right? Wrong. I don't want to hear my guitar in my monitor; I want it at my back where it belongs so that I can better hear the vocals in my wedge. Plus, I just like big amps. There, I said it. I know, I know, it's not the correct PC, volume-police enforced attitude I am supposed to show at this stage in my life, where I am supposed to be all excited at playing at whisper volumes in wine bars, which I also do and enjoy, but there is something about a big, 100-watt amp that just gets my blood going.
Now, to be fair, smaller amps certainly have their place and on quieter gigs or in the studio can be the right tools for the job at hand, a matchup that is crucial to any sort of gigging success. Nothing, however, beats the visceral punch of four power tubes and a heap of big iron hot enough to fry an egg pushing your sound over, above, and through the band (at the correct moment, of course). Also, players like myself, who value clean headroom, need to carry more power to get that clean tone at realistic stage volumes.
For many of us, a Tiny Terror or similar amp will never be a good gigging companion, no matter how small the venue. Anybody feeling me out there? If so, come join me in the Big Amp Club For Men (and Women) and proudly show your true colors as the old school, knuckle dragging, loud playing, last John or Jane Wayne left in this town, or any other, that you truly are. We're guitar players, right? Aren't we supposed to be too loud? I don't know about you, but that's in my contract. Who wins in this Fight Club? Big amps, every time!
Big Amps vs. Little Amps
Originally published on: Jan 12, 2013 @ 18:07