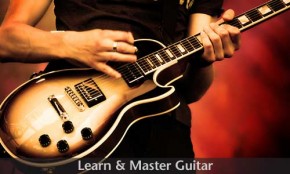 People learn how to play the guitar in many different ways. Those of us who started as kids very often walked the traditional path of weekly book lessons, note reading, recitals, and all the rest. While that is an excellent way to learn, as people move through their lives it becomes a much more difficult way to go as their schedules and other commitments get in the way.
Folks in this situation often turn to self-instruction as an alternative to formal study, but there are many print and video courses that promise great things to those trying to self-teach and not all of them deliver the goods they claim. One of the best "learn to play guitar dvds" to come down the pike is the Learn & Master Guitar series taught by instructor Steve Krenz.
The Learn & Master Guitar program is a comprehensive series of lessons on 20 DVDs that is aimed at taking someone with no previous guitar background and getting them playing and moving toward their own personal musical goal. The set also includes a 100+ page lesson book, five Jam-Along CDs, and a free student support website. It is so complete that all a student has to do is get the series and start practicing.
The best thing about Learn & Master Guitar is that it is an in-depth step-by-step video course that takes students from total beginner to knowing many of the advanced skills used by pro players the world over. If a student is not a complete newbie, it is a simple matter to skip over the beginning of the series and move directly into the advanced material.
Topics covered include basic and expert chord playing, strumming skills, reading music and guitar tabs, ear training, scales, soloing techniques, and more. In short, this set is designed to get you rocking and keep you there. There is so much material contained in Learn & Master Guitar that a student could work out of it indefinitely and not run out of things to learn and get better at. The cool thing is that, because this is a DVD set, students can review materials as much as needed and they can do it in the times and places that their lives and schedules allow.
Learn & Master Guitar has been widely recognized as a leader in the field of self-instruction and has won an Acoustic Guitar Magazine Players Choice Award, two Telly Awards, and an Aegis Award for Excellence in Education. This gives students the confidence that comes with knowing that they picked the right method to work with and that, if they work hard and practice (yes, you still have to practice), they can achieve their dream of becoming a guitarist and playing music.
Learn & Master Guitar gives those learning on their own a clear-cut path to success and all the materials they need to get themselves there. Now, instead of standing in the shadows and wishing they could play, anyone can pick up their guitar and start moving toward being the musician they have always wanted to be. Sound good? Go to guitarlessonsreviewed.com for all the details.