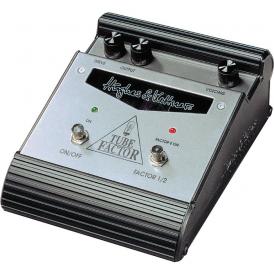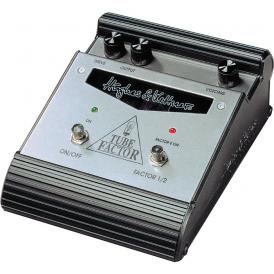 In this day and age, products are so specialized that purchasing anything can make your mind spin. Guitar gear is no exception. There are so many options on the market that buying something as simple as a distortion pedal can be confusing. Do you want a new pedal or a vintage model (or a new reissue of vintage model)? Do you want a unit that dishes out grungy rhythm sounds or smooth, vintage-sounding leads? If you know exactly what sound you're looking for before you even plug in, there's a stomp box out there that offers it. But what if you don't?
Fortunately, the folks at Hughes & Kettner haven't forgotten that versatility is still important factor in anyone's purchasing decision. Their ingenious Tube Factor is a simple (two footswitches, three knobs) pedal that uses a 12AX7A tube to produce a variety of tones.
The two footswitches on the Tube Factor are an on/off switch and a switch to toggle between the two basic effects: Factor 1 and Factor 2. Factor 1 is more of a tone-shaping tool than a distortion effect. It does a wonderful job of adding definition and punch to clean rhythm tones and can also be used as a boost for clear, bluesy leads. Factor 2 activates the drive mode, kicking out some serious gain and boosting the extreme and low ends for heavy lead and rhythm tones (the user's manual describes it as "much like the trademark guitar sound of AC/DC").
The three knobs used to shape the sounds in either mode are Drive, Output and voicing. The Voicing control is not so much a traditional EQ: instead, it boosts different characteristics depending on which Factor and how much drive you're using. Shaping your sound this way, as opposed to with a more conventional tone control, takes a little getting used to. But once you experiment with it a bit, you'll quickly find the sweet spots where the effect complements your rig. The manual provides suggested settings ranging from Neutral (a Factor 1 effect) to Ultra Lead (extreme gain offered by Factor 2). Depending on your guitar and amp setup, they're pretty accurate, but the Tube Factor's simple controls make it so easy to experiment and find your own sounds.
The End Line
The Tube Factor is really two separate effects in one box. Factor 1 is subtle, but it does a nice job of fattening up the thin Strat sound or adding a bit of a kick to a clean tone. Factor 2 is a wonderful versatile distortion effect capable of everything from creamy blues tones to dirty rhythm sounds to screeching leads. If you're looking for a distortion device that won't limit your tone options, the Tube Factor is absolutely worth a stomp. Listen to the Tube Factor Demo.
Hughes & Kettner Tube Factor Thru a Mesa Boogie Roadster
Bass Distortion with Hughes & Kettner Tube Factor