In the mid-1940s, Leo Fender invented a distinctive solidbody guitar design intended to address feedback issues by amplifying the guitar strings without effecting the resonance. Leo's vision led to the creation of the Fender Electric Instrument Manufacturing Company. By late 1951, the company's first showing two-pickup guitar model, the Fender Telecaster, started rolling off the factory's assembly line. Alongside Fender's three-pickup pickup, the Stratocaster, the Telecaster would eventually become the most commonly used six-string guitar in the world, altering the direction of prominent music in the process.
Sixty years later, the Tele's excellent playability and yielding sound makes it one of the industry's most adaptable solidbody guitars, similarly at home in jazz or rock, alternative or country styles. To celebrate this landmark year, Fender Guitars have constructed a limited-edition 60th Anniversary Telecaster which combines features originated on the '51 Telecaster prototype with several exclusive updates which makes this a Tele to outdo all Telecasters.
Features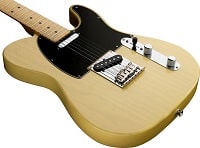 You really don't even need to lay a finger on this guitar to know this 60th Anniversary Telecaster is an incredible piece of craftsmanship. The first clue is the Telecaster's unprecedented ash body, its prominent wood grain accentuated by a transparent lacquer "Blackguard blond" finish, created especially for Fender's 60th Anniversary Telecaster. Of course the cool factor continues with the Telecaster's tinted maple neck and flexible "C-shape" fretboard with 22 medium-jumbo frets and 9-1/2-inch radius makes this guitar perfect for rhythm masters and speed virtuosos alike. Located on the headstock of the Telecaster is a staggered set of tuner pegs, which makes this axe a breeze to re-string in addition to enhancing the guitar's intonation. Other features include chrome control knobs which help facilitate perfect volume and tone settings, in addition to a 60th anniversary honoring chrome plate fastened at the heal of the neck—to celebrate the Fender Telecaster's long standing success.
Sound
Is there a better way to review an '50s – styled electric guitar than through a early '50s Fender tweed amplifier? Subsequent to testing a few different amplifier models, I then connected the Telecaster into a hissy ' 57 Gibson GA-6. Of course, the Telecaster is a sweet-looking axe, but what really matters is the guitar's sound and feel—and, as expected, the 60th Anniversary Tele completely destroys. Unlike many new arrivals which sometimes require days of fine-tuning before finally they are gig worthy, this guitar is ready to rock straight out of the box. String height, action, intonation and pickup level are flawlessly in sync—a true testament to Fender Guitar's awareness to detail at the final stage of assembly and preparation.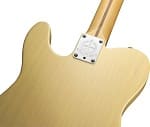 The tinted maple neck and smooth fretboard edges really enriches the instrument's superior playability… this allows you to move around the neck effortlessly. The 60th Anniversary Telecaster is equipped with a pair of American Standard Telecaster single-coil pickups, which offers you a broad assortment of tonal choices, from legendary Telecaster rhythm overdrive in the bridge section to a fatter bluesy tone in the neck pickup position. Perhaps chord progressions is your thing, is so, you will certainly relish on the Telecaster's spacious maple fretboard and flawlessly aligned frets, which is essentially guaranteed to bring out the "Keith Richards" in all of us. Are you tired of never-ending string slippage and undesirable intonation? In addition to the Tele's modern tuners, a robust, stamped brass plate bridge with rock-solid bent steel saddles not only keeps your guitar locked in from start to finish, but provides the Telecaster blissful sonic sustain.
Verdict
For professional-level guitarists or anybody in the market for a magnificently constructed Telecaster with an everlasting history for quality and craftsmanship, the 60th Anniversary Telecaster really does deserves a hard look and a test drive. It may be priced at a few more bones over the American Standard brethren, but the incredible elegance, quality craftsmanship, and above all, spectacular tone of this 60th Anniversary Telecaster makes it an excellent investment—the type of axe that will keep you playing for 60 years or more.
Fender 60th Anniversary Telecaster
Source: Musicians Friend