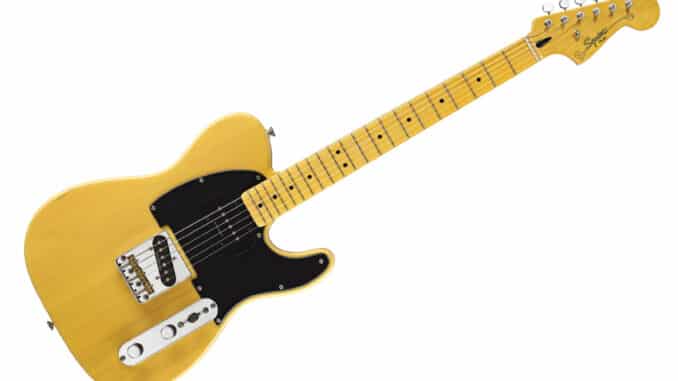 Many guitarists use budget Squier Modified guitar models as a base for their own custom instruments, swapping out the hardware, pickups and other parts. With Squier's Vintage Modified Series guitars, the modifications have already been made, so you won't need to shell out extra bucks after your initial purchase. Today we're going to check out the Vintage Modified Tele SH and Vintage Modified Strat HSS…
Squier Vintage Modified Tele SH
The Squier Vintage Modified Tele SH has a variety of custom touches, like a Duncan Designed HB102 Alnico 5 neck humbucker, a Duncan Designed TE-103B Stack bridge pickup, a six-saddle bridge, black chrome knurled knobs and a reverse-configured control plate (the three-position pickup selector is located near the bottom of the lower bout instead of near the bridge pickup). However, the guitar also retains the classic features you'd want in a Tele, like the 21-fret neck with maple fingerboard, 25 ½-inch scale and 9 ½-inch radius.
Aside from some truly bizarre Givson—yes, Givson—models that Billy Gibbons showed me about 10 years ago, I've never seen a guitar made in India before. Another first: the body is made from Indian red cedar (apparently the wood doesn't have to travel too far to the factory). This light-weight, resonant wood is also used to make dhol drums in India, so its transition to guitar material makes musical sense. The neck is carved from nice-looking maple that has tight grain, and all the wood parts are coated with a durable polyurethane finish.
Many of the Squier guitars I've auditioned over the years have playability comparable to Fender's more expensive axes, and the Vintage Modified Tele SH is no exception. The neck offers a conservative C-shape profile, and the medium jumbo frets provide that"just right" balance of heft for bent notes and low resistance for shredding.
How does the Squier Vintage Modified Tele SH Perform?
This model's weakest link is its hardware. The tuners feel flimsy and fragile, and the bridge sucked away the notes' sustain and body. As a result, the pickups never seemed to receive enough signal to reach teir sweet spot, and the tone seemed somewhat thin. Add in a few extra bucks to upgrade the tuners and bridge, and you'll have a killer ax that performs as well as many models costing twice the price.
Squier Vintage Modified Strat HSS
Like the Vintage Modified Tele HS, the Squier Vintage Modified Strat HSS is built on the foundation of a classic guitar body and neck, but it features a modified pickup configuration. Squier dropped a Duncan Designed HB-112 humbucker in the bridge position, while Duncan Designed SC-102 Stack pickups replace the standard neck and middle single-coils.
Beyond that, the Vintage Modified Strat HSS is a classic Strat to the core, with a vintage-style tremolo, five-position pickup selector, 21-frets with a rosewood fingerboard, and that timeless Strat look and feel. The controls remain the same as well: master volume, neck tone and middle tone. There's no tone control for the bridge humbucker, which is mainlined to the master volume for maximum treble and gain. Like its Tele companion, the Strat has a body made from Indian red cedar, which provides a fast attack and resonant voice even when played unplugged. It felt a little heavier than the Tele, perhaps because of the tremolo bridge and the Strat's slightly larger body size. As on the Vintage Modified Tele the neck has a 9.5-inch radius, C-shaped profile and medium jumbo frets. The neck plays almost identical to the Tele that I evaluated, although the rosewood fingerboard gave the neck a slightly slinkier, sexier feel.
How does the Squier Vintage Modified Strat HSS Perform?
Plugged in, the Vintage Modified Strat HSS delivered great classic rock tone from the Duncan bridge humbucker. It maintained clarity even through high-gain amos, with emphasis on the bass and treble. I had to boost the midrange slightly more than we did with other humbucker-equipped Strats, but this is probably because Indian red cedar produces a brighter sound than ash and alder woods. The single-coils produced bit and bark that will please most blues and Hendrix fans.
Unfortunately, as on the Vintage Modified Telecaster, the tuners were a letdown. I recommend upgrading them with a good set of locking tuners, which will improve the guitar's tone and also let you abuse the tremolo as much as you want, without going out of tune.
Squier Vintage Modified Tele SH and Strat HSS Verdict
With its mix of classic features and customs updates, the Squier Vintage Modified Tele SH has what modern players want. Best of all, it plays like a good Tele should, and purists will certainly approve. And should you love the tone and vibe of a classic Strat but need a high-octane bridge pickup, the Vintage Modified Strat HSS gives you hot-rod performance at an economy car price.
Review Source: Musician's Friend
Squier Vintage Modified Strat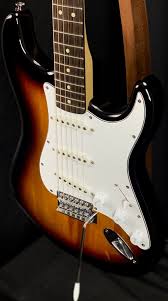 I first ran into Squier guitars back in the mid 80's. It was fire engine red with a black headstock and probably started my love affair with painted headstocks. But I was younger and succumbed to the hype that it was just a cheapo guitar. I subsequently sold it to finance another purchase. Ah youth!
This all brings me to the Squier Vintage Modified series, with a current street price of approximately $300 USD. Fender has found a way to make a guitar at this price point that can easily be used as a number one guitar, rather than just a student model or second guitar.
The review model has a sunburst finish with a 3-ply black pickguard reminiscent of Fender's custom shop SRV Stratocasters. I love its classic looks and found no finish flaws anywhere. Additional unique cosmetic features include a gold and black Squier logo and an engraved neckplate.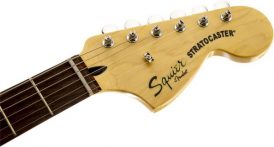 The gloss finished, C-Shaped maple neck has 21 medium, jumbo frets which were very nicely dressed with no sharp edges. I had no problems setting her up and playing as soon as I got her home. The tuners are solid, the knobs are very responsive. It's all very smooth and playable all the way up the board; she's just a really easy player.
The Duncan designed Alnico 5 pickups are a far cry from stock ceramic pickups found on most entry level guitars even in the Fender camp. They are strong pickups that overdrive very nicely. With a little more overdrive, this guitar really sings. The hotter pickups also make her a very funky guitar. I find she's terrific for syncopated rhythm guitar playing. The combination of these pickups and the Indian Red Cedar body make a really great tone! They have the classic Fender Strat tones right down to middle position quacks.
In my opinion, the Squier Modified Stratocaster is designed to give many midrange guitar brands competition. At this price range, there are still things more seasoned players might like to mod like the pot metal trem or the nut. With those changes, I think you have a guitar that's as gig-worthy as anything you're going to find out there at a much lower price.