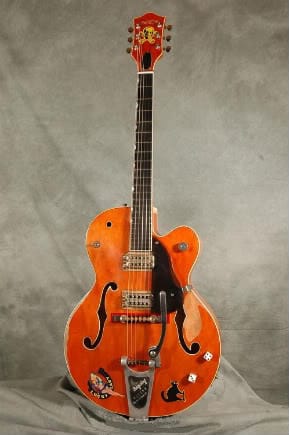 Brian Setzer wanted a Gretsch 6120 from the moment he saw a photo of Eddie Cochran, the rockabilly great best known for "Summertime Blues." I had no idea what it was called but I know I had to have one," remembers Setzer. "When I was 17, I saw an ad in the paper: 'Gretsch for sale.' When I saw that it was an 'Eddie Cochran,' I bought it on the spot for $100."
Just three years later, Setzer and his Stray Cats sparked a rockabilly revival in England, and would soon do the same in America. He made virtually no modifications to the guitar—though he did personalize it with a stickers of Fifties pinup girls and dice.
"The stickers and the dice became trademarks, but I put them on without much thought," says Setzer. "I found the pinup girls in an old lawnmower repair shop. And I put the dice on because it didn't have any knobs. I just got a set Monopoly dice, drilled holes in them and squirted in some Krazy Glue. My only real modification to the guitar was putting Sperzel locking tuners on: when the band got serious, I realized that I had to play in tune. The pickups are stock Gretsch FilterTrons—they've always sounded fantastic."
After being played night in and night out for several years, the 6120 had become a little worse for the wear, says Setzer. "It had beer spilled on it and smoke blown all over it; it was beat on pretty badly. In about 1984, I ran into Steve Miller in a bar in Germany. We talked about Gretsches and how mine was getting trashed. When I got back to New York there was a big box waiting for me, and, to my delighted surprise, it was a 6120 from Steve Miller. And not just a 6120, but a great one!"
The second 6120 immediately became Setzer's number one, and is the guitar upon Gretsch's new Brian Setzer model is based.
Advertisement—————————————
—————————————————————
"I started using the Miller guitar almost all the time, but I took them both on the road—until a Stray Cats tour of Japan several years ago. At the last gig, I threw it up in the air, which I've done for 25 years, and I missed it for the first time. The neck flew into the audience, and the guy who caught it gave it back to me—which would only happen in Japan—and I glued it back on. It still plays great, and I used it in a few places on the album [Brian Setzer Orchestra, Hollywood], but I'll never take it on the road again. It went out with a bang."
Gretsch Guitars G6120SSLVO Brian Setzer Signature Nashville Guitar
————-Places to Buy—————————————————————————————————