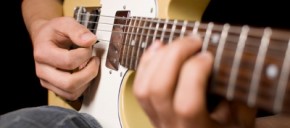 12 Bar blues, you've probably heard about it before, but possibly have been scared to consider learning it. Some beginners feel that blues guitar is too difficult for beginners to master. How ever the 12 bar blues are almost easy. Sure there's some knowledge required but even if you don't have your scales memorized or the fret board notes you'll be able to piece together a 12 bar blues progression by the end of this article.
Let's say you want to play the 12 bar blues in a particular Key. What notes are you to play for the blues progression? Thankfully there's a very easy system you can learn to figure this out. First you need to know or find the scale for the key in question (i.e. Key of A need the A major scale). Second you must pick out the first, fourth and fifth notes from that scale.
Once you have the first, fourth and fifth notes what do you do with them? This is where you need to learn the 12 bar blues pattern. The 12 bar blues consists of 12 measures/bars and always follows this same pattern no matter what key you're playing in.
1 – 1 – 1 – 1 – 4 – 4 – 1 – 1 – 5 – 4 – 1 – 5
So when we were discussing finding the first, fourth and fifth notes for a given key from that key's scale this is way. We want to plug in those notes as chords in the above progression.
Let's look at a quick example in the Key of G. First we start with the G major scale which looks like this:
G – A – B – C – D – E – F# – G
Next we want to pick out the first, fourth and fifth notes from the scale which would be G, C and D respectively.
Finally we plug those notes into the 12 bar blues progression which looks like this:
G – G – G – G – C – C – G – G – D – G – C – D
Finally you need to learn what chords you'd play for this type of progression (i.e. Where do you play the G, C and D chords) and what feel do you give your strumming. This is hard to explain in writing so I've created a video lesson below that will provide more insight into this. Take 10 minutes and watch it now and then go grab your guitar and give the 12 bar blues a try.
Are you interested in learning to become a better guitar player? Why not consider a guitar instructional dvd to sharpen your skills? DVD and video guitar lessons are the quickest methods to improve your skills when studying on your own.
Advertisement