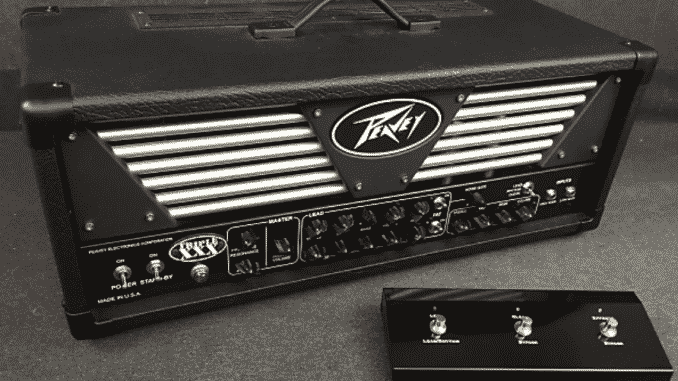 Yes it's a Peavey. Of course it kicks ass. But is the Triple XXX II truly an ear blistering apparatus never heard from before? NAMM 2010, where Peavey unveiled its predecessor to the Triple XXX. These guitar amplifier has to be one of the most underrated metal amps. If you can get your hands on one, buy it!
Like most high gain amplifiers the Triple XXX II boasts three channels; clean, rhythm, and lead. If you've ever played any all-tube EL34 and four 12ax7 high gain amp made by Peavey, this is usually the norm. Aside from the standard gain adjustment, three band EQ and resonance and presence controls, the Triple XXX II boasts a new "FAT" switch to do just that; make your sound FATTER than anything else on stage! Dissecting even further into the amp, the noise gate on the rhythm and lead channels is a really nifty feature. This is not a typical feature onboard most guitar amplifiers, and can be convenient when trying to keep that gain in check or shush a nasty 60 cycle hum. This 120-watt beast is probably more suited for those looking to take the stage in the club or arena, and not the corner of your bed in the bedroom.
Video: Peavey XXX 2 overview

Being an all tube amp, it's equipped with four 12AX7 preamp tubes and four EL34 power amp tubes. I'd have to say my favorite feature about this amp has to do with the tubes. The power amp is switchable between 6L6s and EL34s just like Peavey's original Triple XXX. That's incredibly cool for those who either want that tight bass yet highly refined high end of the 6L6's, or that dominant midrange of the EL34's. I myself would take the EL34's, but let's face it: I'm a midrange MONSTER. Nonetheless it makes the Triple XXX II that much more versatile by taking a step forward whereas other amps are only designed for one type.
Now, why do I feel like I've seen this kind of setup somewhere before? Maybe because I HAVE seen this before. Maybe the lead channel was called 'Ultra'? Where have I seen those fat switches and noise gate before? Well, it appears to me that Peavey has reintroduced the JSX line back into the market under a new name. This isn't a bad thing, because this isn't the first time Peavey has made a killer amp for an artist only to have their endorsement cease to exist. Ala Eddie Van Halen, when the 5150 was made into the 6505. This does not make the XXX II any less significant in any aspect unless you're looking for a cheaper price tag of $1399. That's only a savings of $50, unless you were to go for a used JSX. There's nothing like being the first to own a brand new amplifier though, especially one made by the wizards at Peavey Electronics.
Do I blame Peavey? No. Should you? That's up to you, but if you've played a JSX before, there's definitely some magic there, and truth be told it's worth a shot. If you're looking for something that's going to cut through the mix all the while provide you with those shimmering clean tones, the Peavey Triple XXX II might be all you need to rule the stage.