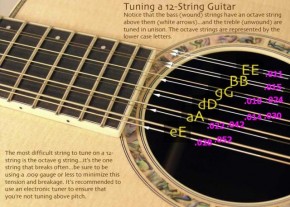 I recently picked up a 12-string guitar from craigslist.org, and I have no idea how to string it or tune it, nor do I know what string gauges are typically used on this style of guitar. Can you help? Also, is it possible to use a 6-string tuner to tune a 12-string guitar?

Chris
xxxx@yahoo.com
You're not alone in your confusion, Chris. Many six-string guitar players aren't familiar with the proper way to tune a 12-string guitar. In reality, a 12-string is tuned very much like a six-string, except that each of its strings is paired with another string of the same pitch or a pitch one octave higher: On 12-string guitars, the low E, A, D and G string pairs are tuned one octave apart, while the B and high E string pairs are tuned to the same pitch. The accompanying chart shows the string parings and indicates typical string gauges.
I should point out that on almost every 12-string guitar I've seen, the E, A, D, and G pairs are strung as depicted on the chart—that is, with the higher, octave strings first in the sequence. (Some Rickenbacker 12 models are tune opposite of this model, with the lower string first in the sequence.)
As for your question about tuners, the answer is "maybe." Some cheap (or "inexpensive") tuners can only recognize standard six-string pitches and will ignore the higher pitch or the octave strings (i.e., the high A, high D and high G strings). If your tuner doesn't recognize these tones, you should upgrade to a better six-string tuner or, better yet, a chromatic tuner, which will recognize every pitch.
Buy – Sell – Trade Used Guitars and Amps at Gear-Vault Classifieds