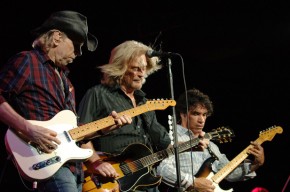 Today the music world mourns the loss of Tom "T-Bone" Wolk, longtime bassist for Hall & Oates and the Saturday Night Live Band. Often seen working in the company of guitarist G.E. Smith, Wolk died of a heart attack February 27, 2010. He was 58 years old. Wolk was a Yonkers, NY native who first came to prominence playing bass on Kurtis Blow's seminal rap classic "These Are The Breaks," which was the first rap track to achieve a gold record.
Wolk began playing with Hall & Oates on the duo's 1981 album Private Eyes and continued with them until the time of his death. He also acted as their musical director and, at times, a co-producer. He played with the SNL band from 1986 to 1992, where the world became familiar with his ever-present top hat and relentless bass groove.
Wolk's style was somewhere between James Jamerson and Paul McCartney and it made him one of the most sought-after bassists in the music industry, although he played guitar, mandolin, pump organ, and other instruments, too. He also worked with other artists like Carly Simon, Billy Joel, Elvis Costello, Jellyfish, Shawn Colvin, and Willie Nile.
All of us here at Gear-Vault are saddened by T-Bone's passing. Like James Jamerson and Donald "Duck" Dunn, Wolk was an icon of a bass player who was often felt more than heard but could drive an entire band to platinum status. Our condolences go out to his family and friends. Wolk's passing leaves a big hole in the world of music, one that will be tough to fill. RIP T-Bone. You were one of the best.