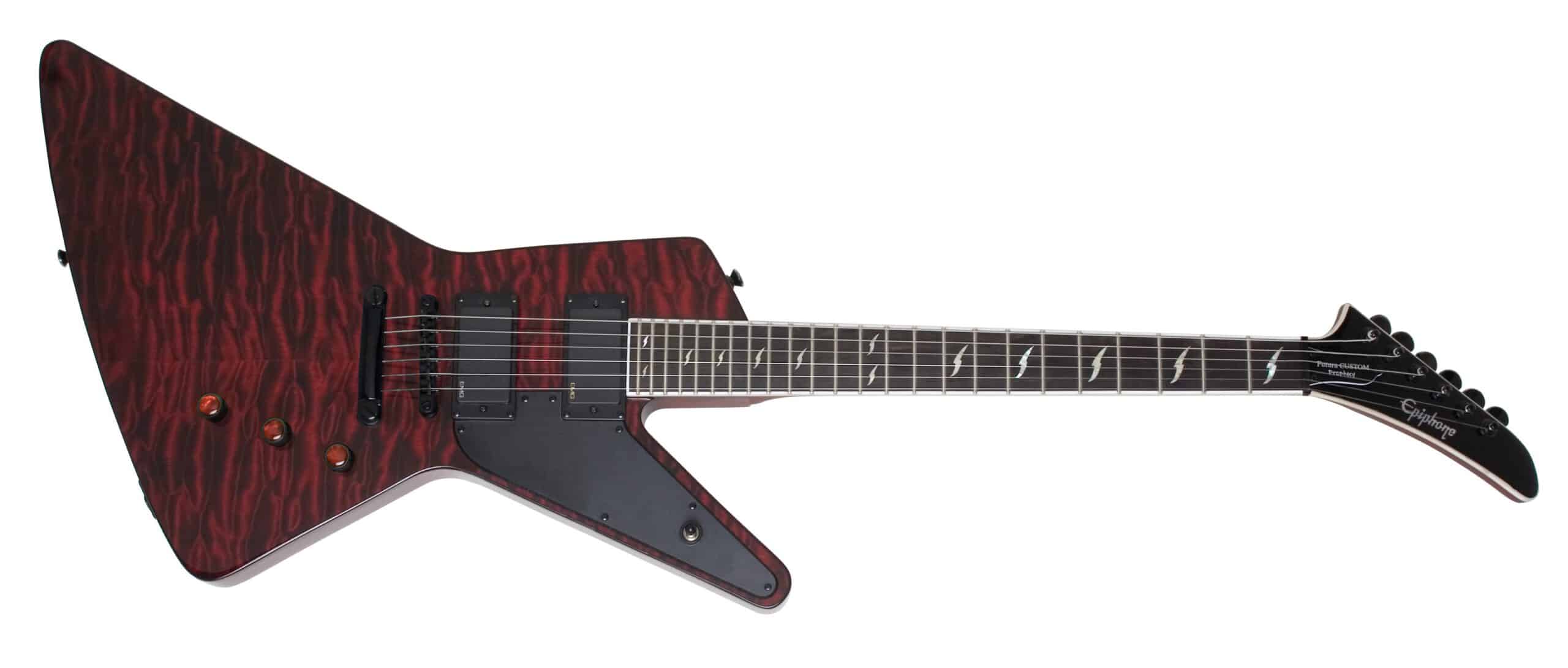 Epiphone Prophecy Futura EX
Gibson is a huge name in the guitar world, with millions of guitarists who proudly play Gibson guitars. However, Gibson guitars are also quite pricey—with some of the mid-range models going for well over $1000. Which makes sense why many guitarists select Gibson's little brother, an Epiphone. The Epiphone Futura EX guitar is an example of paying the Epiphone price for virtually a Gibson-quality guitar.
Main Product Features
The first thing that you'll notice about the Futura EX is that it comes with a patent LockTone bridge. The Futura Prophecy FX, a slightly more expensive Futura model, comes with the Floyd Rose. The advantage that the fixed bridge is quick tuning on the fly, great for onstage downtuning, whereas the Floyd Rose is locked and set, which means you'll need some time, skill and plenty of tools to change the tuning up or down a couple of steps.
The Futura EX comes with EMG-81 and EMG-85 pick-ups. The EMG-81 will give you a very deep, powerful sound combined with awesome sustain and bite, while the EMG-85 humbucker pickup is ideal for rhythm guitarists. In addition, you will find that rich Gibson rhythm guitar sound out of the Futura EX.
Hardware is another area where the EX shines. The Futura EX has a sharp, black cherry quilted top and body-style of the Gibson Explorer. The color of the guitar sets off the pearl control knobs, black pick-ups, bridge and pickguard, as well as a black headstock topped with black Grover tuning heads. This may seem like a lot of black and red, but put together, the guitar is remarkably stunning.
Gibson guitars are known for having a very persuasive and playable neck, the Futura EX is no exception. The Hard Maple SpeedTaper D Profile, satin finish set neck plays as smooth as silk, while the rosewood fretboard has very precise fret work and stylish with blade inlays. With the cut-away design, hitting notes on the 23rd and 24th fret is a breeze. So if you're a metal guitarist or a maniac shredder, you'll definitely find this guitar a charming fit for your hands.
The Futura EX is a very solid guitar, especially for its set price of $649. While it's certainly no $2000 Gibson, it does a pretty good job of excelling in this price range, making it a worthy guitar no matter the style of music you play.
Epiphone Futura EX