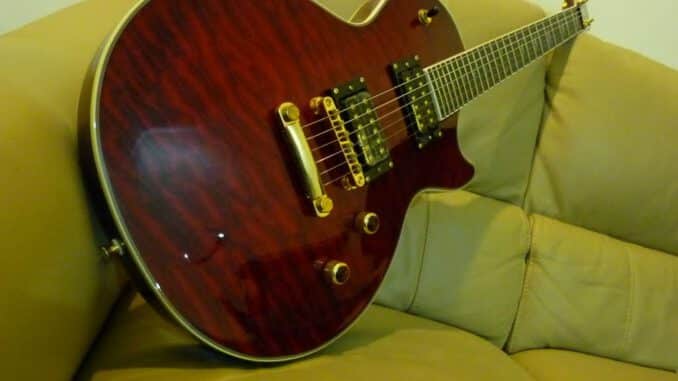 Epiphone Prophecy Futura EX
Gibson is a huge name in the guitar world, with millions of guitarists who proudly play Gibson guitars. However, Gibson guitars are also quite pricey—with some of the mid-range models going for well over $1000. Which makes sense why many guitarists select Gibson's little brother, an Epiphone. The Epiphone Futura EX guitar is an example of paying the Epiphone price for virtually a Gibson-quality guitar.
Main Product Features
The first thing that you'll notice about the Futura EX is that it comes with a patent LockTone bridge. The Futura Prophecy FX, a slightly more expensive Futura model, comes with the Floyd Rose. The advantage that the fixed bridge is quick tuning on the fly, great for onstage downtuning, whereas the Floyd Rose is locked and set, which means you'll need some time, skill and plenty of tools to change the tuning up or down a couple of steps.
The Futura EX comes with EMG-81 and EMG-85 pick-ups. The EMG-81 will give you a very deep, powerful sound combined with awesome sustain and bite, while the EMG-85 humbucker pickup is ideal for rhythm guitarists. In addition, you will find that rich Gibson rhythm guitar sound out of the Futura EX.
Hardware is another area where the EX shines. The Futura EX has a sharp, black cherry quilted top and body-style of the Gibson Explorer. The color of the guitar sets off the pearl control knobs, black pick-ups, bridge and pickguard, as well as a black headstock topped with black Grover tuning heads. This may seem like a lot of black and red, but put together, the guitar is remarkably stunning.
Gibson guitars are known for having a very persuasive and playable neck, the Futura EX is no exception. The Hard Maple SpeedTaper D Profile, satin finish set neck plays as smooth as silk, while the rosewood fretboard has very precise fret work and stylish with blade inlays. With the cut-away design, hitting notes on the 23rd and 24th fret is a breeze. So if you're a metal guitarist or a maniac shredder, you'll definitely find this guitar a charming fit for your hands.
The Futura EX is a very solid guitar, especially for its set price of $649. While it's certainly no $2000 Gibson, it does a pretty good job of excelling in this price range, making it a worthy guitar no matter the style of music you play.
Epiphone Futura EX

Epiphone Prophecy Futura FX
Over the past few years, Epiphone has reinforced its image by taking on the role of a rebellious fresh upstart, challenging even its own status quo by establishing the upscale Elitist line and Slash and Zakk Wylde signature guitars. The Prophecy models seriously upped the ante in terms of materials and features, but they remained reasonably priced, a blend that fits right in with Epiphone's philosophy of offering extraordinary value for your hard-earned buck.
Main Features
When you look at the Futura Prophecy FX guitar, you'll first notice its sleek design. The guitar comes in the shape of an Explorer with a deep quilted see-thru black finish. Combined with a black headstock, silver control knobs and a black Floyd Rose tremolo, not to mention the solid black covered pick-ups and pickguard, this is a very dark goth looking, yet stunning guitar.
For being an Explorer-themed guitar, the Futura FX does have tremendous sustain, due to the EMG-81 pick-up at the bridge of the guitar and a hard maple set neck. The sustain is particularly noticed when playing solos or attacking chords on the guitar, producing thick metal sounds.
The Futura FX also features an EMG-85 humbucker in the neck, which is useful for rhythm guitarists. Both pick-ups make the guitar very tight, bound with resonance, which is why many types of guitarists—besides metal guitarists and hard rockers—will find something to love with this guitar.
The Futura FX features a solid mahogany body and maple neck. Like the pick-ups, the wood also has an affect on the sustain and tones of the guitar. The FX's high-quality sound and playability can definitely be attributed to the hardware.
Other common features include highly figured quilted maple top, 24 fret Speed-Taper satin necks, jumbo frets (neck structure), unique blade inlays, Epiphone's new Strap-locks, hand-stained colors and eye popping Pearl knobs. All Prophecy Guitars have bound bodies and necks. Plenty of research, design and testing went into this beautiful guitar during the two year process of making it both very affordable and playable. Priced at $649, this guitar is one solid and high-quality instrument.
Epiphone Futura Prophecy FX
Epiphone Prophecy Les Paul GX
It is a fact that Gibson guitars are pricey, and for good reason—they are composed of high quality craftsmanship and exquisite woods. So if you are low on cash, you might want to consider an Epiphone because, after all, they are owned by Gibson. Unfortunately, not all Epiphone guitars represent the outstanding quality of the Gibson guitar. However, the Les Paul GX shows much promise in this regard.
Main Product Features
To start things off, the Les Paul GX features a very unique and appealing look and finish. The guitar comes in a distinctive eerie black cherry finish. Further adding to the exceptional look of the guitar is the gold tune-o-matic bridge, control knobs, pick-up selector and tuning pegs. Paired with the fretboard's blade inlay pattern and white binding around the body, this is one astounding guitar.
But looks do not matter that much if the guitar itself does not play well, right? Luckily, the Les Paul GX plays excellent. The GX plays so exceptionally well you may think you are playing a much more expensive Gibson guitar. The guitar's sound is mainly driven by the Gibson Dirty Fingers pick-ups and the solid mahogany body. You will not need to worry about unwanted microphonic feedback, as the pick-ups come with a 4-conductor lead and are potted to get rid of any annoying feedback.
One thing that many people—specifically Les Paul enthusiasts—will find interesting about the guitar is its 24-jumbo frets. Because many Les Paul guitars come standard with only 22 fret, you may find yourself surprised to feel those other two frets on an LP. However, for certain songs with solos that utilize those last two frets, the LP GX allows perfect reach.
Among the GX's other notable features are the ebony fingerboard, strap-locks, pearl knob, Grover machine tuners and bound fingerboard. Each feature contributes to a very solid guitar and a reasonable price of $499 – $799.
Verdict
Epiphone's Prophecy Les Paul GX compare favorably with Gibson's costing two, three and even four times as much. The Prophecy is such an incredible value that it will make you forget the recession. In fact, most of the Epiphone Prophecy models sell for street prices that will leave you with a little change from your stimulus check.
Video Demo
)

Epiphone EM-2 Prophecy EX
Much like Squire and Fender, Epiphone and Gibson are considered by some to be worlds apart in terms of quality. While this could usually be the case when comparing a lower end Epiphone and a higher end Gibson, it's not always the case when you compare a $300 Epiphone and a $1000 Gibson. The EM-2 Prophecy EX guitar falls into this $300 range, but how does it compare to guitars in the same price range and even Gibson guitars that cost more?
Main Product Features
Epiphone now makes two different EM-2 Prophecy guitars: the Prophecy FX and EX. While the FX comes standard with a Floyd Rose tremolo, the EX comes with LockTone Tune-O-Matic stopbar. The LockTone bridge provides stable tuning much like the original Floyd Rose stays in tune, so it's a great choice for guitarists who rock their guitar hard.
Appearance: the EX is comparable to the FX. It features the same Swept-C cut-away body shape, the same hard maple neck, the same blade inlays, the same white binding, and Grover tuning pegs. Where it differs is the color and bridge of the guitar. The EX features a sapphire blue design with black EpiActive pickups and pearl control knobs.
The guitar features 24-frets with a design that allows access to every single fret. While higher fret soloing on a Les Paul is difficult, it is ridiculously easy with the EX prophecy. It's for this reason that the EX is an ideal guitar for fans of both metal and modern rock—two styles of music that use quite a bit of 24-fret soloing.
Like the FX, the EX comes with EpiActive pick-ups which, combined with the bound basswood body, give the guitar a very nice, rich, yet flexible sound.
While the EX is by no means an flawless guitar—and doesn't provide the sound and playability as guitars priced 3 to 4 times the price—it does hold up well when compared to guitars in the $300 price range and, perhaps, beyond. Go to your local guitar shop and take one for a spin.
Video Demo
Epiphone Prophecy EM-2 FX
While we all know Gibson and Epiphone are both well-known for their SG and Les Paul guitar-style, however, what makes Prophecy EM-2 extraordinary, is the construction of the "swept-C" body-style. Interesting enough, the guitar looks more like an axe made hybrid by Schecter and Steinberger (Steinberger is a division of Gibson). The Prophecy EM-2 FX is a guitar with an edge-cutting design manufactured by Epiphone.
Main Product Features
At first glance, I noticed the Epiphone Prophecy EM-2 FX comes in a very tempting color: Midnight Ebony Quilted Maple Top. The tops are flawlessly chosen to give the finish a beautified swirled look. The EM-2 is crowned off with white binding that goes around the top-edge of the body.
The guitar has mixed-color hardware—the tuning pegs, tremolo bar and pick-up selector are black, while the control knobs are silver, which enhance the beauty of the 'blade' inlays.
Another thing that is impressive about the EM-2 guitar is that, despite being very modestly priced, is that it features high quality hardware. Every FX guitar comes standard with an original Floyd Rose tremolo system and Grover Tuners, giving the guitar rock n roll flexibility, while vigorously holding tune.
All FX guitars come with authentic EpiActive humbucker pick-ups. EpiActive pick-ups are now being commonly used in recent Epiphone guitars, and are considered to be on par with EMG pick-ups. In addition, EpiActives can also be used in passive mode to provide a traditional output without the need for a battery.
The EM-2 body-style screams rock n roll – achieved with Epiphone's patented "swept-C" cutaway that gives you comfortable access to all 24-frets, which you'll be thankful for when you crank up the volume and start soloing. In fact, Epiphone actually made the first EM-2 styled guitars back in the early 90s when Grunge was the frenzy, and the EM-2 Custom FX features the same dedicated reverse Explorer-style headstock as its bona-fide-brothers.
THE END LINE
The Epiphone Prophecy EM-2 FX is a solid guitar, high quality components, and great playability, all for a very modest price tag of $399. Go test drive one for yourself, you won't be disappointed.
Video Overview