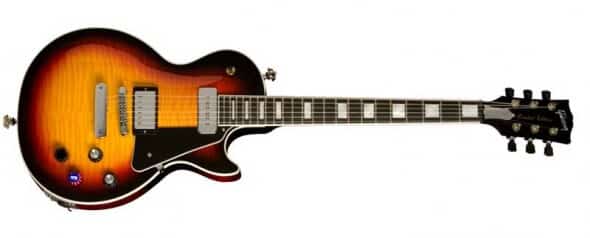 Gibson brings innovation to Robot Guitar tuning technology with the Les Paul Standard 2010 Limited Electric Guitar. Les Paul, Gibson, and the Les Paul guitar have always been about innovation. With a legacy as one of the most versatile electric guitars available, the robot Les Paul knocks versatility right off the charts, courtesy of Gibson USA.
With Robot Guitar automated tuning capabilities, 2 different but seminal magnetic pickups, a piezo-loaded bridge, and Chameleon Tone Technology courtesy of its Master Control Knob (MCK), the Les Paul Standard 2010 Limited packs a dizzying array of sonic capabilities, all primed to unlock your inner creative potential. From the raw, biting crunch of a hot, chrome-covered, hum-canceling P-90H in the neck position and the sizzling wail and punch of an overwound BurstBucker 3 in the bridge, to the subtle acoustic response of its piezo bridges saddles — and any conceivable blend of the three, accessed instantly from the MCK — the Les Paul Standard 2010 Limited really does pack all the tonal colors of the rainbow. And to keep it all sounding true, Gibson's exclusive Robot Technology puts you perfectly into tune in seconds at the push of a button, or shifts you into any of a countless number of open and alternate tunings, all accessed at your command.
Technology aside, it's a top-flight Les Paul in the traditional sense, too, yet with a plethora of custom upgrades befitting its Limited status. Constructed with a Grade-AA flamed maple top, Grade-A chambered mahogany back, and one-piece mahogany neck, the Les Paul Standard 2010 Limited offers classic Les Paul tonewoods, combined with a look that's exclusive to this run of only 400 guitars.
A unique Fireball finish with dark 'burst edges graces its top, while its back, neck and sides are dressed in a deep Vintage Sunburst with a dark cherry center and dark edges. Like several of Gibson USA's models of years past, the Les Paul Standard 2010 Limited's fast, slim '60s profiled neck carries a dark Grade-A ebony fingerboard with block inlays, while its headstock wears a chrome truss rod cover and a Les Paul designation. Quite simply, there has never been a Les Paul like it — and once they are gone, there never will be again.
All Les Paul Standard 2010 Limited's include an owner's manual, two batteries and an independent charger, and come protected in a Limited Edition plush-lined, white, hardshell case with plated emblem.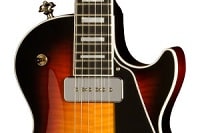 Gibson Les Paul Standard Fireball Body and Finish
Crafted along the classic lines of the Les Paul Standard, the Les Paul Standard 2010 Limited has a Grade-AA maple top and chambered Grade-A mahogany back — a legendary partnership in tonewoods — with Gibson's exclusive Fireball finish on the top and Cherry Vintage Sunburst on the back, neck and sides, all in nitrocellulose lacquer.
The Les Paul Standard 2010 Limited's wood combination represents an update of the Les Paul's classic maple/mahogany construction. The mahogany back brings in that wood's legendary blend of warmth and sweetness, while the maple adds definition, clarity and sustain. The body's chambering contributes an acoustic-like roundness and nuanced depth to the overall voice of the guitar. The average weight of a completed Les Paul Standard 2010 Limited is 8.25 lbs, which results in an extremely comfortable and ergonomic, finished guitar.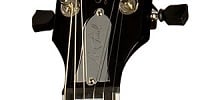 Gibson Les Paul Standard Fireball Neck and Headstock
The neck on the Les Paul Standard 2010 Limited is carved to a slim and extremely comfortable profile, which is comparable to the much-loved profiles of many Gibson guitars from the early '60s. It is constructed from one solid piece of mahogany, cut using the superior quarter-sawn orientation for improved strength and resonance, and glued to the body at the Les Paul's traditional 5° angle (pitch).
Ebony fingerboards are known for their precise, well-defined tone and outstanding note clarity, adding an air of precision to the Les Paul Standard 2010 Limited's overall depth, warmth and richness. Ebony is also extremely hard wearing, and makes for a fingerboard with a greater lifespan than that of almost any other wood commonly used for this component. The Les Paul Standard 2010 Limited fingerboard carries block position marker inlays, in the tradition of many high-end Gibson guitars.
A traditional headstock wears the classic Gibson logo, along with the six Robot Tuners that comprise the muscle of its Robot tuning capabilities. The nut on the Les Paul Standard 2010 Limited is made from a special black Teflon-based material known as Tefzell, which allows for smoother and faster tuning action.
Gibson Les Paul Standard Fireball Pickups and Electronics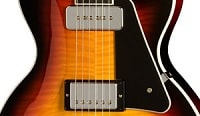 The Les Paul Standard 2010 Limited's straightforward looks belie a virtually unlimited tonal palette, accessed via its MCK from a P90H neck pickup, and BurstBucker 3 bridge pickup, and a piezo-saddle bridge.
The Les Paul Standard 2010 Limited is equipped with two of Gibson's most popular pickups, a Burst Bucker 3 in the lead (bridge) position, and a P-90H in the rhythm (neck) position, a nifty hum-canceling update of the traditional P-90 single coil. Both magnetic pickups carry chromed metal covers, a matching set that is unique to Les Paul Standard 2010 Limited.
Gibson's Burst Bucker 3 is a highly acclaimed PAF-style humbucker, wound to the hotter side of the vintage spectrum for plenty of cutting power and excellent midrange punch, while retaining the warmth and richness that these legendary pickups are known for.
The P-90H is a radical neat design that captures all of the traditional P-90 single-coil's raw bite, grind and warmth in the neck position, with outstanding clarity and high-end sheen, but rejects the annoying 60-cycle hum that such pickups can be prone to.
The guitar is further equipped with a revolutionary Gibson-designed piezo bridge, which consists of a modified Tune-o-matic-style bridge loaded with individual piezo pickups for each of its string saddles. The Les Paul Standard 2010 Limited's piezo-pickup bridge is truly a "sky's-the-limit" pickup option, which yields convincing acoustic-style tones at the twist of a knob, while also providing the Les Paul Standard 2010 Limited's secret-weapon digital tone arsenal via the guitar's Chameleon Tone Technology.
Routed independently or in myriad combinations, these pickups yield unparalleled sonic versatility, while the user-friendly control array ensures you can access them mid-flight without a single hitch in your performance, even blending in piezo acoustic tones as desired via the rotary potentiometer built into the guitar's toggle pickup selector switch.
Gibson Les Paul Standard Fireball Master Control Knob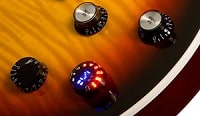 The key to controlling the powerful functions of the Les Paul Standard 2010 Limited is the Master Control Knob (MCK), which controls the brain behind this miraculous instrument and allows you to access both the guitar's unlimited tonal arsenal and its automatic tuning capabilities. It has been completely redesigned for simpler, faster, and more intuitive function, with much improved ergonomics and a sophisticated full color matrix display featuring LEDs and high-tech light pipe technology. These features work to deliver a more powerful and easier to see visual display under any light condition. In addition to the MCK's top-mounted display, LED-lit symbols now adorn its outer edge, which blend with the color of the knob so that they're only visible when lit. The MCK also controls the ability to change pickups and coils and to access preset tone settings, allowing you the ability to adjust tone and tunings automatically and simultaneously, even several times during the same song.
Gibson Les Paul Standard Fireball Toggle Switch
The Les Paul Standard 2010 Limited features a unique, multi-function toggle switch which provides standard switching between the magnetic pickups, plus a revolutionary blend control that is built into its toggle lever, and allows the player to quickly determine the ratio of magnetic to piezo tone in the guitar's output.
Gibson Les Paul Standard Fireball Output Jack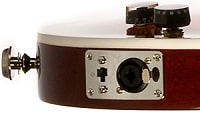 The Les Paul Standard 2010 Limited's multi-function output comprises an Amphenol XLR female 1/4″ stereo combo receptacle (the XLR cable requires a male-to-male adapter or cable). Used with a standard mono guitar cord this supplies individual or blended magnetic and piezo pickup signals, according to the player's control selections.
Used with a stereo (TRS) cord and an external accessory box (both available separately), this feature allows you to split the piezo and magnetic signals to individual amps or PA or recording channels, further multiplying the Les Paul Standard 2010 Limited's sonic capabilities.
Low-Impedance Preamp
The Les Paul Standard 2010 Limited's vastly improved output jack also includes a built-in active, low-impedance preamp comprising Gibson's interesting proprietary LP-Z High Definition Impedance Circuit, designed and named in honor of the late Les Paul's constant quest for high-definition guitar tone.
The guitar player can select either a traditional, passive high-Z output, or the LP-Z's active low-z output. The difference has been compared to the visual difference in moving from old low-definition TV systems to a new high-def system, and the clarity and depth of tonal improvement that it brings to the game have to be heard to be believed.
Gibson Les Paul Standard Fireball Hardware
The Les Paul Standard 2010 Limited's hardware includes an upgraded set of components designed for maximum tone and function. Although it looks like the traditional Tune-o-matic model introduced in 1954, its bridge carries individual piezo-pickup-loaded saddles, and is partnered with a lovely tailpiece engineered for maximum string-to-body coupling.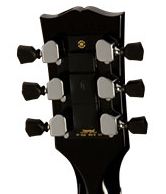 The headstock of the Les Paul Standard 2010 Limited is equipped with Gibson's revolutionary Robot Tuners, originally introduced on the Robot Guitar, then improved for the Darkfire and Dusk Tiger. You can access any preset tuning in less than one second, which means you can realistically change tunings in the middle of a song, if needed, and the Les Paul Standard 2010 Limited even includes an added bank of tuning presets. What's more, the tuners are automatically engaged to operate both electronically or individually by hand.
Tuning Capacity/Battery Longevity
The Les Paul Standard 2010 Limited's battery system and power circuit have also been significantly improved to last nearly twice as long, even with the guitar's enhanced performance. You can now expect nearly 500 tunings from a single charge.
The Les Paul Standard 2010 Limited comes with two rechargeable batteries of a type that are widely available and can be replaced at most convenience stores, along with a wall-plug battery charger. Batteries are changed in seconds via a click-latch door in the back of the guitar, so you can even keep a spare charged battery in your pocket and change in the middle of a live set, if necessary.
Gibson Les Paul Standard Fireball Bridge
The Les Paul Standard 2010 Limited carries a groundbreaking reinvention of the classic Tune-o-matic which actually consists of six individual piezo pickups — one for each saddle/string — so the Les Paul Standard 2010 Limited's bridge is not only a functional piece of hardware, but is also at the heart of the guitar's tonal capabilities.
Gibson Les Paul Standard Fireball Guitar