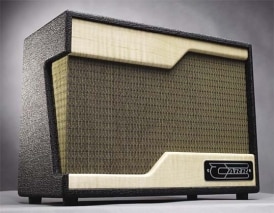 Small amps are all the rage these days. Maybe it's a sign of the times or of an aging guitar community no longer willing to carry stacks around, but it seems every amp maker out there now has offerings that put out 20 watts or less through a single speaker or as a head. The new Carr Raleigh fits into this demographic quite well and is a worthy choice to consider for any player looking to downsize their gear.
The Raleigh is a 1×10 combo amp that puts out 3 (count 'em) watts of raging tube power via two 12AX7's and one EL-84. Controls are a volume knob, a tone knob, a clean/dirty channel switch and a master volume knob, ostensibly for when three watts is too loud to be cranked up. To be fair, the Raleigh is designed more for home and studio use more than gigging and its power should be more than adequate for those uses. It produces tones ranging from glassy blackface-era cleans to sustained and saturated overdrives and does them all at an unobtrusive volume level. It also is available with some cosmetic options to suit the décor of wherever the amp will live including two-tone covering and figured maple front panels.
The amp is really an homage to the small and funky amps made during the 1950s and 1960s and this gives it a lot of vibe and coolness. Think of the Raleigh as an expansion of a Fender Champ and you will start to understand where it is coming from.
Like all Carr amps, the Raleigh is hand wired using only the finest components and the solid wood cabinet it resides in is built on-site in Pittsboro, NC by Carr's own woodworkers. It is the kind of amp that looks as good as it sounds and provides great, useable tones at very low volumes, which should make it the perfect amp for certain applications. Prices range from $1250 to $1500, depending on the cosmetics chosen by the customer. Let's get small, indeed.