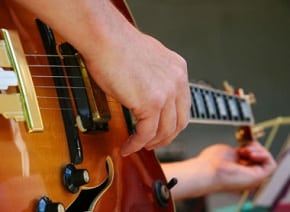 There are few things as beautiful as the sound of a well tuned guitar. Which is why, clearly, it's necessary to play with your guitar strings at least as often as you play with yourself. Much like your thing, these things need constant tinkering and upkeep to remain in top working order, although they require significantly less hand cream and tissues. Or socks.
Now there are those naysayers who will tell you that constantly tuning your guitar is merely a sign of insecurity, and that if you're so concerned with the perfect sound you should just use a tuner. But these are the same people that think that having a good performance is better than having your guitar perfectly tuned, and they also think that stopping a song to tune is a bad idea, so you can pretty well ignore them.
With that in mind, here are five tips to make sure you're doing enough guitar tuning:
Remember No Tune Is Ever Close Enough
The first thing you must always remember is that having your guitar perfectly tuned is more important than anything else. If you think the sound isn't quite right, you must, absolutely must fix it. It doesn't matter whether you're in mid performance or you've already tuned it twelve times that day.
Definitely Don't Use a Guitar Tuner
Oh sure, science has come up with electronic devices that have been built by acoustic engineers to determine whether or not a guitar is in tune. But seriously, who are you going to believe: a little box that has the work of thousands of experts and is used by millions or people or your own ears?
It's Always a Good Time to Tune Your Guitar
You might, at some point, find yourself having the thought that perhaps getting through a set without pausing to tune would actually be something your audience would enjoy. This is just crazy talk. There is never, never a bad time to tune. If the audience doesn't like it, then they're not true musicians and can safely be ignored. There is never, ever a bad time to tune. Just make sure your beer can ducking reflexes are up to par and you'll be fine.
Always Take Your Time Tuning
Tuning, like fine wine, takes time. You might be tempted to rush it, what with your bandmates glaring at you and the crowd looking like they might be ready to set the stage on fire out of sheer boredom, but you must resist this urge. Remember, it's always better to be sure your guitar is properly tuned than, well, anything else, so you definitely don't want to rush it. Take your time and tune twice if needed.
It's Definitely The Guitar, And Not Your Insecurity
Now, there are some people out there who might float the idea that constantly tuning your guitar is a sign that you are insecure about your guitar skills. This is especially true if one of those filthy lying GUITAR TUNERS says your guitar is fine. But that's just more crazy talk, and you need to, well, tune that out. Remember that there's nothing more important than getting your guitar tuned perfectly and you'll be fine. What about Drop C guitar tuning? Just click the goddamn blue link and read about drop tuning for guitar.