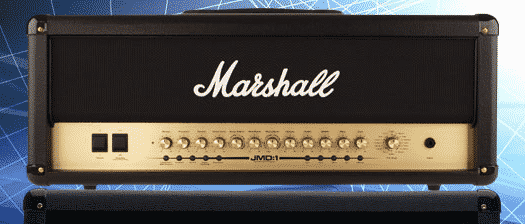 Marshall Amplification introduces the JMD:1 Series. Marking a new era for Marshall, the JMD:1 integrates an all-valve power amp, advanced digital preamp, and studio-quality multi-effects to deliver an encyclopedia of classic Marshall tones. Embracing both the benefits of new technologies and the legacy of valve power, the JMD:1 is the ideal amp for the modern musician seeking an authentic tone.
The preamp offers 16 presets divided into clean, crunch, overdrive, and lead categories; all are easily accessed via a single knob. These 16 settings reflect tones from a wide range of current and historic popular Marshall amps. Patented technology, developed in conjunction with the Swedish developers Softube, provides a truly natural playing experience. Unlike preamps that simply mimic a certain sound, the JMD:1 uses complex algorithms to replicate amplifier topologies at the component level, providing a much more interactive performance. Featuring four fully-programmable channels, the JMD:1 Series also includes Marshall's STOMPWARE foot controller, providing instant access to 28 programmable sounds.
On the power stage side, the JMD:1 uses the acclaimed EL34 pentode vacuum tube to provide the distinctive Marshall sound. The 50-Watt models use two EL34 valves; the 100-Watt models employ four. External speaker jacks are provided in both 8-Ohm and 16-Ohm configurations. The amp's design allows changes in the digital preamp settings to affect the valve power stage, creating a more musical and well-defined character for each sound.
The JMD:1 effects fall into three categories. Modulation Effects include a choice of Chorus, Phaser, Flanger or Tremolo. The Delay offers Tap-Tempo timing, as well as Hi-Fi, Analog, Tape or Multi voicings. The custom-voiced Reverb operates independently. The Series/Parallel FX Loop offers a dedicated Dry/Wet Mix control.
The back panel provides a balanced XLR line output featuring emulated speaker cabinet characteristics. This can be used live without the need to mic up the amp's speakers. The Standby/Silent Recording mode allows this output to be used while muting the speakers, for recording in a confined space. A Headphone Output, Line Input, and unbalanced (1/4″) Line Output are also provided. MIDI ports allow up to 128 sound memories to be accessed via MIDI. Discuss at Gear-Monkey Guitar Forum.
The JMD:1 Series comprises the following models:
JMD100: 100 Watt Head
MSRP: $1500.00
Availability: February 2010
JMD102: 100 Watt 2 x 12″ Combo
MSRP: $1650.00
Availability: February 2010
JMD50: 50 Watt Head
MSRP: $1350.00
Availability: February 2010
JMD501: 50 Watt 1 x 12″ Combo
MSRP: $1550.00
Availability: February 2010
Please visit www.marshallamps.com for more information