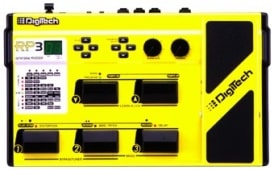 The idea behind preamp multi effect processors is a noble one; offer the consumer a reasonably priced, all in one package that covers all the bases for just about any situation a player might find himself in. But the reality of these units is that they often favor quantity of effects over sound quality. Fortunately, DigiTech's RP3 goes against this trend. While it has enough goodies to fill several proverbial Christmas stockings, its most impressive attribute is its sound.
The RP3 has 30 factory preset and 30 user programmable presets with fully adjustable parameters. The unit offers two distinct types of distortion: overdrive which is low to medium gain distortion and Grunge which is over the top high gain territory. The distortion can be bypassed at any time, so any of the presets can be used clean or distorted.
In the effects department, the RP3 offers EQ, modulation or pitch shifting, harmony pitch shifting, chorus, flanging, phasing, tremolo, auto planning, delay, compression, wah, gate or swell, reverb, cabinet emulation, adjustable presence control and the pitch bending whammy effects that DigiTech created for its Whammy pedals. The expression pedal also can be used to control the effects parameters in real time.
Other fantastic features the RP3 offers are "jam along" and "learn a lick" both of which let you mix a CD or cassette player with the signal of the RP3. Jam Along lets you play music while Learn a Lick records a passage of music up to 12 seconds long and can play it back as slowly as a 1/4 speed with no change in pitch. This is extremely useful for breaking down fast solos.
The RP3 has a built in chromatic tuner and can be run in mono stereo. The unit runs on a supplied 9.75 VAC wall wart transformer. A headphone jack is included so you can play without pissing off your wife. The RP3 is backed by a one year factory warranty against parts and labor defects though the ruggedly constructed bent steel chassis can certainly take a licking while you keep on picking.
*Note: The Digitech RP3 guitar multi effects processor is no longer in production
End Line:
The DigiTech RP3 is user friendly versatile and fun. Most importantly it sounds amazing. If you are in the market for a preamp multi effects processor definitely try this out.