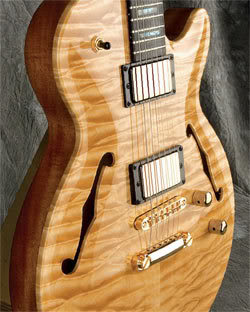 *Update: Carvin Guitars changed their name/re-branded to the name of original founder of Carvin Gutiars (Lowell Kiesel) to Kiesel Guitars in 2015.
Kiesel-Carvin SH550 Electric Guitar Review — Kiesel-Carvin had a long tradition of producing semi-hollow-body guitars dating back in the 1950's. The companies newest edition was introduced in 2008, named the SH550 (SH stands for semi hollow), this model has a carved top and it is a true precision semi-hollow custom shop masterpiece.
Semi-hollow body guitars are suitable for legendary artists such as B. B. King, Ted Nugent, Steve Howe (Yes) and Alex Lifeson (Rush). These legends have relied on hollow guitars as mainstays of their respective guitar arsenals.
The Kiesel-Carvin SH550 AAAA flamed maple is the standard top, yes, we said "AAAA" maple top, and unlike most "archtop" style guitars, the SH550 features an actual carved top. In addition, you can also choose an optional AAAA quilted maple top or a flamed koa top.
The top starts out as a 2″ thick slab of solid curly flamed maple wood. After the top is bookmatched, it is top sculpted, and the underside of the top is also carved to follow the contour of the top, while increasing the overall size of the sound chamber to improve the tonal characteristics of the instrument.
As mentioned earlier, the body of this model is beautifully carved in order to ensure high resonances and maintain maximums stability, in addition to the quality of the set-neck that is inset deep into the body. This ensures to maintain high sustainability, tonality and increase immense strength of the neck. The neck is mahogany construction which significantly helps the guitar produce its warm rich tones.
Kiesel-Carvin SH550 Electric Guitar Video Demo
The SH550 features:
standard 25" scale ebony fingerboard with genuine abalone dot inlays, a 12? radius and 22 medium-jumbo nickel frets. You can choose from a wide array of options, including rosewood, maple or birdseye maple fingerboards; diamond, block or dot inlays in genuine abalone or mother-of-pearl.
Beautified with gold hardware and a 24K gold plated Kiesel-Carvin logo. The controls include a 3-way pickup selector switch, two control knobs, volume and a tone. All the operating controls and the electronics have a easy-to-use and simple layout.
While playing the notes this guitar gives out dynamics response, and the tones delivered by it are intuitive. The guitar is a solid and incredible instrument with a melodious playability, and looks that catches the attention of your crowed.
Specifications of the Kiesel-Carvin SH550:
Set neck Construction
The neck scale length is 25"
20mm AAAA bookmatched top
24K gold plated Kiesel logo
Kiesel gives many fingerboard choices
High-quality gold, chrome or black hardware
Tune-O-Matic "S" bridge
3-way pick up splitter and master volume / tone controls
Sperzel locking tuners
The SH550 has a warm and rhythmic S22 humbucker pickup. Providing rich, warm and articulate notes that can be heard in every strum of a chord. There is no need to amplify the sound that comes from this guitar, this guitar can be used both with an amplifier or unplugged without the use of electronics.
Music lovers consider the SH550 a soulful rich and warm articulate tones. The guitar is consider a value at around $1699. The Carvin SH550 Can be purchased at the manufactures website – kieselguitars.com.
Carvin Guitars Factory Tour
Lets take a sneak peak inside Carvin and see how their instruments are made. You're going to love this video!
*Originally published on: Mar 5, 2014 @ 01:35