Peavey VYPYR The Amp That Could and Does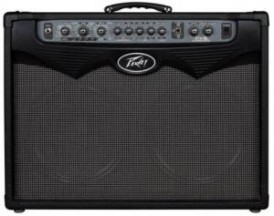 After much hoopla Peavey has finally released the VYPYR Series amplifier. Appearing so the Peavey is aiming towards Line 6 Spider, Roland Cube and Marshall MG consumers as their targeted audience. The amp comes in 15-watt, 30-watt, 75-watt and 100-watt versions. Peavey also released 60-watt and 120-watt versions that feature tube power sections.
Like most Peavey amps, the VYPYR are set at an affordable price. The 75-watt combo (loaded with a 12 inch speaker) is $299. Best Buy had the VYPYR 75-watt combo listed at $209 on their web site. People were able to get Guitar Center to price match, talk about a kick-ass deal! Best Buy has since increased the price to $299 (maybe $209 was wholesale cost or a pricing error).
What makes the VYPYR unique is that it uses analog modeling, featuring Peavey's TransTube technology. Peavey did a respectable job in the past with their TransTube amps.
The VYPYR's 32-bit processor drives the 24 built in amp models (clean and distorted channels from 12 popular amplifiers). There are 11 preamp classic stompbox effects that you can engage, in addition to the 11 post-amp effects. All this ground breaking technology is operated by the 32-bit, floating-point SHARC processor.
[% oiopub-banner-3-right %]
Reviews are above favorable for the Peavey VYPYR. It's reported that the VYPYR does a fantastic job of emulating the Peavey amps like the 6505, JSX and XXX. The VYPYR has 12 different amp models. Each model has a clean and distorted version for a total of 24 models, including one Marshall model and the Krank Krankenstein.
So what's not too like about the VYPYR? Though there is an external speaker output-jack, the built in speaker stays active. I don't think there are any stereo capabilities. There is a serious lack of connection options. Peavey should have looked into the Behringer V-ampire to learn a thing or two about configuration options. The Behinger VAMP has 15 rear panel connectors that allows you to connect and configure the amp for just about any possible application from studio to live. The Behringer has midi in/out, 125 patch locations, a windows based editor to tweak the hell out of settings, pre and post stereo effects loops, S/PDIF output. All of these features would have been appreciated on the VYPYR.
Overall this seems to be a promising modeling amp, perhaps since the original Vox Valvetronix series.
Anyone who has some hands on experience with the PEAVEY VYPYR, please come over to GEAR-MONKEY.COM and share your opinion.
Peavey VYPYR