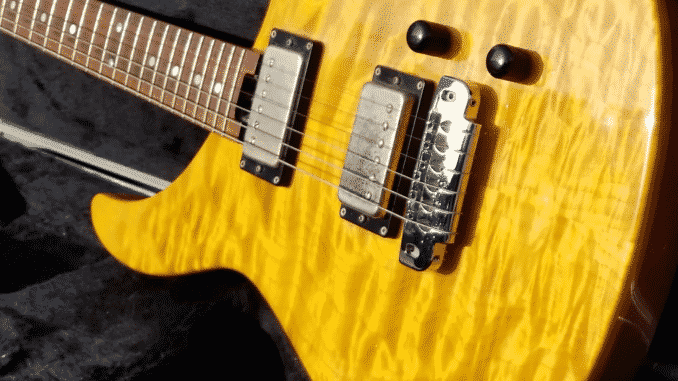 Modulus Genesis 3 Electric Guitar
Thumbs up to Modulus. The California company is among the most eco-friendly of guitar-makers, crafting its instruments from ecologically sustainable, properly harvested exotic softwoods. While some softwoods have excellent tonal properties, their use in guitar building is usually limited to the carefully braced, delicate soundboards of acoustic instruments. Which is why Modulus combines their softwoods with aerospace-grade composites that lend both tonal character and long-term stability.
For the Genesis, Modulus employs a double-cutaway body (available in cedar or soma) protected with a dense and glassy polyurethane finish. Our example featured the optional flamed-maple top, which smoldered through the exceptional cherryburst finish. The Genesis 3's full-bodied, 22-fret softwood neck is a unique creature altogether, comprising a graphite spine molded to a graphite layer beneath the fingerboard. (Using graphite to carry the string tension allows Modulus to select neckwoods for tone rather than for strength.) This graphite structure runs from the tip of the headstock to deep inside the body and includes traditional a truss rod, with the adjustment bolt exposed at the body end to facilitate tweaking. The neck is glued into the cutaways and offers unbridled upper-fret access. The fully adjustable, combined bridge offers a great set-up, with a snag-free spread providing by the Straight-pull extended tuners. All of this is aided by some very slick fretwork.
The DiMarzio PAF Classic humbuckers on the Genesis produce a tone that compares favorably with that of a Les Paul, although it is perhaps a little more smooth and redefined. Modulus have opted for an unusual five-way selector switch that allows the humbucker to be split and used as single coils in various series and parallel configurations. Considering the construction of the Genesis 3, it's not surprising that the latter pickup selections don't come close to those on a Strat; all the same, they do offer some fine lightweight jangles and hollow clucks.
Modulus have produced an eminently playable guitar that shares the same velvet touch as tone of other high-class, second-generation electrics in its range. With forward-thinking hardware designs and the added stability of integrated composites, the Genesis 3 made a sweet and reliable gig partner.
—discontinued product.