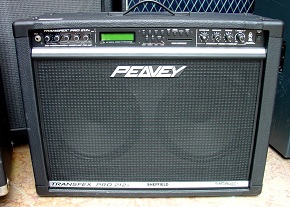 Remember that one amp you had? Sure, you've finally upgraded to a full tube head or something that's a little more professional, but there was something about that one that you've forgotten that you still miss. That amp for me is the secret gem that Peavey contrived in 1997, the Transfex Pro 120.
It was my junior year of high school. I had been playing guitar for around 3 years now, and I was shredding through a Marshall MGFX 100. It wasn't a bad amp, but not the best. When I acquired the Marshall JCM 900 1960 4×12 cab and ditched the 10's, that drastically improved my sound. It wasn't until one of my older music aficionado friends showed me his digital amp that I noticed he had been using. After inviting me over his house for a jam session, he showed me what would forever change my musical path forever. (dramatic, I know)
At the time I was really into learning metal, and really loved some of the hi-gain guitar sounds I had been hearing. Specifically, the sound guitarist Jason Hale rendered on his band CHIODOS' debut album All's Well That Ends Well. I found out he played an ENGL Savage 120. I did not have the $3,000+ for one and was looking for a cheaper alternative. I asked my friend if I could get some hi-gain out of an amp like his, and he let me mess around and try. Without any effort, I had more gain than I could ask for, and boy was it chunky! He showed me some of the other cool presets and effects, but after hearing that crisp thick sound I got, I knew I had to have one. I hit eBay, and before I knew it, I had my very own Peavey Transfex Pro. I paid $299.99 for the head with the foot controller.
The statement I always make when talking about this amp is that it was ultimately before it's time. I'd estimate about 10-13 years before its time, no joke. This amp sounds better than any other digital garbage they make in the present time…better than the Line 6's, better than the Vox's, even better than the Peavey VYPYR series that Peavey manufactures now as their digital flagship. Most believe that digital amps are weak and pointless technology, and I don't necessarily disagree. BUT! The Transfex Pro was in a class of its' own.
The amp has four channels, or preamps: clean, crunch, lead, and ultra. As you could guess, I used the ultra channel for my main distorted sound. It was simply sick. With the gain at halfway, I got the chunkiest sound…it still maintained all articulation, and sounded close to a Marshall JCM 800. After getting cozy with the overdrive though, I began to discover what this head could really do. First of all, the head is stereo. This enabled me to create stereo delay, independently adjusting the ms (milliseconds) between the left and right sides of speakers on my stereo cabinet. You could also do this with two cabinets…this stereo ability was downright AMAZING. Hearing sounds that my head created, including delay, reverb, rotary speaker, flanger, and tremolo were so cool. It's something you have to sit in a room with two cabinets and do to actually realize the incredible sound it will give you. You can make so many individual adjustments to each effect. This is what separates this digital amp from any other.
This head also has a three-band, five-band, and classic EQ control that could be dialed in as preset effects in an effect chain. It has a compressor. It has a noise gate. It also has the ability to adjust the frequency at which your guitar was sitting at. Yes, you can dial in your sound down right to the perfect midrange frequency. I'm not kidding when I say this amp can do everything, and it sounds GOOD when it does. As I write, I also remember that it does pitch shifting, all six strings at once too.
I've got to quit writing about it. I love my 5150 II, but I'm really beginning to miss my Transfex Pro. I'm thinking I might just have to get another one and build a rack box so I can roll both heads around. If you ever get the chance to play one of these heads, do it. The possibilities are truly endless.
Peavey Transfex Pro 212