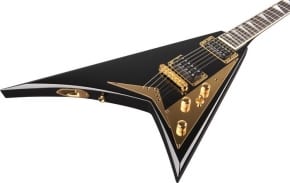 Crafted in a limited run of just 10 instruments by Jackson Custom Shop Master Build Mike Shannon, the Custom RR Limited Run bears the luthier's signature and is destined to become highly collectible.
Shannon, who was intimately involved in creating Randy Rhoad's original black Jackson signature model in the early 1980s, has hand-signed and numbered the back of the headstock of each guitar while the truss rod cover is etched with Shannon's signature. Each instrument comes with a leather binder housing a certificate of authenticity and CD with photos of the guitar in various stages of construction.
Each neck-through-body guitar boasts a quartersawn maple speed neck with ebony fingerboard, 22 frets, pearl sharkfin inlays, and Jackon's celebrated compound radius fingerboard. The strings traverse the body through a gold-plated Rhoads V-plate for superior sustain. The Seymour Duncan JB (bridge) and Jazz (neck) pickups are surrounded by gold-plated rings while the distinctive Rhoads pick guard is also gold-plated for lavish looks.
The DNA of the late great Randy Rhoads and Jackson Guitars are inextricably intertwined. It was due to Rhoads that the Jackson name first appeared on a guitar headstock. Before joining Ozzy Osbourne in the early '80s, Rhoads would bring his guitars to owner Grover Jackson's Charvel workshop to have them set up and modified. In 1980, after being recruited by Osbourne, Rhoads approached Charvel with a unique guitar design he wanted to have built. Working from a sketch drawn by Rhoads on a paper napkin, the first Jackson guitar was made. This world-famous, neck-through-body, white guitar was dubbed the "Concorde," referring to its futuristic and streamlined offset-V shape. Because he felt the instrument didn't fit the Charvel image, Grover Jackson decided to put his own name on the headstock. Thus, two legends were born.
Because the body joined the neck at the 15th fret on the original white model, Rhoads requested another version giving him easier access to the higher reaches of the fingerboard. The design was accordingly modified by downsizing the body and, at Rhoads' request, the offset-V shape became even more pronounced, streamlining the guitar's body even further.
Sadly, due to Rhoads' tragic and untimely death in March 1982, this guitar was only photographed in his hands a few times. That said, even though the "Concorde" truly was the first Jackson guitar (and there are many photos of him playing it), it was the second model that became a legend–the Jackson Rhoads. This peerless shape is now one of the most revered, respected and recognizable shapes in the darkened domain of metal, and has proven to be as timeless as its creator's much-missed talent.
Rhoads' revolutionary design was rightly heralded by Guitar World magazine as "a milestone in the development in the 'pointy guitar' aesthetic that has ruled the metal firmament ever since." Indeed, it is so highly regarded by the metal-loving masses that in 2006 it was voted "Legendary Guitar" in Guitar World's 25th Anniversary Readers Poll–beating out iconic axes owned by Eddie Van Halen, Jimmy Page, B.B. King, and Stevie Ray Vaughan.
A non-signature version of this Custom Shop instrument is also available; made in the United States with precision, pride, and passion.
Source: Musiciansfriend
Mike Shannon Interview