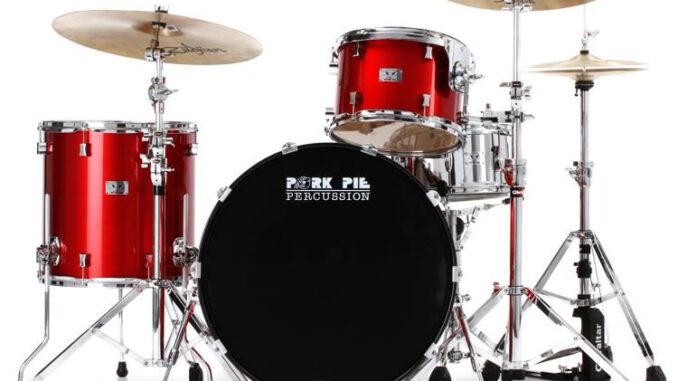 You may be familiar with Pork Pie drums. In the late 1980's and early 1990's the custom drum builder was born as a direct reaction to drums that seemed to be snapped together on massive factories with limited options for the working drummer.
Among the early drum makers to make a name for themselves in the made-to-order era was Pork Pie. Years spent repairing and refitting other manufacturers' drums gave the company a first-hand look at how to make a better drum and how to make working drummers happy. Often overshadowed by some of the bigger hogs at the trough, this little piggy has come to market with one sizzling little kit.
The Lil' Squealer kit from Pork Pie is a take on the company's highly successful Lil' Squealer snare drum line. These porky-tubs feature all-maple shells that help them cut through guitar-slop when you're rocking in the garage, the club or even the skate park – black chrome hardware with matching 2.3 mm hoops – all topped off with a classy and classic looking satin ebony finish.
The standard squealer kit consists of a 22" kick a 12" rack-tom and a 16" floor-tom. Pork Pie also offers a 10" rack and 14" floor-tom as an upgrade and soon will have new sizes and new hardware colors too. It's like a plate of bacon with a side of ribs!
Pork Pie's Squealers give drummers high-end features at an affordable price. The drums in their understated black finish may be simple and to the point but are right at home in a wide range of musical settings. So whether you're playing a five-star hotel or a graffiti-tagged half-pipe, rest assured that with the Pork Pie Lil' Squealer Kit you'll have the right kit for you…chops!
Check with your local Pork Pie dealer for more info or visit: www.westworld.com/porkpie
This little piggy went to market, had roast beef and squealed all the way to the gig!