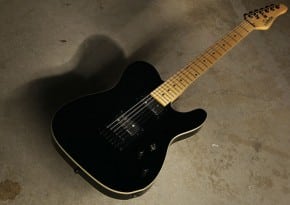 Schechter began as a mere guitar repair shop back in 1976 when it was founded. The name comes from David Schecter, one of the founders of Schecter Guitar Research.
In its starting years, the company sold guitar parts to companies such as Fender, but eventually started to produce its own high-end custom guitars in 1979. Schecter guitars became famous the same year when Pete Townshend of The Who started using a Schecter guitar in his on-stage performances. Pete used these guitars up until 1988, but the early custom models were built only until 1983, when the company was sold to Texan investors and moved to Dallas.
Under Texan ownership, the company introduced several new guitars models; one of them was a Fender Telecaster -style guitar akin to the one built for Pete Townshend. Although Townshend never endorsed this model, it was known unofficially as the "Pete Townshend" model. There was, however, a rising problem in quality despite the efforts to try to build up Schecter's reputation for quality. The investors later moved the company to Dallas, most of the employees didn't, which resulted in mass-produced guitars with sub-par quality.
Schecter Guitar Research was sold in 1987 to Hisatake Shibuya, a Japanese entrepreneur who had also began his business by selling replacement parts. Upon purchasing the company, he immediately relocated it back to California and set it back to its roots. Once again Schecter was focusing on developing custom high-end instruments. In 1995, a year before Hisatake gave ruler-ship of the company over to Michael Ciravolo, the company released the S Series Schecter guitar models of electrics and basses. Although ultimately Fender-ish, these instruments had a distinct sound and are highly sought for today.
In 1996, a new era started in Schecter. Shibuya asked a former employee, Michael Ciravolo, to take over the company. At this time, the company's guitar output was still very low–about 40 guitars a month, but Michael wanted to change it. A year later, he met a handful of Asian guitar manufacturers, and subsequently opted for mass-producing Schecter guitars in a South Korean factory.
The Diamond Series was born – high quality instruments for an affordable price. They were particularly loved by guitarists that play alternative music. The first TV appearance of a mass-produced Schecter was seen in 1999, when Jerry Horton (Papa Roach) performed on a C-1 guitar in the video for "Last Resort".
Today, the company still makes their signature custom models, but also mass-produces more affordable models. We'll surely see Ciravolo add many new series to the Schecter family. Furthermore, these models will be unique – Michael isn't particularly known for his liking of the classy Fender-style guitars.