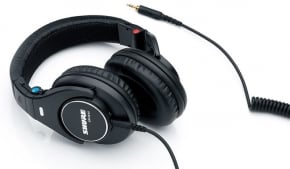 Recording engineers spend hours obsessing over which microphone to use with a particular voice or instrument. They know that every mic has a unique sound signature that can spotlight the best aspects of a recording or magnify its flaw. Many recordists don't realize that headphones are just as important as microphones in determining what the listener hears. Not their headphones–yours. The headphone worn by the recording engineer are like a filter that affects not only what you hear, but the mixing decision that you make. Further, the way that a pair of headphones sits on your head or rests against your ears can make the difference between a productive day of editing and a painful marathon.
A balanced approach
No company understand this balance among sound, function, and reliability better than Shure. "That's why we decided to develop a line of professional headphones" Says Shure–the first over-the-ear headphones in the company's 84-year history. They're designed for critical audio monitoring applications where accurate sound, all-day comfort, and durability are equally important.
The SRH240, SRH440, and SRH840 are aimed at studio recording engineers and musicians, home recordist, and creators of audio and video content. In each of these situations, accurate sound reproduction is required in order to create the right blend of vocals and instruments, dialogue vs. sound effects, or different speaking voices. The SRH240, SHR440, and SHR840 have excellent balance among the low-, mid-, and high-frequency ranges, so that one range doesn't overshadow another. Bass is rich and full, vocals cut through clearly, and the highs and crisp without being harsh. All three are closed-back, circumaural designs that rest comfortably over the ears and reduce background noise. And as you would expect from any product wearing the Shure name, all are built with the legendary attention to quality and reliability that ensure they will endure the rigors of everyday use.
Three models
SRH240

The Shure SRH240 is perfect for general recording needs or for those on a tight budget. Its 40mm neodymium dynamic drivers are optimized for general listening and monitoring, with deep bass and clear mids and highs. Impedance, power handling, and sensitivity have been calibrated for connection to the wide assortment of professional and consumer audio devices that are found in most home studios.
SRH440

The Shure SRH440 is intended as your new workworse studio headphone. It's equally at home on the engineer at the mixing console, the editor at the keyboard, or the talent in front of the microphone. The SRH440's sound has been optimized for accurate monitoring with a flatter midrange that makes it easier to hear critical details of voices and instruments. Impedance, power handling, and sensitivity are all calibrated for professional audio devices such as mixing consoles, headphone amplifiers, and DJ mixers. The SRH440 also has useful features that allow it to thrive and survive in typical studio conditions. The single-sided cable is detachable, and connects with a confidence-inspiring bayonet clip. Ear cup pads are easily replaceable. Collapsible construction and an included carrying bag aid portability.
SRH840

The Shure SRH840 is designed for the most critical listening tasks of professional audio engineers and musicians. The frequency response has been precisely tailored to deliver rich bass, clear midrange, and extended highs. While somewhat warmer than the SRH440, the sound remains well balanced for an accurate presentation of even subtle detail. The SRH840 also features special memory-foam ear cup pads and a wide, padded headband that make all-day (or all-night) work sessions a not-so-scary proposition. Again, a detachable cable with secure bayonet connection and collapsible design ensure reliability and easy transport.
Performance enhancement
Recording engineers now have a new choice in headphones for studio monitoring, Shure SRH240, SRH440, and SRH840 headphones bring exceptional sound quality, thoughtful features, and legendary reliability to every audio project, no matter which side of the glass you're on. Whether you're a musician recording tracks, an editor assembling a video project, or a producer creating a pod cast, Shure headphones help bring out your best performance.
Review by Chris Lyon