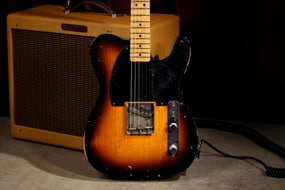 The Fender Telecaster is seen by many as the primordial electric guitar. It is brutally simple and to the point, built for functionality, and tends to appeal to the caveman contingent of the guitar community, of which your humble Gear-Vault scribe proudly considers himself part. What a lot of players forget is that there is a Fender guitar that is even more stripped-down than the Tele, one that makes Teles seem like Cadillacs. That guitar would be the Fender Esquire. Essentially a Telecaster minus the neck pickup, the Esquire truly is as straight-forward as an electric guitar can get. There is something just plain badass about seeing that expanse of pickguard uninterrupted by the foolishness of the neck pickup. It's like walking into a bar with a pickaxe rather than a musical instrument.
Fender Custom Shop knows that there are a lot of Esquire fans out there and is currently offering a couple cool takes on the big E that Fender fans might want to take a look at, namely the Seymour Duncan Signature Esquire and the '50's Top Bound Esquire Relic. Both are as vintage as it gets, and that is the point, it seems. They give players a glimpse at the beginning of the solid-body guitar era yet are just as musically valid today as the day the model was first introduced. Such was the genius of Leo Fender.
The Seymour Duncan Signature Esquire is modeled on the pickup kings' personal 1954 Esquire. It is built around a lightweight ash body and a specially carved hard rock maple neck. The single pickup is a custom-made number that is built by Seymour himself. The guitar is pretty much a time capsule from the early days, like an old-school hot rod and a black leather jacket, as is the other Custom Shop creation, the '50's Top Bound Esquire Relic. The Top Bound is a team-built axe that will be made in a limited run of 100 guitars and provides another variant on the Esquire theme. This time it is with an alder body with white binding around the top, a v-shaped maple neck, and a Seymour Duncan BG Esquire pickup with three-way switching. All this is covered in a thin-skin nitrocellulose lacquer finish that one can obtain in a variety of Fender colors. It has also been given the Relic treatment, meaning an artificial cosmetic ageing designed to simulate the look of years of heavy playing. Both guitars, of course, come with hard-shell cases and all the case candy that is expected with a high-end new guitar.

Advertisement—————————————

Make no mistake;
these guitars are both instruments that are meant to be in the hands of players who can appreciate the simplicity and directness of design that characterized the early years of the Fender Company. They are not ornate, posh, or fancy. Rather, they are primitive, to-the-point, and put all potential musical success squarely in the hands of the player, which is where it belongs, anyway. Lots of modern players, weaned on Ibanez and Paul Reed Smith instruments, just can't play Teles, much less Esquires. Those that think they might pack the gear to sling one of these might want to mosey on down to their nearest Fender Custom Shop dealer and see if they are cowboy enough to take one of these planks up to ITS potential.
Price: $4999.99
@ ProGuitarShop.com
Images of Custom Shop Esquire Guitar Relic
[nggallery id=28]
By Mike O'Cull
Fender 50s Esquire Guitar $749.99
————-WHERE TO BUY—————————————————————————————————–