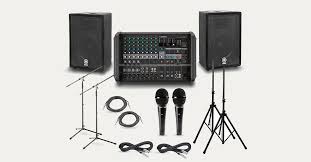 Buying a PA system for your rehearsal space or gigs once required that you purchase a mixer, a power amp, an outboard reverb unit, microphone preamps with phantom power and maybe even an equalizer to help fight feedback and shape tone. Once you bought everything, you still needed a rackmount kit to hold all the components. And after reading all the accompanying manuals, a trip to the eye doctor was probably in order as well.
Thankfully, those days are long gone. While Peavey's XR 1204 is certainly not the first powered mixer on the market, it's among the most comprehensive, offering plenty of features and power in an affordable tabletop design. The XR 1204 is a 12-channel, stereo powered console loaded with virtually any feature you could want or need for rehearsing and gigging, including 20 inputs, 16-bit digital reverb and a built-in power amp that delivers 210 watts per channel in stereo.
To check out all those features and power, we tested the XR 1204 through Peavey's 115 TLM Low-Profile Stage Monitor. Equipped with a 15-inch woofer and Peavey's 22XT driver, the 115 TLM can handle 100 watts of continuous power, making it well-suited to the stages of average-sized clubs.
While most affordable powered mixers are designed to look like guitar amplifier heads, the XR1204's tabletop design makes it easy to locate and access faders and pots. This is especially useful if you're performing and running the PA simultaneously and need to make adjustments on the fly. On the back, the console offers 12 low-Z mic inputs with phantom power (a single switch sends phantom power to all of the mic inputs) and four stereo ¼-inch line inputs. All 12 channels feature an XLR input; in addition, four channels include ¼-inch TRS input for inserting effects, two offer ¼-inch line level inputs and two "Super Channels" have switches for reversing polarity, -20dB pads and inserts for connecting compressors and other outboard gear. The remaining four channels feature XLR inputs and four sets of ¼-inch stereo line inputs. Suffice to say, there are enough options here to meet the requirements of most four- or five-piece bands.
Advertisement————————————
————————————————————
Each of the board's 12 channels has a three-band EQ (channels 1 through 8 also feature a sweepable midrange), a low-cut filter, two monitor sends, an aux send that can be used to set up additional monitor mix or send the channel's signal to an outboard effects processor, a control to send the signal to the digital reverb unit and gain control, pan pot and fader. The console's master section holds the onboard reverb controls (send, return send to monitors, time and high-frequency damping) and two nine-band graphic equalizers with Peavey's Feedback Locating System (FLS). Perhaps the most innovated feature on the console, the FLS works like a spectrum analyzer, showing you the precise frequency range in which the board is running the hottest signal. When feedback rears its head, a red LED will light up above the offending eq band. Simply adjust the slider for that band until the feedback is gone. Other useful features on the console include RCA tape ins and outs and master LEDs displaying total output.
As a stand-in for my band's PA rig, the XR1204 proved to be a versatile power house. The line-input configurations were more than suited to our rehearsal requirements and would be just about right for our typical gig. The three-band eq offered plenty of flexibility for shaping tone, and the digital reverb was rich and resonant. The FLS made it a breeze to nip out feedback, and the board's user-friendly layout made it easy to see all of our input levels quickly.
Tested in this environment, the 115 TLM stage monitor delivered full and balanced tone. Vocals cut through the mix loud and clear, while guitar and bass tones came through with deep low end and bright highs. The 115 TLM can be mounted vertically or placed onstage as a floor wedge at either 30 or 45 degrees, and the enclosure is covered black carpet and ruggedly constructed for roadworthiness.
The End Line
Peavey's XR1204 has the features, versatility and sound of a professional board in convenient, all-in-one powered console. Throw in a couple of 115 TLM stage monitors and you've got all the sound reinforcement power a self-sufficient band on a budget could need.
Buy – Sell – Trade at USED MUSIC GEAR at GEAR-VAULT CLASSIFIEDS