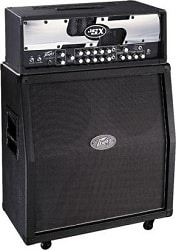 For years, Peavey has been building amplifiers that have cranked out some of the most influential riffs in music history. With signature amplifiers co-designed by artists such as Edward Van Halen and Joe Satriani, it's no wonder that Peavey remains at the top of many aspiring rock star's wish lists.
Peavey amps are known for dependability, affordability, and monstrous tone. The combination of these factors makes Peavey a great choice, regardless of your skill level.
Built with live shows in mind, Peavey amps deliver quality structural design. Their amps are made to be able to withstand the rigors of touring. No one likes an amplifier that falls apart, loses knobs, or catches on fire at random. In the recent years, the quality of Peavey amplifiers has significantly increased (not that they were bad, to begin with). A solid amp is important to anyone who plays live.
Of course, quality really doesn't benefit anyone if it can't be purchased for a reasonable price. In that respect, Peavey amps are excellent quality. They deliver maximum bang for your buck, with amps ranging from the very inexpensive (such as the Rage 158 practice amp) to the worth-every-penny professional amps (the Peavey XXX, JSX, 5150, Valveking, etc.). Peavey has the right amp for you, regardless of your budget.
A quality amp at a great price is important, but we all know that the most important factor in choosing an amp is the tone. One of the more popular breeds of Peavey amp includes their Transtube series, a solid-state rig that recreates the tone of pricier tube driven amplifiers. But for those guitarists who are tube purists, Peavey also offers the real thing.
The End Line
One of the more popular amps is the Peavey Triple XXX, a tube-driven beast that is perfect for hard rock and heavy metal. Another of their lethal tone machines is the 5150. Not surprisingly, the 5150 was co-designed by the guitar legend Edward Van Halen and packs a major punch. The 5150 will give you Eddie's post-Marshall tone with almost no effort, however, the shred skills are up to you. The same goes for the JSX series, which is the signature amp of Joe Satriani. The JSX will have your tone surfing with the alien in no time at all. Once again, these amps do not provide the ability to blast out 150 notes per second, but they will make your tone match the sounds of these heroes.
For shredders on a budget, Peavey offers amps such as the Express 112, the XXL, or the Vypyr Series which is packed with enough digital effects to soothe any gearhead's aching hunger for tone.
Peavey amplifiers are well made, affordable, and loaded with features. They are worth checking out if you have never used them. If you have been fortunate enough to own a Peavey amp, you have no doubt recommended them to your fellow rockers. Peavey's legacy of quality will surely be around to satisfy guitarists for many years to come.