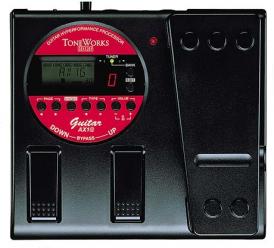 As bedroom woodshedders know, too much solo practice can make Johnny a pretty dull guitarist, while there are any number of muli-effects modules that can spice up your tone, Korg's AX1G can actually improve your sound as well as inspire your chops and tighten your timing. That may sound like a pretty hefty promise, but by combining a budget floor-effects unit with sample and looping features, Korg have a well-built virtual jamming budding that also offers exciting applications for studio and live performance.
The basis of the AX1G is a compact floor unit containing 69 effects organized into three banks of 30 editable patches. Two footswitches let you scroll up and down through the patches, and a backlit LCD screen provides information on patches and edit parameters. Most notably, the AX1G has a large expression pedal—an impressive feature on a budget unit—that allows various parameters to be controlled in real time.
The AX1G serves up all the essential effects (including a number of great patches from other Korg products, including the Pandora processor) as well as several sounds not commonly found in other budget floor units, like ring modulation and a cabinet resonator for direct recording. Alongside Korg's powerful distortions are some dynamic clean tones and surprisingly organic, gloopy-analog effects, like tremolo and chorusing. The factory patches use as many as seven effects at one time, and many of them make good use of the rocker pedal for controlling effect depth, pitch/volume changes and wah sounds. What's more, all the patches can easily be edited via bank of convenient buttons. You can also create new patches from scratch and give them your own idiosyncratic names.
All this is well and good, but the AX1G's main attraction is its sample-and-loop feature, which offers a range of powerful functions. The unit provides 0.9 seconds of "hi-fi" sampling and, for a cut in sound quality, 1.8 seconds of "lo-fi" sampling. Using the rocker pedal, you can sample a phrase or riff and control its playback in various ways. In "sample" mode, the pedal can trigger samples to play back normally or in reverse. "Scratch" mode allows you to control the sample in real time by using the pedal to stutter and fragment the phrase, just like a deejay uses his hand to scratch or a record. "Loop" mode lets you record a riff passage, then use the pedal to either to adjust the playback volume or control the length of the loop. With each of these functions you can play over your own sample backing to compose second guitar parts or add new dimension to your live performance.
The AX1G's compact body makes it easy to tote around to gigs, and its construction is sturdy enough that you won't have to worry for its safety. The unit runs for 14 hours on four AA alkaline batteries and can be operated with an AC adaptor. In addition to these features, Korg has equipped the AX1G with a tuner and metronome, making it the perfect pedal companion for practice, recording and gigging.
The End Line
This compact device really does offer more than meets the eye. It features 30 quality, programmable sounds with the added dynamic control of an expression pedal. For practice, the controllable loop functions allow you to groove in time to your own backing track, while the cabinet resonator makes the AX1G a handy accessory for budget home studios. Plus, for live work, the sample features excels at tossing out some phat freakiness. Korg's AX1G (harmonycentral.com hands-on reviews) is an ingenious budget multi-effects unit all packaged up in one box that can be had for around $15-$20 bucks used.