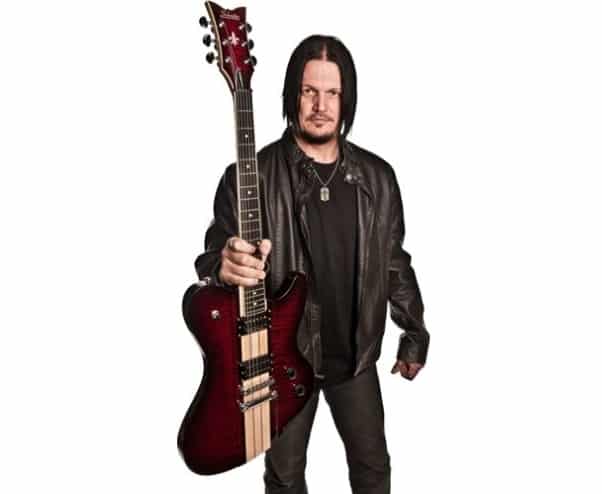 Schecter Guitar Research have officially joined forces with Disturbed guitarist, Dan Donegan. Dan first debuted his signature guitar at the 2009 winter NAMM show. While I'm not a huge fan of Schecter, I was excited to see how this ax turned out. Fast forward 4 years…

UPDATE — Turns out this ax looks pretty damn cool and sounds even better. As illustrated in the video below, you can hear the Seymour Duncan pickups really throttle this guitar to a new level, but can also be turned back to give you that '50s vibe — little diversity goes a long ways. The body style of this guitar looks heavy yet well balanced, and if you've read my posts either here at GV or on any of the various message forums I frequent, then you'd know I'm not a fan of signature guitars, but this axe doesn't look like your prototypical signature; it doesn't have Dan Donegan or Disturbed written all over it, other than the plastic truss rod cover, I don't see his name on it.
Design & Color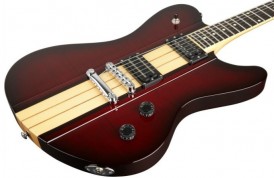 The color of this guitar is what really stands out to me. I've always been a sucker for that two tone 3 piece design that blocks together from the deep cherry mahogany body to the multi 5-ply maple/walnut neck. This is also a style you see from a lot of B.C. Rich guitars, which is probably made in the same Korean factory by Cort (just my guess – please comment below to correct me if I'm wrong).
Nuts and Bolts

This axe has some hardware that makes my wing ding hard; from the Seymour Duncan custom shop 'El Diablo' (bridge) and '59 humbucker (neck), locking tuners (which is one thing I wish all rock guitars had if they aren't equipped with a locking nut), jumbo frets (which might not be for everyone, but if your girlfriend says you have big fingers… then you might find jumbos more comfortable), ebony fretboard, neck-thru body construction, Tone Pros system, plus the aforementioned multi 5-ply maple/walnut neck and mahogany body. Personally, I could give two shits about the push/pull tone knob and I prefer a bone over the graph tech nut, but to each of their own.
One thing that bothers me about this guitar is it should be sold with a case. First, it is a signature guitar and lists at $1500 so for that kind of dough, a case should be included. And secondly, it has a unique body shape, so finding a perfect fitting case might be a tad bit difficult / expensive.
My Opinion
If I was in the market to buy a $1000 cool looking axe that was built for diversity, tone and style, then it would not be the Dan Donegan Schecter Guitar. Why? Because I don't play or buy guitars built for someone else with their name on it, which raises the price and diminishes the cool factor (who wants to be a follower?). But really, I never understood why anyone would buy a signature guitar unless you are a rich eccentric guitar collector with money coming out your ass. Personally, what I would do is find a non-signature guitar with the same cool features, probably for $500 less than the price tag of this axe… so I guess I am steering towards a B.C. Rich guitar. Watch the video below and see what you think about this AXE – Oh, and STOP F@CKING LURKING AND COMMENT BELOW!
Video: Donegan Schecter Guitar Review