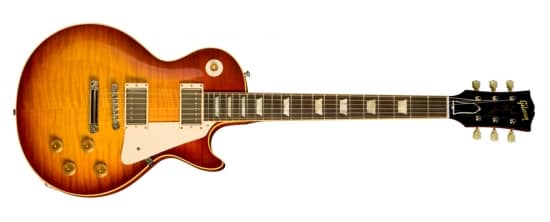 Introducing Gibson USA-made Les Paul Standard—an elegant revision of a true legendary crafted instrument, featuring some impressive upgrades over the original model, making this axe even a sweeter player; perhaps the best Les Paul Standard ever produced, if not, damn near close. Based on consumer reviews and user feedback, the Standard uphold the legacy that was birthed in 1952. Gibson USA sets another guitar benchmark for excellence and achievement.
The Les Paul Standard continues to alter and inspire the sounds of today's ever-changing musical landscapes. It features a hand-carved AA maple top with matched chambered mahogany back outlined with single-ply binding. The neck is crafted from a single piece of mahogany. Carefully glued into the neck cavity of the body, the neck functions as a single unit with the body. Its asymmetrical shape is the most comfortable neck offered on a Les Paul Standard.
The necks receive precision fret dressing and setup with the Plek system. As the guitar lies in a cradle, a computer-controlled robot arm moves along the neck measuring each fret's height, the fingerboard radius, even the bow in the neck. Using that data, the Plek machine adjusts the truss rod, cuts the nut slots for optimal spacing and height for each string, files each fret to a hundredth of a millimeter accuracy, and then polishes the frets. In a fraction of the time it takes a skilled technician, the Plek machine eliminates buzzing strings and dead spots, producing a neck with flawless intonation and superb action.
The Les Paul Standard is equipped with Burstbucker Pro pickups
Containing Alnico V magnets wound to vintage specs with wax potting deliver original "Patent Applied For" tone. From fat, rich tone and incredible sustain, the Les Paul guitar lends itself to every style and generation of music. From the sweetest jazz to the heaviest rock and metal, the Les Paul is a guitar that can do it all-it is one of the most powerful and versatile instruments of all time.