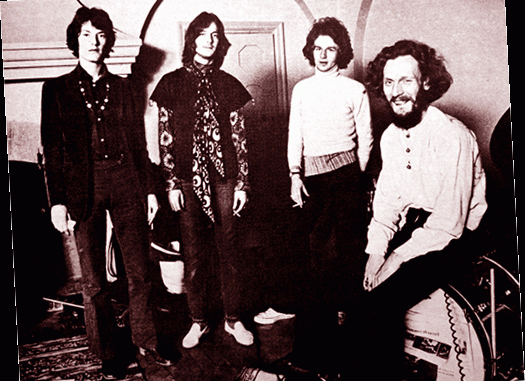 With its members drawn from Traffic and Cream, two of the most popular groups of the era, Blind Faith was hailed as rock's first supergroup.
The band started when Eric Clapton, who had just left Cream, reached out to Traffic's Steve Winwood in hopes of forming a new band. Ispired by the tight arrangements and selfless interplay of the Band, Clapton wanted his next venture to include none of the endless soloing and egotism which had been Cream's calling card. But unbeknownst to the guitarist, Winwood had, in the meantime, invited Cream's Ginger Baker to join the project. Despite Clapton's fears that the public would see the new group as an extension of Cream, he decided to soldier on.
Recording began in February 1969 at Morgan Studios in London. The name Blind Faith had not yet been suggested, and the trio booked studio time under the name Baker-Clapton-Winwood. Recording with engineer Andy Johns, the group put basic tracks for two songs, "Well All Right" and Presence of the Lord," down on tape.
After a handful of sessions, everyone stepped back and evaluated their progress. It was decided that a bassist should be added to the trio and Rick Grech, formerly of the Family, was selected. "With me on the organ, handling the bass parts as well as the keyboards was a difficult situation," explains Winwood. "It wasn't impossible, as I had done it before, but I wanted to free my feet up. We had run into Rick on a few occasions and he seemed very sympathetic kind of fellow, so he was in."
By late May 1969, the band had come up with only two incomplete songs, and both Robert Stigwood, manager of Baker and Clapton, and Chris Blackwell, Winwood's label's chief, were becoming increasingly exasperated. The two had organized massive publicity campaign to promote the forthcoming album, as well as a crowded U.S. tour itinerary. The pressure to capitalize on their lucrative reputations was not lost on Baker, Clapton and Winwood.
"It had become obvious during that era that artists could be considered hot property," remarks Winwood. With Grech now part of the band, sessions for the album resumed at London's Olympic Studios. The bassist paid immediate dividends, lending a distinctive violin overdub to "Sea of Joy," an inspired Winwood composition.
Outside the confines of the recording studio, such was the enthusiasm for the new group, now known as Blind Faith, that on June 7, they decided to make their public debut in London's massive Hyde Park. The free concert drew in excess of 10,000 people, an astonishing feat considering that the group had yet to issue a single song.
Blind Faith's uneven performance at Hyde Park, couple with the tenuous status of their unfinished debut album, heightened fears that the group might not be ready. To salvage their studio effort, Chris Blackwell turned to producer Jimmy Miller, hailed for his innovative work with Traffic and the Rolling Stones. Miller joined the band at Olympic and galvanized them with his trademark enthusiasm.
"I received a frantic call from Chris Blackwell, asking me to pull the situation together," remembered Miller in 1993. "I went through those tapes they had recorded and know that they could do so much better. Because of the limited time available, we worked non-stop for a week until the album finally came together."
Miller called for retakes of "Presence of the Lord," but none of the new efforts could match the intensity of the original Morgan Studio recording. However, an Olympic remake of "Had to Cry Today" vastly upgraded the previous effort. Much work was also dedicated to "Do What You Like," Ginger Baker's extended drum opus.
The album was finally completed when the group substituted for a superb acoustic rendition an electric version of "Can't Find My Way Home." Engineer Andy Johns, recruited by Miller from Morgan Studios to record the session, captured the group performing live in Olympic's massive Studio A with just three microphones. Led by Winwood's delicate vocal and Baker's exquisite percussion accents, the results were spectacular.
Released in July 1969, Blind Faith instantly enjoyed enormous commercial success throughout the world. A huge public relations flap over the album's risqué cover brought the "supergroup" additional notoriety. Designed and photographed by Bob Seideman, the cover artwork featured Baker's bare-chested 11-year-old daughter brandishing a toy airplane bult by Baker and Grech. Amid howls of protest, Atco Records issued a substitute cover, which featured a staid sepia-toned group photo. The resulting publicity only served to fuel the album's meteoric rise to the top of the Billboard charts.
Their summer U.S. tour was equally successful, but the group quickly came apart. "Eric and I were searching, to a degree, and Blind Faith had been a vehicle in which we could create something that had its own identity," explains Winwood. "I'm not quite sure it was the same for Rick and Ginger. I think they, and perhaps Ginger more so, saw the band as a continuation of Cream. It became very difficult when we went out on the road. As soon as we got started, we realized that this really wasn't happening. We just fulfilled our commitments and decided to have a rethink. Still, I enjoy that album and look back at that experience with fond memories."