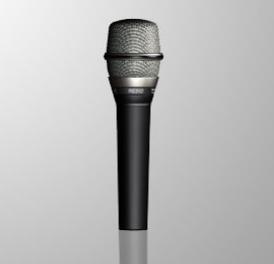 EV Electro-Voice RE510
Because of their wide frequency response and great sensitivity, condenser mikes are often the first choice of recording engineers, particularly for vocals. But studio conditions are idyllic compared to the rigors of live performance and that same response and sensitivity makes most condensers a nightmare on stage. Nobody wants to deal with feedback and extra handling noise.
Advertisement————————————
————————————————————
Those who crave condenser performance on stage should check out the RE510 ($199), a hand-held condenser designed specifically for performance applications. Thanks to what EV calls its "Warm Grip" handle, the mic is easy to hold. The capsule is shock-mounted, which effectively eliminates handling noise, and the tight cardioid polar pattern means that only the direct source—i.e., the singer's lovely voice—comes through. The RE 510 worked very well when placed right against the lips; there was little proximity effect, and the built-in pop filtering "plosives" impressively.
The End Line
The Electro-Voice RE 510 sounds more articulate than all but the most sensitive dynamic mikes. If you want your voice to really cut through on stage, this just may be the mike for you.
Gear-Vault Classifieds is an eBay alternative. Come sell your used music equipment with us for free!