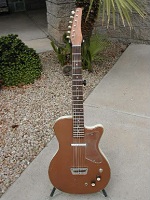 The story of Danelectro Guitars started way back, even before its first product made its way out of the factory. The founder of the company, Nathan Daniel, who served Epiphone Guitars during the 1940s, was in charge of manufacturing amplifiers for various companies like Montgomery Ward, Sears and Roebuck & Co. among others at that time. He decided to start his own line of equipments and instruments and established the corporation DanElectro in 1947, which in its initial years completely dedicated his efforts in selling his range of amps to the companies mentioned above using his already established contacts with them.
The turning point came in 1954, when the company manufactured their first range of electric guitars and christened them as Silvertone, selling them to companies like Sears among others. However, parallel to it they also continued to produce and manufacture guitars and related equipments under agreements with different dealer brands such as Airline, etc.
Amongst the various traits of the Danelectro guitars, it was perhaps the solid body construction of the instrument out of Poplar wood together with the "lipstick tubes" which was quite a unique innovation of cutting down the cost by fitting the total pickup device into unused lipstick tubes, that made it reasonably popular among diverse sections and categories of musicians starting from the amateurs to some who went on to become legends of our times, the later including names such as Syd Barrett, Jack Bruce, Pete Townshend, Jerry Garcia, Jimmy Page, Frank Zappa, Eric Clapton and Rory Gallaghar among others.
1956 is still considered to be a year of considerable importance as it witnessed a number of modifications like the application of a vinyl coating on the basic frame and the adjusting the positions of the pickups. The tale of Danelectro can be considered finished when Music Corporation of America bought it in 1966 leading to its subsequent winding up of business in 1969 though they are regarded as a collector's item even today.
Vintage Danelectro