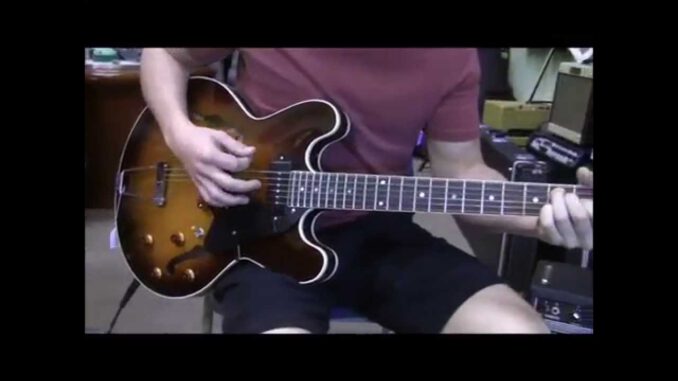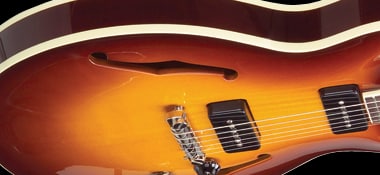 Hamer's Newport Series hollowbody guitars feature an ivoroid-bound Honduras mahogany neck and body and a hand-carved, arched spruce top with two f-holes. Newport guitars also feature two Hamer Phat Cat single-coil pickups, which are hand-built in Seymour Duncan's custom shop. The Phat Cat's wide-shape allows players to switch to a humbucking pickup without having to alter the pickup cavity. Newport guitars come stock with Tune-O-matic bridge, Bigsby vibrato, Grover Super Rotomatic tuners and Transparent Orange Sparkle finish. The Newport Pro has the same features as the Newport except for two Seymour Duncan Seth Lover pickups and a Tune-O-Matic brige with a stop tailpiece. List Price: Newport and Newport Pro, $1,999. (prices were dated in 1999) – Gear Search
Advertisement—————————————
—————————————————————
The Original Newport
The original Newport is fitted with Phat Cat single coils which were the result of a collaboration with my friend Seymour Duncan. Conceived as a crossover guitar in 1999, the spruce-topped Newport was the first guitar to receive a perfect score in a Guitar Player magazine review. Since then we've been busy configuring the Newport in different ways—adding binding, carved backs, custom inlays and experimenting with alternative pickup choices.
Shown above is a wonderful custom example. Notice how the highly figured top and layered binding contrasts against the stark ebony fingerboard with its single inlay signature.
-Jol Dantzig Source: Hamer Guitars
Go to GEAR SEARCH to find your dream guitar!. Come sell with us.