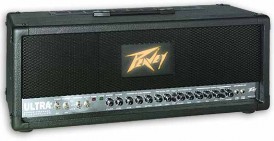 The Peavey Ultra Plus all-tube, 120 watt guitar amp head is designed for maximum tonal flexibility and power. The three channel amp has features and tone rivaling amps 2 or 3 times its price.
Dial in any degree of Clean, Crunch, or Dirty ith the amp's three channels and switch among them from the front panel or the included footswitch. Peavey's patented, three-way Resonance switch custom-tailors bottom end to your speaker cabinet and room environment. A half-power switch provides low-volume output tube saturation and ideal power for practice or small halls.
Determining which channel you are in is made easy by the large illuminated logo that changes color with selection-
Green for Clean, Yellow for Crunch, and Red for Overdrive. Gain boost Bright push switches add extra control tone shaping. Visit www.Gear-Monkey.com guitar and gear forum to discuss the Peavey Ultra Plus 120 Vs. Mesa Boogie Dual Recto.
Peavey Ultra Plus Vs. Mesa Dual Recto Video Demo
Peavey Ultra Plus 120 Head Specs:
-Four 12AX7 premap tubes
-Four 6L6GC output tubes
-120 watts RMS @ 4,8, or 16 ohms
-Three switchable channels
-Master Reverb
-Master level control
-Three-position resonance switch
-half-power switch
-Peavey Ultra Plus online PDF Manual
Clean Channel:
-Level control
-Push bright
-Three-band EQ
Crunch & Ultra Channels:
-Pre & post gain
-Gain boost switch
-Three-band EQ