PRS 25th Anniversary SE Custom 24 Guitar Review
Paul Reed Smith has become established as one of the biggest guitar makers and most well-respected instruments out there today. US-made PRS guitars are among the best-build axes one can get at any price and have developed a devoted following. The company's SE line, which is produced off-shore, has also developed a rep as an excellent bang-for-the-buck family of guitars and has many fans of their own.
One of the most talked-about SE guitars currently is the 25th Anniversary SE Custom 24, which puts classic PRS vibe on the market for a very reasonable street price. The SE is made from a mahogany body with a maple top and quilt veneer and a 24-fret wide/thin neck that makes everything one plays a part of the comfort zone. Pickups are PRS humbuckers: a Vintage Bass in the neck position and an HFS Treble in the bridge slot. Controls are a master volume, master tone, and three-way pickup selector switch.
One thing about the SE Custom that has caused quite a bit of discussion amongst the PRS community is the company's decision to use old-style PRS bird inlays on the rosewood fingerboard. PRS no longer uses its trademark bird inlays on its American guitars, having switched to an outlined bird design. There are some that feel that bird inlays of any kind don't belong on an imported PRS guitar and that the use of them on an SE instrument cheapens older domestic PRS guitars that feature the signature inlays.
PRS 25th Anniversary SE Custom 24 Vido Demo
No matter where you stand on the bird issue, however, the 25th Anniversary SE Custom 24 is an easy and excellent way to join the Paul Reed Smith club at a price point that won't break the band or your marriage. Be sure to slide on down to your local PRS dealer and take one for a test flight before they are all gone. Discuss Paul Reed Smith guitars at gear-monkey.com guitar forum.
PRS Guitars – Carlos Santana SE One Abraxas Guitar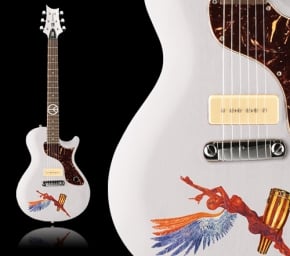 Few guitar players and guitar builders have enjoyed as long and as successful relationships as that which exists between Carlos Santana and Paul Reed Smith Guitars. The two icons are forever linked in the minds of much of the guitar-buying public, and each compliments the other in many profound ways. To celebrate this long-standing partnership, PRS is producing a limited run of Carlos Santana Abraxas SE guitars. The guitars are based on the SE One model, and feature a single-cutaway mahogany body, a mahogany neck built to a 25" scale length, a rosewood fingerboard with 22 frets, a single soapbar pickup, and a stop tailpiece. The guitars are finished in whitewash, have a graphic from Santana's Abraxas album on the body, and also have a peace sign inlaid at the 12th fret.
The Abraxas SE is built with typical PRS quality and attention to detail. Fit and finish are excellent, it balances well on the shoulder, and the Wide Fat neck plays like a dream. The electronics are as simple as it gets: one pickup and a single volume knob.
PRS Carlos Santana SE One Abraxas Guitar Video
The Abraxas does a great job of channeling vintage LP-Junior-type tones (with some PRS smoothness mixed in) and is a major gas to play. It takes its name from Santana's second album, Abraxas, which combines familiar rock guitar sounds with Latin influences and is considered by many to be Santana's definitive work. Being an SE, the Abraxas will be affordable to many (check your local PRS dealer for pricing) and that is a large part of the fun it generates. It truly captures Santana's vibe and spirit and is a great choice for anyone looking for an affordable, individual, and, due to it being a limited edition, probably collectible new guitar.
PRS McCarty Korina Electric Guitar Review
Paul Reed Smith, A Sound To Remember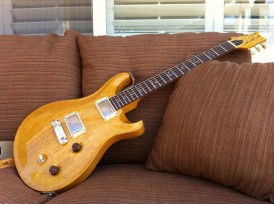 White Korina wood, also known as African limba, provides a thick solid tone much like mahogany wood is known for. Korina wood is also the same high-quality wood used for many of the early Flying Vs and Explorers that now demand such high dollar. Notably, a Korina wood Ibanez Destroyer guitar had played a large part in Eddie Van Halen's legendary "brown" sound. A nice piece of lightweight wood, like the ones used to construct the Korina McCarty guitars, provides renowned dimensionality and depth, screaming highs, rich rounded mids, thick lows while providing vocal-like velvety warmth backed with tremendous sustain.
The Korina McCarty's body is carved from a solid slab of Korina wood, as is the 22-fret thick-wide neck. For those who have not played the liked PRS carved neck, it's a beefy C shape that's positioned into the 25-scale body. The chrome-covered McCarty humbuckers are similar to the highly commended humbuckers in the standard McCartys, and a Duncan-wound soap-bar is offered as an option for those who want something a little more unique. Vintage-style tuners and a fixed aluminum bridge add a touch of sparkle to the Korina McCarty's highs.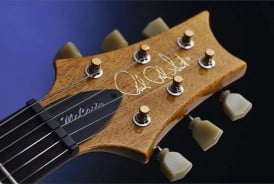 Like the PRS Mira, the PRS Korina McCarty confirms that a guitar doesn't need a maple top to sound excellent. The Korina produces all of the mahogany's warmth with more definition in the bass and more dynamic response. The well-defined midrange harmonics are also dazzling—2nd-,3rd- and 4th-fret harmonics pop clearly from this McCarty, even with a clean amp setting. When needed, the treble response can be sharp but not piercing. It's a sound enthusiast call "refined" because the pronounced highs and loose lows are balanced to create a bolstering prominent midrange.
PRS McCarty Korina Electric Guitar Video Demo
The PRS McCarty's highly developed and defined tone just sings, but through an amp that has plentiful gain, it could be likened to Santana's heavier sounds or when you turn up the gain or turn the treble down and comp out some cool jazz lines. Korina McCarty does every style well, rock, jazz, country, etc… a sound to remember.
Listen to this guitar in action at ArtisanGuitars.com by clicking – Sound bites: PRS Korina McCarty Guitar. Visit prsguitars.com to see more of PRS guitars.
Paul Reed Smith SE Mike Mushok Baritone Guitar Review

Baritone guitars have a long history in rock and country, providing everything from extra low end to surfy twang to tic-tac bass ('Six Days On The Road' by Dave Dudley comes to mind). These days, they are most often used in heavier rock styles, as they emulate the low six strings of a seven-string guitar very well without the player having to learn a new physical landscape. They are typically tuned B to B in a standard tuning configuration, but, like a regular guitar, can be re-tuned to suit the player and style at hand. The best thing about a bari for heavy rock is that you get the same sounds as a de-tuned conventional guitar puts out, but without the often soft/mushy feel they can have due to the bari's longer scale length and heavier strings. The Paul Reed Smith SE Mike Mushok Baritone Guitar is an excellent choice for those looking to put the low and heavy hammer down in rock and metal styles without breaking the bank, as it retails for $930.00. It is made of mahogany and features two humbucking pickups and this combination makes it sound positively lethal when pumped into a high-gain amplifier.
The Mushok is built around the same body as the PRS SE Custom but some important differences, the main one being the 27.7-inch scale length as opposed to the 25-inch measurement found on most PRS guitars. This allows the Mushok to be tuned lower without losing string tension, which is important to many guitarists. It also features neck and headstock binding, an inlay-free ebony fingerboard, a string-through-body stop tailpiece, silverburst finish, and a three-way blade-style pickup switch. The body is flat-topped and all mahogany but feels surprisingly light when picked up. The hardware found on the Mushok includes two knurled chrome knobs for volume and tone, non-locking PRS-designed tuners, and PRS-designed Treble and Bass humbucking pickups.
Paul Reed Smith SE Mike Mushok Baritone Guitar Video
The Mushok fits very well into the gap between a guitar and an electric bass and, like many baritones, requires little or no transition for the player. It may be one of the best choices on the market for rock and metal rhythm playing. It has enough output to drive an amp, but it still retains focus and never turns to mush. The three pickup combination gives guitarists the tones they would expect in this kind of instrument and can cover many bases. If drop-tuned rhythms are what you crave, the Mushok could be exactly what you need to drive your point home. Now, if PRS would make one with a trem for all us surf music fans, it would truly be a perfect world.
Paul Reed Smith Sunburst 22 Guitar Review

Paul Reed Smith has long become an established, premium guitar brand. PRS has come to define the modern luxury instrument and are many players' ultimate dream machines. Paul's latest offering is the Sunburst 22, which is based on his long-standing Custom 22 model. The new Sunburst model takes the heritage of the Custom and covers it in a nitrocellulose finish (sunburst, of course), which is well known as the finest finish an instrument can have. The finish gives the Sunburst a vintage quality that just can't be obtained any other way.
Underneath the paint, the 'Burst features a solid mahogany body with a spectacular maple top, a 22-fret mahogany neck with a wide-fat carve and 25-inch scale, and a rosewood fingerboard with bird inlays. The Sunburst also comes complete with a pair of Paul's new 57/08 pickups, which are causing quite a stir, as they are made on the same machine that made pickups back in Kalamazoo in the old days. Other features include a tremolo bridge, PRS locking tuners, a volume and a push/pull tone control, and a three-way pickup selector.
Paul Reed Smith Sunburst 22 Video Review
PRS uses the most modern guitar finishing technology available to craft instruments with cosmetics that have won legions of fans and the Sunburst 22 will no doubt continue this legacy. The nitrocellulose finish on the 22 really highlights the natural beauty of the woods while allowing the guitar to resonate and produce a great tone at the same time. Paul Reed Smith guitars are especially gorgeous from the stage, where the lights bring out every detail of the woods and colors.
The Sunburst 22 is one for the real PRS fans who just might want something with a bit of old-school flavor to it. In a career of highlights, this may be one of the best guitars ever made by our boys in Maryland. How does the Sunburst 22 compare to the PRS Sunburst 245 Guitar?
PRS Sunburst 22 Guitar: Street Price $3788.00 / MRSP $5566.00 OR used for around $2,500.
PRS CE Alder Electric Guitar Review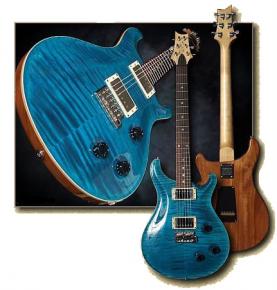 PRS presented the CE line in 1988 as a high-quality, yet, less expensive bolt-on alternative from their pricier set-neck guitar models. PRS has gained quite a following fan base in the past 20+ years for their familiar feel and superior driving tone as well as for their competitive price point. This new CE's inclusion of a solid alder body is an especially established match for the maple neck. Alder's airy and loud sparkling tone gives the 24-fret alder CE excellent clarity and profuse bite.
The maple neck adds even more rich presence, and PRS's HFS and Vintage Bass pickups bring all of this guitar's punchy tone to a well-enhanced life character. The neck on my PRS sported the greasy-fast thin-wide shape. Although more than 15 years old, this shape still feels incredibly modern and caters well to the fast-fingered player. Sealed Phase II locking tuners and genuine PRS's famous tremolo system completes the highly versatile CE package.
Guitar players who know their woods may expect to hear something similar to a Strat's acoustic tone from the PRS CE Alder. But it doesn't sound more like a Strat than a mahogany-with-maple-top PRS sounds like a Les Paul. It creates a solid innovative tone that is aggressive in the highs and quick to respond to pick-attack, which help the Alder CE scream out leads and gleam brilliantly through clean amps. At the same time, the midrange is quite definitive and the lows are amazingly thick, as opposed to the scooped mids found in so many guitars that share this alder wood compliment. The CE Alder is more fiery than sweet and seems suitable for any style of music. Rotating the five-way selector switch through single-coil and humbucker options, I discovered everything from snappy vintage tones to furious extremes.
Paul Reed Smith CE Alder Guitar Video Demo
PRS CE Alder Final Thoughts
The CE Alder is ready to satisfy another whole new generation of PRS guitar enthusiasts who prefer the extra spiciness of a bolt-on neck and the recognizably roomy highs of an alder-body guitar. https://www.prsguitars.com/
Paul Reed Smith McCARTY Electric Guitar Review

Old Les Pauls never die—they're just reincarnated as the Paul Reed Smith McCarty. The PRS McCarty was designed with—and christened in honor of—Ted McCarty, the former Gibson president and electric guitar innovator responsible for such timeless and ubiquitous designs as the Les Paul, the Flying V and Explorer, Gibson's family of semi-hollowbodies and pretty much everything the company introduced during the Fifties and Sixties.
In a nod to its namesake, the PRS McCarty derives its features and performance characteristics from the earliest solid-body Gibsons and updates them with contemporary touches. Like the Les Paul, the McCarty has a mahogany body with maple top and a glued-on mahogany neck with a rosewood fretboard. The tuners are identical to those of a Les Paul Standard, and, like the earliest Gibson solidbodies, the McCarty employs and aluminum stoptail bridge with compensated grooves for better intonation. The McCarty's vintage-style electronics center on two PAF-like humbuckers, with volume and tone controls, a three-way toggle switch and—a coil-tap circuit activated by the tone pot.
The McCarty Rosewood has all the above features, but with one very important distinction: its set-neck design uses a single slap of solid rosewood instead of mahogany. According to PRS, rosewood's tonal character maintains mahogany's midrange whomp, while enhancing lows and highs and adding a rich sustain. Carved in a comfortably wide, fat and club-like profile similar to many McCarty-era Gibson solidbodies, the rosewood neck is oil finished and features a large heal that extends to the 16th fret, adding rigidity and resonance. Its 22-fret fretboard is a separate slap of rosewood with a subtly curved 10-inch radius, jumbo fretwire with appreciably steep bevels, a graphite nut and PRS's signature abalone bird inlays. The neck's scale is a common 25 inches, with longer fret spacing than a vintage Gibson, which allows for better intonation. The McCarty's classic Goldtop finish is beautiful and speaks for the guitar's distinguished pedigree.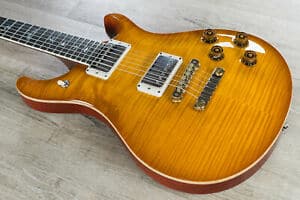 The McCarty Rosewood was almost perfectly in tune right out of its case, rigged with a set of .009s and factory-set, middle-of-the-road action, somewhere between low and medium string high. I prefer action somewhere between low and downright buzzing, not unlike Jimmy Page (coincidentally, a McCarty owner himself), and with a slight tweak of the tailpiece studs, the McCarty was ready for business.
A Marshall reissue Bluesbreaker and an early Seventies 50-watt half-stack were used for the "blast" test. The tonal difference between rosewood and mahogany necks (as compared to a reference '93 Les Paul Standard) are subtle; nonetheless, the McCarty presented the guitar's frequency range quite evenly. With its bridge pickup selected, the McCarty yielded chords of warmth and clarity, with a hint of the top-end and midrange wallop familiar to a Gibson solidbody. With its front pickup selected, the McCarty Rosewood delivered a lingering Santana-like sustain, while an expectedly jangly rhythm tone was summoned by using both pickups.
Engaging the coil-tap circuit made the humbuckers respond like single-coil pickups. In this mode, the McCarty revealed a brighter, twangier tone: plenty of bite on the bridge pickup setting and a plucky, out-of-phase tone with both pickups engaged. Diversity is definitely the McCarty's strong suit, a terrific combination of mahogany mids and Fullerton-esque toppiness in a guitar that could be a workhorse for any player comfortable with a fixed-bridge design.
Gibson Les Paul vs PRS McCARTY Video Demo
The PRS McCarty End Line
The McCarty Rosewood, like all PRS guitars, is a high-end guitar worth skipping some meals for. In fact, if I could own any PRS, this would be it. The McCarty Rosewood offers a superb combination of contemporary features and the classic craftsmanship for which PRS is known.
**(Pictured is a PRS Rosewod Limited)
Paul Reed Smith SE 245 Electric Guitar Review

Paul Reed Smith has spent more than two decades building the kind of guitars many of us dream of owning. From concept and design to fit and finish, PRS has a reputation as one of the best in the business and has attracted legions of fans who love their instruments. The PRS SE 245 is no exception.
The Sunburst color simply reeks of class as soon as the case is opened. It features extra-thick mahogany back, a figured maple top, a 22-fret mahogany neck built to a 24.5-inch scale and wide/fat neck profile, and a rosewood fingerboard with bird inlays. It also ships stock with a PRS hardtail bridge/tailpiece, vintage-style tuners, and two 57/08 humbucking pickups which give the guitar excellent tone and clarity. The 245 is finished in nitrocellulose, which is the finest finish for a guitar, and it is also outfitted with two volume and tone controls as well as a three-way toggle switch on the upper bout of the body, which is where the pickup switch truly belongs on a guitar of this type.
The PRS SE245 is an instant fit for players who are used to the old-school single-cutaway guitars of days past. The highly sought-after 57/08 pickups give the guitar a voice that is fresh yet familiar and are perfect for live gigging and recording. As per usual with Paul Reed Smith, those who have already bought these seem to love them and customer loyalty remains high.
PRS 245 Electric Guitar Video Demo
The PRS SE245 End Line
The Sunburst 245 seems suited for blues and classic rock but will do an excellent job for whatever a player can dream up. Indications are that the Sunburst 245 will maintain an important place in the Paul Reed Smith product line and, more importantly, will give those who purchase one the right tool they need to get their gigs done night after night.
Paul Reed Smith Mira X Electric Guitar Review

Paul Reed Smith is well-known in the guitar community for crafting high-end and high-quality electric guitars that offer premium performance but also often come with a premium price tag. Many PRS customers willingly absorb the cost, though, because they appreciate the build quality and vibe these guitars offer.
For many players, however, money is an object and owning a USA-made PRS guitar remains only a dream. Well, budget-conscious pickers, rejoice, because the new PRS Mira X may be just what you have been wishing for, at a price you can afford. The Mira X features a solid African basswood body that is a bit thinner and lighter than the typical PRS, a 24.5-inch Sipo mahogany neck, and a Pau Ferro fretboard. Hardware and electronics on the Mira X includes a PRS stoptail bridge/tailpiece, locking tuners, dedicated Bass and Treble pickups, a three-way blade-style pickup selector switch, and master volume and tone controls.
What the Mira adds to the PRS product line is a bit of old-school feel, charm, and less-is-more philosophy, which flies on the face of the normal high-line style of guitar they are known for. This will hopefully attract a whole new breed of players to the PRS family and this also makes for a guitar that is much more affordable than their other guitars, with a retail price of $1999.00. While the more costly PRS guitars are in the same level of quality and performance that the Mira X delivers.
PRS Mira X Electric Guitar Video Review
PRS has always had a commitment to quality that many other makers can only dream about, which has been a hallmark of the brand since it launched back in 1985. All Paul Reed Smith axes are made from the finest available woods and components and are often seen in the hands of some of the world's best guitarists, from Johnny Hiland to Carlos Santana. The Mira X makes it easy and affordable for guitarists to join the elite ranks of PRS users and have a dream machine of their very own.