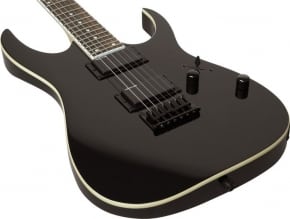 Since 1986 the masters at Ibanez hit their stride with the RG body style, and have been leaving a trail of wannabe guitar carcass road kill on the highway of rock ever since. I remember seeing my friends with their RG550 models and saying to myself "one day, I'll own one too". Fast forward 23 years to find that Ibanez has not rested on its past success. They have also been smart enough to start making budget guitars, starting with the EX series, almost from day two. This is part of what has brought undying loyalty and a fan base some rock stars, and other guitar makers, could only dream to achieve.
Presented for your reviewing pleasure are two prime examples of Ibanez knowing not everyone, including weekend warriors, has the ability to invest thousands of their hard earned money into a single guitar. There are many common features these rock-with-a-tude instruments share; The famous RG body and Ibanez headstock, 3-piece Wizard II necks with bound rosewood fingerboards, 24 frets, and dot markers, fixed string-through-body bridges, and street prices under $300. Right there is where the similarities end.
The RG2EX1 sports a top bound basswood body, black hardware, a 3 way pickup selector, and covered V7/V8 humbuckers (note: in the past, this guitar originally sported "Designed by EMG" pickups). Basswood has been the tone woods of choice used for Ibanez guitars as long as I have wanted one. The V7/V8 are also the classic pickups used on the RG series since the 550 model debuted. While they can handle any style with aplomb, these beauties really begins to shine when the gain is cranked. This guitar was made to please the metal gods. Overall, it has that dark tone begging you to tune it down and crank it up. The 3-way switch tells you that it is all about getting the job done, as it just wants to rock and roll all night.
Ibanez RG2EX1 in black

It's counterpart for this review–RG321–likes to travel in some different circles. The INF pickups are just as happy at a jazz festival as they are on a rock concert. The choice of a 5-way selector and a mahogany body reinforce this to the Nth degree, especially when you choose the au natural oil mahogany over the grey nickel or weathered black finishes. Having the access to some added pickup configurations gives you the ability to play in with a reggae group that ends out their set with a full-on Bad Brains funkadeilc rock fest. The RG321 gets plenty of low end girth as it prepares for takeoff, but the choice of tone wood doesn't play as well into the refined chug fest sound of basswood. It does afford an overall warmer tone and even manages to evoke some of that magic only a popular overpriced single cut could otherwise afford you. The smoked chrome hardware gives the 321 a cosmetic edge lost by not having binding that runs around the top of the guitar's face, which also subtly brings the word sophisticated to mind.
Ibanez RG321 in Weathered Black

Overall, for under $300 who is going to complain? If you know what you want and metal is your mojo, go for the RG3EX1. If you're not quite sure where you fit in and you cringe at the idea of your guitar instructor thinking "oh no, not another metal head" then the RG321 may more likely be your ticket to ride. Both guitars are easier to maintain with a fixed bridge, and both offer plenty of room for mad-scientist hot-rodding should that be your thing. If you are a Jackson fan and are torn between buying a Jackson or an Ibanez, then you must see Gear-Vault's Jackson Dinky vs Ibanez RG Series Shootout!
Ibanez RG2EX and RG321