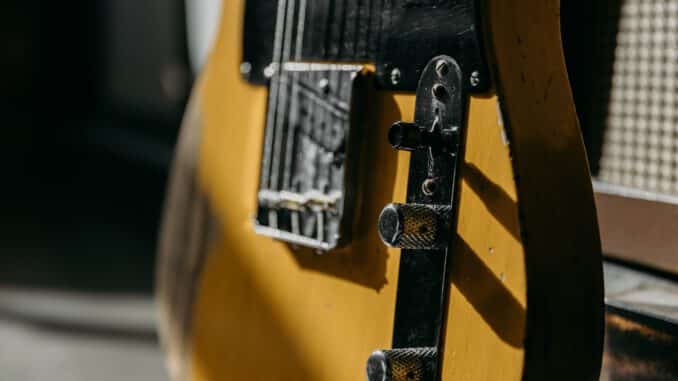 There's some buzz going on about budget guitars as of late, probably because of how respectable budget guitar playability has become. So we decided to compile a list of eight instruments focused on Chinese crafted Telecaster copies, in no certain order. If this post becomes overwhelming, please feel free to use the Table of Contents to the right. Our mission is to give you as much meat as possible about each of these Telecaster clones. If you like this free content, please share it around the web and help us spread the word!
Disclaimer: The price of these instruments varies from $110 to $350 USD — some of these guitars are discontinued and only found on the used market. I am not an affiliate, nor am I using any affiliate links in this review to try to sway your opinion one way or another. The content is in collaboration and sourced together to make the Ultimate Telecaster Budget Guide. We are just giving you our honest opinion. If we forgot your favorite budget Telecaster clone, please post it in the comments section below and share it with other readers! We are always thankful for your opinions!
Jay Turser JT-LT Custom Deluxe Tele Clone

Jay Turser was an early adopter of the bulk import/eBay resell business model. The company is known for offering quality instruments with fairly consistent quality standards at an affordable price.
This review focuses on the Chinese made JT-LT Custom Deluxe which is modeled on the Fender Telecaster Deluxe concept featuring a neck humbucking pickup with a traditional style single-coil bridge pickup and standard three positions switch/volume/tone wiring.
Cosmetically, the flawless double binding and gold hardware really add up to a guitar that looks much more expensive than it is. However, the finish is a little too orange to be called "Cherryburst". At a distance greater than about 10 to 15 feet the flamed maple laminate top can't be seen. Bummer! It would be a much more beautiful guitar if the finish was slightly more translucent.
The comfy, medium profiled maple neck is seated with medium-sized frets and features a dark (rosewood?) "skunk stripe" down the back. The 13th fret was a little high on the treble side causing the high e string to fret out at the 12th fret. After leveling the frets and resetting the action and intonation, the guitar plays beautifully. Fret ends were dressed perfectly; couldn't find a single rough edge.
Tonally, the bridge pickup was shockingly good with a nice, stringy, open sound and the perfect amount of strident twang one would expect. Without thinking, I started chickin' pickin' and pulling off double stop bends. This guitar screams for tweedy grit and slapback delay and I was happy to oblige. While all single coils hum, the hum was manageable and not excessive as is the case with many cheap stock pickups. Backing off on the nicely voiced tone control cut the perfect amount of bite, leaving all the creamy mids intact for some great Tom Petty-ish tones. The middle position yielded a fuller sound as expected without any loss of the high end, while the neck position was voiced too dark for my tastes.
Additionally, the output of the neck humbucker is a touch too hot to really complement the outstanding vintage-voiced bridge pickup. That being said, I was able to get some convincing jazz tones using the neck pickup with the tone control slightly rolled back. Both the tone and volume knob are responsive across pretty much the whole spectrum. However, the guitar loses a touch of brightness when rolling back the volume knob.
I'm surprised by the rising quality and affordability of instruments coming from China, and the Jay Turser JT-LT-Custom Deluxe is no exception. This is one versatile instrument and with a minimal amount of work is an excellent player. While the finish isn't inspiring, it's also available in natural and sunburst. Arranged by Will Chen. Visit here for more information about Jay Turser Guitars.
SX STL62 Telecaster Clone

When I reviewed the SX SST57, I knew eventually I had to get my hands on one of the STL models. If it was half the guitar the SST was, it would be well worth the modest price. When I decided to write an affordable Tele styled guitar roundup this issue, the SX STL62 was first on my list.
The SX STL62 is in every way a Telecaster tribute in a very traditional sense of the word. with a bolt-on rosewood on maple neck with six inline tuners, classic single cutaway, oversized bridge base plate, dual single-coils with a three-way switch, and master tone/volume controls. The only upgrades over the classic design are, rather than employing the traditional inset jack cup (which is prone to failure over time), SX has opted for a more modern screw-mounted jack plate and the bridge features a six-saddle string-through design rather than the traditional three-barrel design.
The finish is absolutely gorgeous! The "CAR" suffix, in addition to abbreviating the color (candy apple red), also alludes to the subtle sparkle in the finish and the lively nature of the tint, which seemingly changes colors in different environments. In darker lighting, it appears a deeper maroon. Coupled with the black pickguard, it looks tough and aggressive like a bouncer in a dark alley ready to brawl. Conversely, in sunlight, it's playfully scoping out the Betties on the beach.
Like their SST model, the neck has a nice and chunky C-shaped contour. A sticker affixed to the back of the headstock boasts a dual expanding truss rod. Fretwork is good, with a few slightly rough ends towards the top of the neck; easily remedied by five minutes with a triangular file and some steel wool. This neck was just a hair too wide for the neck pocket, as you can feel (and see) an extremely slight overhang of the neck heel at the joint. This doesn't affect playability by any stretch of the imagination, though it is slightly distracting if you happen to graze it while playing up high on the neck. I expect this is a flaw unique to this guitar and not a general sign of a design issue. However, that does bring up the question of consistency of quality at this price point.
Quality was clearly also sacrificed on the tuners to cut costs. The gear action isn't consistent from string to string with the high e-tuning machine being the worst; which seemed to require almost twice the rotation of the others to alter the pitch. The nut is cut clean and there were no binding issues. Setup out of the box was subpar; the bridge saddles need to be lowered significantly. In spite of this and to my surprise, I was able to lower the action extremely low without any buzzing; indicating the frets were nice and level and the neck had the perfect amount of relief without adjustment. However, once setup the saddle adjustment hex-screws were protruding significantly. They're not at all sharp or rough, but whenever palm muting they make me a bit paranoid that I might scratch up my hand.
The pickups are a mixed bag. The bridge has the bite and twang you'd expect from a Tele with a modest output and balanced midrange and lows, perfect for nailing country and classic rock tones. On the other hand, the neck is simply passable and exhibited some muddiness, depending on amp settings. However, I should add that I feel it's somewhat difficult to make a really good traditional Tele-neck pickup which complements the bridge pickup perfectly. I've been equally disappointed by some replacement models from the bigger names in pickups. The volume and tone knobs are effective across their entire sweeps. However, the tone knob could be a bit smoother, as it becomes exponentially effective as it's rolled back, making the last quarter turn difficult to dial in precisely.
SX has another diamond in the rough with the STL62. Though not without some minor flaws (tuners should be immediately upgraded), this is a player's instrument which will likely make you feel a bit guilty for being able to get so much pleasure out of such an affordable guitar. Created by Will Chen.
Price: USD 109.99
Pros: Good playability, nice finish
Cons: Poor tuners
Arbor AS340 Telecaster Clone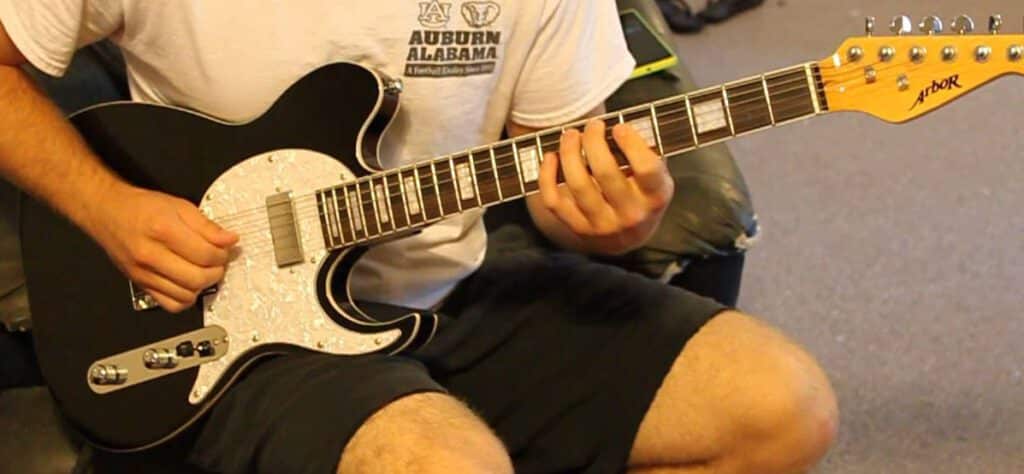 One of my contributions to this Telecaster copy roundup is the Arbor AS340, and one of my favorite guitars. A little research reveals Arbor guitars are imported and distributed by South Carolina based Musicorp, LLC which also distributes Dean, Luna, Barcus Berry, J.B. Player, and J. Reynolds products.
I found my Arbor AS340 at a local Mom-and-Pop music store and was initially fascinated with its looks. It has a black body bound with a cream white binding and a triple-ply pearl pickguard. The rosewood fretboard is also bound with the same cream white binding and inset with rectangular Pearloid fret markers which add to its elegant look. The 24.75-inch scale, 21 fret maple neck with a nice glossy finish up the headstock. This instrument looks elegant.
Features include a mini-humbucker pickup in the neck position and a traditional Telecaster style single-coil pickup in the bridge position, maple neck with rosewood fingerboard, white pearl block position markers, chrome die-cast machine heads, three-position pickup selector switch with master volume and tone controls.
The body shape is a traditional Telecaster style with a string though ashtray bridge design and a three-way switch. The middle position is wired out of phase so that it has a nice nasal tone which lends itself to playing rhythm. Both pickups have a snap to their character and respond tremendously to picking attack; with the neck mini-humbucker having a range that goes from snappy to jazzy depending on pick attack adding a nice fullness to playing in the neck position. The bridge pickup is a purist's joy; snappy bright and aggressive perfect for Paisley bass note runs or a Buchanan blues squeal.
When I first picked it up, it was already perfectly setup and ready to play. That could be the result of a good local music store set up the guitar before purchase. For a guitar that can sound so traditional, the pickup's versatility allows it to sound good through any genre. These pickups respond very well to being overdriven. Country, blues, rock, and jazz just flow out of it easily. I've noticed similar style guitars sporting both the Jay Turser and Arbor name so I assume they collaborate with the same Chinese factories. This guitar is cream of the Telecaster crop for between both the Jay Turser and Arbor brand.
I can't find what type of wood the body is made of. I would assume basswood but from the snappy response of the bridge pup, I wouldn't rule out either poplar or alder.
Pound for pound, the Arbor AS340 is a great guitar value that can compete favorably with middle-market guitars. It's beautiful to look at and a dream to play. Arranged by Frets99.
Arbor AS340 Video Example
Performed by John Smith. 
Price: USD 195.00
Pros: Good playability and versatile tones
Cons: None
J3 Atlantis Telecaster Clone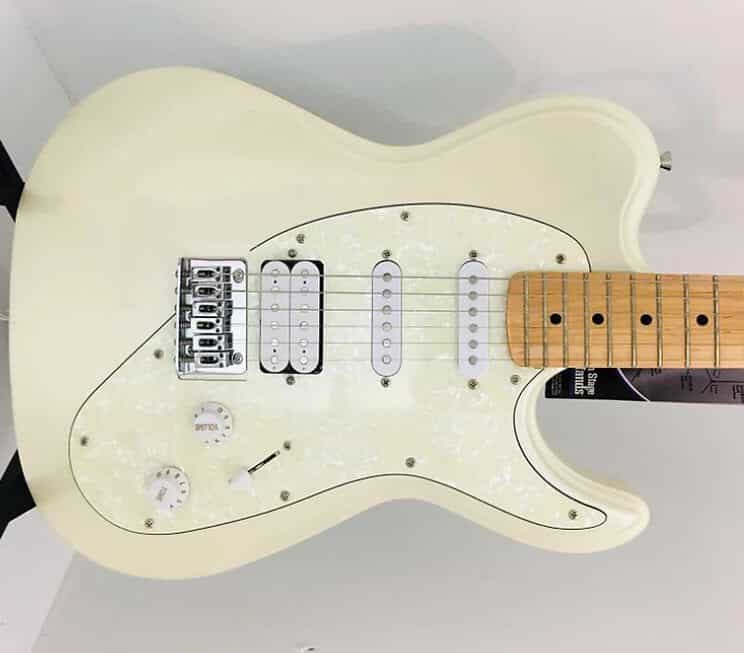 The '80s brought a plethora of manufacturers into the industry offering "Super" Strats, updating the classic designs with various shed approved accouterments and wild paint jobs. I often wondered why no one really did the same with Telecaster style guitars. The J3 aims to fill that void with the Atlantis.
J3 was launched in 2005 and is a division of Codel Enterprises, which is a distributor of imported guitars. Aslin Dane and Ministar are sister brands offered by Codel.
Our Atlantis review model features a flawless natural finish (also available in black, three tone options available; Sunburst, purple sunburst, transparent red and transparent blue) over a subtle grained poplar body which could have easily been called butterscotch. The substantial but not quite chunky maple on maple neck with slightly wavy, large and retro scripted headstock for some reason reminded me of '70's wood paneling and bushy beards. Not sure why… Cosmetic déjà vu aside, this guitar features some very modern features, such as the comfort contours of a Strat and a single-single-humbucker pickup configuration wired to a five-way pickup selector and a push/pull tone pot which splits the bridge humbucker.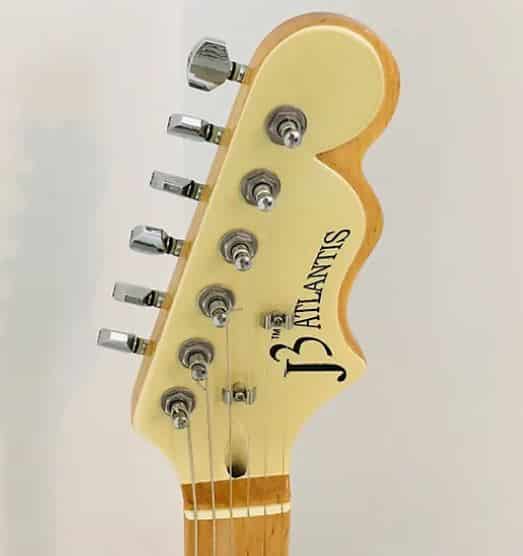 The setup is decent and the neck will feel familiar to those who've played a Fender Tele with a fairly flat fretboard radius. The fretwork really stands out. There were no sharp ends and the tops were polished to perfection. Sweet! The guitar balances well and thanks to the Strat-like contours, feels very comfortable. I did notice that one of the string ferrules was slightly off-center.
Plugged up, it was immediately obvious where corners had been cut. Overall, the single coils lacked high-end snap and the humbucker just didn't have the punch I look for in a bridge humbucker. It almost sounded like there was a blanket over the amp when plugged in. Backing off the volume knob just made things worse. I split the bridge pickup hoping for a little bit more bite with no luck. Additionally, the tone knob had a very unnatural feel which was very subtle for the first 70% of rotation, then rapidly rolling off the highs which made it almost impossible to use.
While the J3 features impressive workmanship for such an affordable instrument, the budget component choice really subtracts from an otherwise nice guitar. Crafted by Will Chen — visit for more information.
Price: USD 180.00
Pros: Solid workmanship
Cons: Lackluster electronics
Tradition Jerry Reid Telecaster Clone

I ran into the Tradition Jerry Reid Signature Pro by accident and kismet. I had been looking at Tradition guitars and found the Jerry Reid line to be appealing. I wanted a guitar that would define my playing and give me access to many tones and this guitar seemed to possess that quality while also being beautiful and very well built. I had actually inquired into the price and resolved to save up for one.
One day I walked into a Guitar Center and there she was. It was like a promo ad comes to life. I was stunned because I found only one Tradition dealer in my part of the world and he never seemed to have the Jerry Reid line. I didn't want to special order one if I wasn't sure I would keep it, I'm funny that way. But here was one that I could try out before I decided. I plugged her in and must have spent the better part of an hour going through all the settings and was totally mesmerized. I bought it on the spot.
The Jerry Reid Signature Pro features a solid mahogany body with a 3/8" figured maple cap (quilted laminate) with a 25.5" scale maple neck with a rosewood fretboard with dot inlays (the current production run available July 2009 features a maple fretboard and Tradition's signature "T" inlays). The neck is fitted with fat frets on a satin maple neck with low action and is a dream to play. Tuners are terrific; I play this guitar hard and it stays in tune.
Tradition has spec'd out their pickups before they had them produced and did a great job providing incredible tones in every position. This is essentially a Nashville Telecaster with some real power with a splittable humbucker in the neck, splittable rail humbucker in the middle, and traditional Tele styled bridge pickup; that's 11 different tonal combinations! Both humbuckers are clear and powerful. The middle rail humbucker is a real tonal weapon adding power where many guitars place a tone you just simply pass by and the bridge sounds like a traditional Tele, very ballsy with great snap and pop. The mahogany body and maple cap give this guitar depth and warmth while retaining the brightness of a Telecaster. Here is a description of all the tone combinations:
Neck Humbucker – Thick and warm
Neck Humbucker split – As sweet as a single coil in that position
Neck Hum and middle hum – Powerful
Neck Hum and middle Hum split – quacky but ballsy with a touch of low-end bass
Neck hum split and middle hum – also quacky but ballsy with more treble
Neck hum split and middle hum split – Like a strat quack but warmer
Middle – Double rail. Very articulate and punchy
Middle split – Like a middle pickup on a Strat
Middle and bridge – quacky with balls
Middle split and bridge – like a Strat quack with more treble
Bridge – One of the best Tele bridges I've ever heard
The Tradition Jerry Reid Pro is a high-quality instrument that I believe competes against any top quality guitar including the MIA brands. By Frets99
Tradition Jerry Reid Telecaster Video Example
Performed by Wigumbo
Used Price: USD 350.00
Pros: Great playability, quality components, and well-designed pickups with very versatile switching
Cons: Not as bright as a traditional Tele and missing the traditional middle Tele position
Tradition Jerry Reid Classic Vintage Tele Clone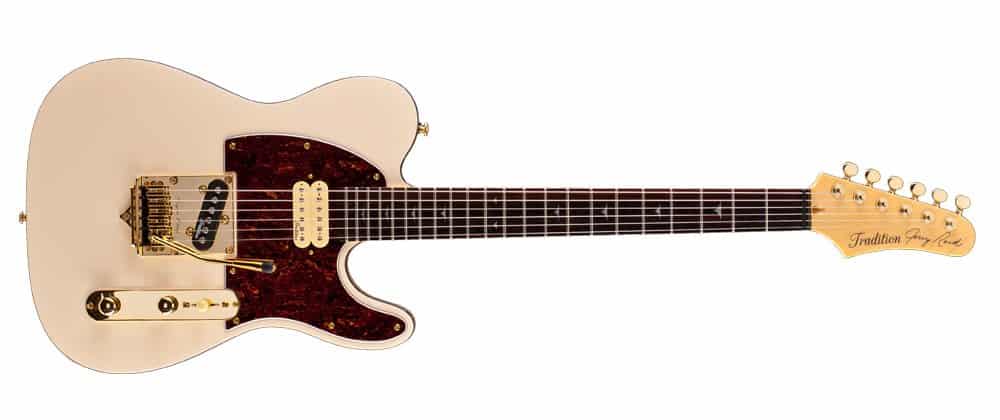 When I heard Tradition Guitar was revamping and simplifying their Jerry Reid line with a Classic Vintage model. Which comes with a TremKing TK-2 tremolo and designed pickups. I was eager to give this instrument a test drive.
The new Jerry Reid Classic Vintage is a Telecaster Deluxe tribute with the additional ability to tap the neck PAF style humbucker via a push/pull tone pot. The instrument features a modern radius C –profile maple neck topped with a rosewood fretboard and nicely crowned medium jumbo frets, capped with Grover tuners. Our review model is a mahogany bodied prototype, but the production guitars will feature an Alder body.
All strapped up and plugged in, the Jerry Reid Telecaster Clone lives up to the high standard expected from Tradition Guitars. Cosmetically, the guitar is flawless and construction across the board is solid with high attention to detail. The single flaw I could find with the guitar was a slightly high 13th fret on the treble side which caused some buzzing on the high E string, a minor issue which could be remedied with a fret level.
I auditioned the guitar though a Peavey Bandit, Vox AC4TV and direct using a Digitech RP355 and in each scenario, the guitar performed admirably. Tradition's new pickups include an alnico bridge single-coil wrapped with 42 gauge enamel wire measuring at 6.2K and a neck humbucker with a ceramic magnet measuring at 8.2k and both deliver the goods.
Tonally, the bridge pickup is twangy with a crisp bite and full midrange which loved rootsy rock strumming with a medium gain amp where chording was aggressive sounding yet retaining great chime and clarity. Dialing back the gain and kicking on a compressor yielded a tone which screamed country; I couldn't help but fire off some chicken -picked runs.
Switching to the neck pup yielded a warm tone in humbucking mode, perfect for copping a smooth woman tone at higher gain settings or split yielding a tone more akin to a Strat neck pup. Combining both pickups in the middle position provided Tradition Telecaster tones in single-coil neck pup mode and the classic fat, yet articulate tone in the humbucking mode which has made the Fender Telecaster Deluxe a favorite among many players for years. The TremKing TK-2 elevates this already versatile guitar to a whole new level, as they also sell this unit as an aftermarket add on.
The Jerry Reid Classic Vintage is a formidable mid-priced instrument. No other company which I'm aware of offers similar customized features at a competitive price point. If you constantly upgrade your axes, The Jerry Reid Custom Vintage might just be the perfect fit as all the typical custom upgrades come standard. Will Chen.
Used Price: USD 375.00
Pros: Innovative high end and custom feature set, good playability
Cons: None
Squier Classic Vibe Telecaster

I realize the title says "Chinese Budget Telecaster Clones", but we can't ignore Squier. Sure you want a diamond in the rough, but you will have to swap out components to get the most from the guitar. Squier has taken affordable instruments to a whole new level with the Chinese-made Classic Vibe series, offering respectable upgrades where many others cut corners.
The Squier Classic Vibe Telecaster 50s features a pine-body with a string-through ashtray bridge, fitted with three barrel-style brass saddles; a one-piece bolt-on maple neck with rosewood reinforcement stripe, capped with a synthetic bone nut; and a pair of "Custom Vintage" pickups with alnico 3 magnets. Whoa… Fender doesn't use many of those options on their Mexican series, which is nearly 1 ½ -times as expensive! The specs are impressive on paper, but do these combine to form a real-world instrument that can compete with something far more expensive?
Playability was superb thanks to the 21 immaculately dressed medium jumbo frets and a 9.5-inch fretboard radius is smooth and comfortable. The C-shaped, one-piece maple neck has a depth to it which feels substantial, just like I like. It's chunky without being overwhelming. Honestly, I was kind of shocked by how impressed I was with the neck, as it really caught me by surprise. The neck easily rivals any American Fender Telecaster I've played; very, very nice.
Tuner action felt smooth, and the guitar held pitch extremely well. The guitar is just solid. Cosmetically, I couldn't find any flaws. Though, I'm not too fond of the "Vintage Blond" finish which looks more like a semi-translucent cream. Overall, the only hardware spot even worth considering upgrading is the traditional cup style input socket since the traditional design is eventually prone to failure. Unplugging the guitar exhibits a nice full zing with great string to string definition, which was making me excited to plug her up. Time to put this honey through the paces.
I auditioned the guitar using a Fender Cyber Champ and Boss GT-10. Saying I was impressed with the Squier Classic Vibe Telecaster would be an understatement. The bridge pickup has great upper midrange definition, the perfect amount of stringy shimmer on the high end, and a tight and slightly attenuated low end yielding a tone that is unforgivably Tele. The neck pickup was even more of a treat, with all the trademark warmth you would expect, but also keeping very good high-end clarity, which is almost always lacking from traditional Tele neck pickups. Sweet! Across the board, the guitar just really feels responsive to picking technique, translating attack with excellent clarity. Dig in and the guitar barks like a junkyard dog; back off and she sings like an angel. Somehow, the pickups together weren't as inspiring, though still capable of some good tones. The tone knob was effective across its entire sweep, however, the volume knob dulls the sound significantly as it's rolled back; a treble bleed circuit would be an excellent mod to consider.
While other options will get you a taste of twang for a little less money, the Squier Classic Vibe Telecaster 50s is the real deal, requiring no modifications or upgrades to get to tonal Nirvana. This really feels like a guitar where each part contributes to a tonal puzzle that just wouldn't be complete if one piece was missing. My single request is if they offered it in a variety of finishes (likely, offering only one finish was a marketing decision to keep the Fender Mexican series competitive). It's a great guitar, not just a great guitar "for the money." You'll be hard-pressed to find a better traditional Telecaster at a competitive price. Conclusion by Will Chen.
Price: USD 350.00
Pros: Excellent playability and workmanship, very good pickups
Cons: Uninspiring finish
AXL Badwater Eldorado SE Telecaster Clone

The SE (Special Edition) line of Badwater guitars was a limited run, you will have to explore the used market to find the AXL Eldorado SE.
The AXL Badwater Eldorado SE features an alder body with a 25.5" scale maple neck along with a rosewood fretboard with a 12" radius. Fret ends on the medium C-shape neck were perfect, not a rough end to be found. Additional features include a "hardtail" string through anodized bridge, Gibson-style, three-way pickup selector, and master volume/tone controls.
Cosmetically, I don't know if I've seen a cooler looking guitar. AXL's Badwater finish is a unique take on distressing. Rather than try and fake the look of a worn instrument, they focus on giving the guitar on an organically worn look as if it has reclaimed the wood from an aging barn. The result is a unique guitar that will turn heads. They overlooked no detail; even the hardware is antiqued. The headstock drives home the aesthetic with a unique shape that hints at an old pistol, a branded logo, and a rough routed edge. However, the icing on the cake is a wooden pickguard featuring a branded image of a cowgirl with six-shooters in each hand (this distinguishes the SE versus the standard Eldorado, which is fitted with a standard plastic pickguard). Absolutely fabulous!
Strapped up, the guitar sits about parallel to the ground. I'd like a little upward tilt, which I could likely get by moving the upper bout strap button a half-inch or so closer to the neck; an easy mod, especially as the distressed finish would hide the original screw hole. Tuner action is nice and smooth and the guitar held pitch admirably. Set up out of the box was good and playable without any necessary adjustment.
I auditioned the guitar using a Fender Cyber-Champ, Boss GT-10, and AmpliTube 2 with various monitors and headphones. Based on the guitar's shape and dual-pickup configuration, I expected it to sound much like a Tele. However, I was pretty far off the mark. The EMG designed alnico pickups are very nice. The bridge is twangy but closer to a Stratocaster than a Telecaster. On closer inspection, I shouldn't have been surprised, as the pickup is a Strat-styled single coil. The high end gets a slight bit spitty with an amp's treble cranked up, but it has enough midrange punch from waltz, country to rock with ease. The neck warms things up with the perfect amount of definition and excellent sustain. An unexpected surprise was the hum-canceling middle position, combining both pickups which sounded absolutely funk-a-licious. Tonally, the voice is somewhere between a Strat 2 and 4 position, perfect for Jimmy Nolan-approved syncopated stabs. Push the gain with any of the pickup settings and you're rewarded with a rich, full, singing tone that was inspiring through all the auditioned setups.
The volume and tone knob action wasn't as smooth as I'd like, making it a little difficult to make precise adjustments. The tone knob has an exponentially increasing effectiveness, overly concentrated in the last quarter turn. As I roll the volume knob back, the guitar loses some high end. Despite this, it ended up taming a bit of the aforementioned spittiness. I preferred the volume knob between 80% to 90% rather than up all the way.
I get excited when a company takes a design chance and it works. Such is the case with the AXL Badwater Eldorado SE. The volume and tone controls could stand to be improved. However, this guitar is a fabulous player; sounds great and is among the coolest guitars I've ever seen. AXL's got a real winner in the Badwater Eldorado SE; I can't keep my hands off her! Crafted by Will Chen.
AXL Badwater Telecaster Copy Video Example

Performed by GearTestUA
Used Price: USD 225.00
Pros: Incredibly beautiful guitar, excellent playability with excellent pickups
Cons: Volume and tone knob action/performance could be improved
Did we miss any Fender Telecaster copies? Please post a comment and let us and others know. It's always appreciated to help the guitar community. Be a hero!