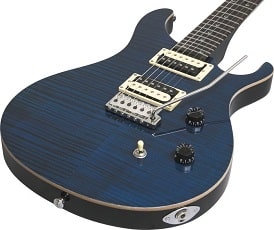 Do not think of the Paul Reed Smith SE Custom 24 as an "economical" guitar. Think of it as an awesome type of electric guitars for guitar buyers guide.
Ever since the mid '80s, Paul Reed Smith Guitars have earned a respectful reputation for their instruments, which are known for being excellent sounding, effortless to play, and, all too often, high priced. Comparable to most guitar manufacturers, Paul Reed Smith has released a low-priced series of guitars to render PRS instruments more reachable to a broader crowd who may not otherwise be able to afford a Paul Reed Smith guitar. With this series, the Korean-made SE Custom guitars, have been very well received by guitarists on a budget.
PRS' Original was the Custom 24, so, of course, it's only appropriate that one of the finest SE guitar models is the SE Custom 24, a lower-cost version of the original Custom 24 flagship electric guitar. It priced nearly at a quarter of a "original" PRS Custom 24, so how do they compare?
PRS SE Custom 24 Features
Lets take a look at the guitar's construction, first. The PRS has a beautiful maple top (flame-maple veneer) and nice mahogany back.
The guitar also comes standard with a maple neck and rosewood fingerboard. Of course, as in the name… the 25-inch scale SE guitar features 24 frets; modeled after the original Custom 24. Chrome Nickel hardware is a standard, as is the Paul Reed Smith designed tremolo bridge and tuners. The PRS SE Custom 24 comes geared up with two zebra pickups. The fingerboard is outfitted with moon inlays.
PRS SE Custom 24 Performance
My first impression of the SE Custom 24 was how wonderful it played and felt, outstandingly for a "budget" guitar. The wide-thin neck was easy and smooth to move about. Basically, It felt like any other PRS guitar I've played, including those costs 3 times as much. The smoothness of the guitar's neck made it extremely easy to sweep arpeggios and bend strings like we were playing a $2,800 guitar.
The PRS-designed tremolo bridge has an extremely comfortable feel to it, and it didn't go out of tune much… though the guitar did go out of tune with some extreme whammy action. Unlike higher-priced PRS Custom 24s, the SE Custom 24 does not come equipped with locking tuners.
My review guitar came in a gorgeous blue finish, and though it is not a real flamed top finish, it was nonetheless really stunning.
I was blown away with the sound of the pickups and the extensive range of tones obtainable. This is a guitar you can use for blues, rock, country, or jazz with no problems. The PUPs probably do not have the deepness of its big brother counterpart, the PRS Custom 24, but they are exceedingly great pickups in their own right and certainly do not necessitate running out to buy replacement PUPs.
The Verdict on the PRS SE Custom 24
Overall, I am extremely impressed with the PRS SE Custom 24. You don't need to think of this guitar as an "economical" guitar; think of it as a wonderful electric guitar for guitarists on a tight budget. With a street price of approx $650, this guitar is definitely an electric guitar to consider when shopping for your first, next or backup guitar. It's a guitar that is for anyone looking for the 'best bang for the buck'.
PRS SE Custom 24 Hands-On Review
Originally published on: May 11, 2011 @ 20:38