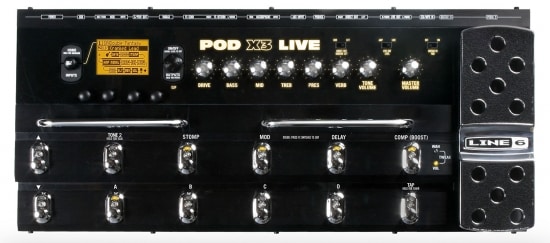 Are you a gigging guitarist?
The POD X3 Live is a stage-ready unit that represents the true evolution of the ever-evolving guitar amp modeler technology. The POD X3 Live features an array of 78 highly-desirable guitar amp models, from high-wattage chest-pounding heavyweights to boutique beauties and rare vintage treasures.
Guitar amp models are just the beginning
If you are in search of greater tonal possibilities, the Line 6 POD X3 Live gives you more power than ever before to create entirely new sounds. With 24 guitar cabs, 98 stompbox and studio effects, 28 bass amps, 22 bass cabs and six vocal preamps – POD X3 Live comes complete with the all-around sonic firepower of a top-tier major-label recording studio, ready to tackle guitar, bass vocals and beyond. What's more, the X3's larger LCD and smart new editing workflow pages make it easier than before, allowing you to tweak and save your tones.
POD X3 Live also offers powerful new dual tone modeling and routing options. Split your single-input guitar or bass signal through two different amp and effect chains simultaneously to create gorgeous new hybrids, or use its dual inputs to individually process two instruments—a microphone and a guitar, for example—at the same time. (see video below)
What about recording?
Computer recording enthusiasts will want to exploit the USB 2.0 connectivity provided by POD X3 Live for multi-channel recording as well as its S/PDIF Stereo Digital Audio Output for sending an ultra-clean signal to their DAW.
In addition to stereo 1/4-inch line outputs (with Amp/Line pad switch) POD X3 Live boasts stereo XLR balanced line outputs for the best possible live signal. When you hit the stage with the sleek, rugged brushed-aluminum POD X3 Live (with its racecar-inspired built-in expression pedal), you'll be outfitted with even more of the flexibility and timeless tones that have made POD the global standard for the discriminating guitarist.
End Line
Whether you choose to recreate the sounds of the past or turn tradition on its ear, POD X3 Live multi-effect guitar pedal comes fully-loaded with the most inspiring collection of POD-quality amps and effects for your live performances, studio recordings, and everywhere in between. Line 6 did it again!
Line 6 POD X3 Live video in action