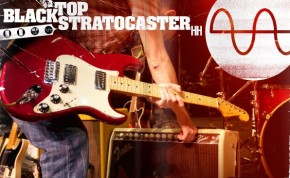 I'm constantly getting emails from readers asking if I have ever played the Fender Blacktop guitar to ask me if they are any good. And today I can finally give you a definitive answer. In an effort to meet the needs of the constantly changing guitar market, over the years Fender has brought forth numerous variations on old favorites like the Strat and Tele, without veering too far from the successful formula that has given these makes their longstanding reputation. Still, the acknowledged king of the single-coil understands that evolution is key to building the fan base—and if you can package great sound at a nice price, all the better. Speaking of which, watch the video below so you can hear this axe in action.
Video: Fender Blacktop Series Review
Fender delivers a budget-minded line of guitar featuring four-pack of familiar names: Stratocaster, Telecaster, Jazzmaster, and Jaguar.  Though each has its own singular sound and feel, the Blacktop Strat, Tele and Jaguar have one thing in common: a pair of Hot Vintage Alnico humbucking pickups in place of standard single-coil set. (The "HS" Jazzmaster combines a Duncan humbucking bridge position with a high-gain single-coil in the neck position.) Along with customary appointments found on traditional Fender instruments—not to mention a list price well below four figures—these humbucker-outfitted Blacktops give players the best of both worlds: Fender feel with the kind of grind not normally associated with standard single-coil models.
Fender Blacktop Telecaster HH


The look and feel may be familiar, but this is no ordinary Telecaster. While Fender has long made available a double-humbucking option (including the famed Tele Deluxe and Thinline), the affordable Blacktop Tele allows even those of modest means to finally own one of these singular style guitars. With its Alnico humbuckers in the bridge and neck positions, the Blacktop Telecaster HH gives you easy-to-harness, classic Tele tone. Boost the channel volume a bit and suddenly you have crunch to spare. Features include skirted black amp knobs, reversed control plate, and vintage-style hardtail bridge with six grooved saddles for no-fuss string alignment. The Blacktop Tele has a body built from alder, maple neck, 9-1/2"-radius rosewood or maple fretboard, 22 medium-jumbo frets, gloss polyester finish, and nickel/chrome hardware. Comes in black, candy apple red, and silver. They're lookers as well as players.
Fender Blacktop Stratocaster HH


Two massive Alnico humbuckers on a demure sonic-blue Strat—who would have thought? But like its Telecaster peer, the alder-body Blacktop Stratocaster HH has the wherewithal to give rhythm guitarists just the right amount of barre-chord swagger, while offering lead players the commanding sounds and supply playability that have long been Strat hallmarks. The guitar's five-position blade switching (that lets you choose between two inside single coils in position 2; outer-neck single-coil in position 4; or full bridge, neck and combined in positions 1, 3, and 5, respectively) provides you with an incredible array of tonal possibilities. Other touches include skirted black am knobs, vintage-style synchronized tremolo bridge, maple neck, 9-1/2"-radius rosewood or maple fretboard, 22 medium-jumbo frets, gloss polyester finish, and nickel/chrome hardware. In addition to the aforementioned sonic blue, the Blacktop Strat HH also comes in candy apple red, as well as simple classic black.
Fender Blacktop Jazzmaster HS


Looking for some extra room at the top? With its characteristically lengthy (25-1/2") neck and set of 21 spacious medium-jumbo frets, for decades the Jazzmaster has been the place to go for those who want to keep moving up and up. Hitherto accessible only to those with deeper pockets, this super-sized member of the Blacktop quartet puts fabled Blacktop Jazzmaster features—including alder body and old-style Adjusto-Matic bridge, along with classic Jazzmaster tone arm with locking tremolo—in the hands of us mere mortals. The combination of a humbucking pickup in the bridge position with an extra-hot Jazzmaster single-coil in the neck position (both Duncan Designed) helps you to fully master your chosen genre—jazz or no jazz. Chose from (three-ply) black with mint pickguard or three-color sunburst with black pickguard.
Fender Blacktop Jaguar HH

A kissing cousin to the Jazzmaster, the slightly shorter-scale(24") Jaguar has the same distinctively large body (also made from alder), three-way toggle switching and, like the Jazzmaster, includes an Adjusto-Matic bridge (with an anchored tailpiece). The Blacktop HH version of the Jaguar (color choices are black and silver) sports the same dual set of Hot Vintage Alnico humbuckers as the Strat and Tele, giving this particular Jag significantly more punch than its surf-rock prototype. Most of all, the Jaguar's impeccably crafted, super-slinky maple neck (with 9-1/2"-radius rosewood fretboard and 22 medium-jumbo frets) allows you to get around with the best of them.
Take That Road Trip To Fender
"Budget" is the last word that comes to mind after spending several weeks hunkered down in the studio with these impressive guitars. Running all four through a suitably low-watt Fender Blues Junior amp (with master volume down and channel gain up for extra grit), I found the Blacktops to be exceptionally well-built instruments that offer the kind of tone-shaping versatility normally associated with much pricier versions. From the extra neck room of the world-famous Jazzmaster to the five-position switching of the HH Stratocaster, each Blacktop offers something completely unique, while all four provide a modernized foundation suitable for the likes of classic rock, blues, pop, metal, and more.
by – Dave Simons