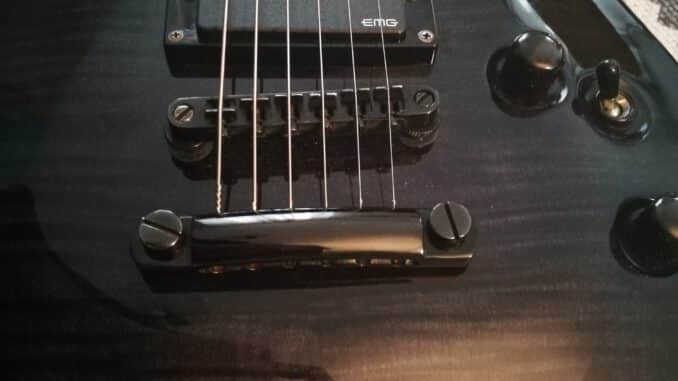 ESP was one of the first large shops to cater to the "Super Strat" customer. By focusing on the features most beloved by headbangers and setting fire to "vintage values," they quickly established themselves as a first-class custom shop with the ability to translate the needs of heavy metal-influenced players into solid, yet glitzy instruments.
Upon first glance, the LTD H-300 is a remarkably understated guitar, with features from both the Fender and Gibson schools of lutherie. The Strat-inspired shap and 25-1/2-inch scale length are decidedly Fender, while the mahogany body with carved maple top, slanted 3 + 3 headstock, dual humbuckers and stop tailpiece grow from Gibson's roots. But any good instrument will be more than the sum of its parts, and ESP delivers with abundance.
The design of the H-300 is very pleasing, and the finish and workmanship are virtually flawless. The arched top fluidly flows into the horns of the cutaways, and the curves of the headstock tastefully echo the body curves as well. Flip the H-300 over and you'll see a beautifully sculpted heal area and a "comfort contour" which, once again, follows the body design beautifully. The H-300 has a three-piece mahogany neck constructed in "neck-through" fashion, with matching mahogany body wings. The wood grain is so well matched that the various seams are just about impossible to see. The deep maroon finish (ESP calls it See-Thru Black Cherry) enriches the grain of the maple top, which is subtly framed with an unstained pseudo-binding border strip.
Advertisement—————————————
—————————————————————
The attention to detail extends to the setup and playability as well. The rosewood fretboard boasts 24 jewel-like frets of wide, nearly jumbo portions, each of which is crowned and buffed to perfection. The action on our model was remarkably low, yet stray buzzes were nonexistent. The construction, scale length and setup all combined to creat a feeling of precision and impeccable response.
Controls for the dual EMG-HZ pickups include a master volume, a well-voiced master tone and a three-way selector switch. The pickups are exceptionally clear and of moderate output, avoiding the upper midrange "honk" of many overwound humbuckers while delivering plenty of bottom. Picking dynamics translated beautifully, and upper harmonics had an exciting zing. What's more, the electronic cavity is nearly coated with shielding paint to further minimize hum—a conscientious touch that I much appreciated.
Using increased levels of overdrive with the H-300 brought out a delightful range of bright yet punchy sounds, and the dynamic dimension and note-to-note clarity was awesome. Add all the overdrive you want to your signal, and the EMG-HZ pickups will continue to deliver definition and punch without breaking a sweat. Encouraged by its firm bottom, I dropped the H-300's low E down to gut-rumbling C#, where I discovered notes as tight as those of a Steinway piano.
ESP / LTD H-300 Guitar has been discontinued. Check out the ESP LTD MH-250 and MH-250NT
————-WHERE TO BUY—————————————————————————————————–