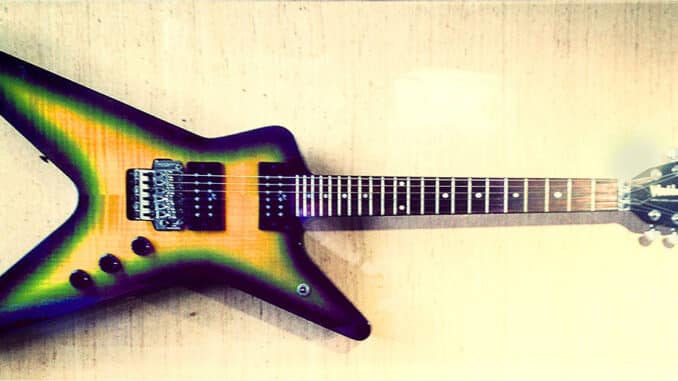 "The Blue Dean's got a cool story, man." crows Dimebag Darrell. But what else would you expect from Pantera's, late great, red-hot cowboy from hell?
"My dad bought me my first Dean for Christmas," explains Darrell. "I broke his ass for it—it cost him $1,100. He really had to go out of his way to afford that for me. But I was dying to have one, and he fixed me up. For that, I'll be forever grateful to him. But not two weeks later, I won another Dean in a guitar-playing contest."
"I was thrilled to have two Deans, but I was 16 and I really needed a car. So I decided to sell one of the guitars, to raise money for some wheels. I didn't want to bum my dad out, so I sold the contest guitar for $600, even though I liked it better than the one he bought me for Christmas."
Darrell's contest guitar floated around and eventually made its way into the hands of noted six-string expert Buddy Blaze, who worked at Kramer Guitars. Blaze liked the guitar so much that he had it custom-painted blue and added the axe's now-legendary lightning bolts.
"One Day I was hanging out in this music store and saw Buddy's blue Dean, and I flipped," continues Darrell. "All I could say was, 'Who the fuck owns that guitar, man. I want to buy it.' I didn't know that is was actually the guitar that I sold, because of the radical paint job. Anyway, he wouldn't sell it to me.
"Later, I got to know Buddy, and he was going to put together a new guitar for me in exchange for the Gibson Flying V that I had. I gave him the V, and a month went by and Buddy just couldn't seem to find the time to put the axe together for me. One day he showed up on my doorstep with a box. I opened it up, and inside was the blue Dean. He said, 'Dude, it was your prize to begin with. Here you go.'
In addition to the custom paint job, Darrell's Dean features a Floyd Rose locking system and Bill Lawrence L-500-XL pickups. "In many ways, my bridge-position is really the key to my sound," reports Dimebag. "It's a killer pickup. On the treble strings, it's a bitch—sounds almost like you're running a CryBaby wah with the pedal pushed down. And, of course, it's really thick and chunky on the low strings." Read about Dimebag's Furman PQ-3.
Join us at Gear-Monkey.com message music forums.